This is the year "Layaway Angels" really got their wings.

Bored with traditional "write a check" charities and boosted by an economic upswing, several anonymous do-gooders across the country this year have each paid off over $50,000 in strangers' layaway plans in person. That's double previous years' records.
Layaway, which lets customers pick out items in-store and then only take them home after they've made regular payments up to the full purchase price, is a popular alternative to credit cards for holiday toy shopping. Especially for people for whom cash is tight.
So when someone swoops in to take care of all the remaining payments, it's a very Merry Christmas indeed.
This month, at a Wal-Mart in Mechanicsburg, Pennsylvania, a "Mr. B" donated $50,000 to pay off all the layaway plans. In Florida, a donor who wanted to only be known as "the angel of Lake City" paid off $63,000 at a Lake City Wal-Mart. Another paid off $51,000 in Chiefland.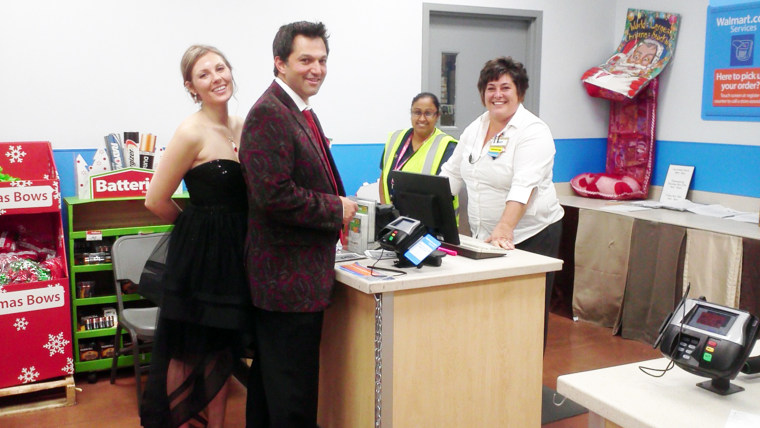 While payoffs in the ten and twenty thousands have been seen in years past, and other reports of layaway angels in the thousands have popped up nationwide this year, $50,000 takes the spirit of giving to a whole new level.
"That's a pretty big number, certainly not one I've ever seen," said Wal-Mart spokesman John Forrest Ales. The retailer has some experience with the matter since bringing layaway back in 2011. The layaway angel phenomenon started cropping up in national news stories the same year. Layaway angels are enough of a thing at Wal-Mart that their layaway registers have a function called "good samaritan view" which helps speed the layaway angel process by allowing the cashier to bring up a randomly-selected layaway customer with only toys on their list.
Though the three $50,000-plus donors were anonymous, some five-figure layaway angels who have let themselves be identified say they do it because they thrive on its instant gratification. 
"It's raw emotion. There's no hiding it. It's pure and real," said Greg Parady, a 41-year-old CEO of a financial planning firm and layaway angel. "That's different from writing a check to a non-profit."
This year he paid off over $16,000 in layaway plans. This is his second year of being a surprise layaway angel. Last year the story of his $21,000 spontaneous layaway angel spree made headlines across the country.
He said there's nothing like the feeling of swiping a credit card and then turning to a stranger and telling them you just paid for all their holiday toys. 

"There's no better look than the one on peoples' faces when they don't know why you're giving," Parady added.
Wal-Mart associate Tracy Ellis was running the layaway counter when Parady and his wife came through, him still wearing a "ridiculous" red and green jacket and she a formal gown from a holiday party from which they'd just come. Ellis said some customers had come in to cancel their plans because they didn't have enough money, only to find out that Parady had paid them off.
"One customer dropped to her knees screaming and crying," said Ellis. "Those kids are going to have a Christmas."
Parady didn't stop there, giving away over $101,000 this holiday season. To spread the cheer, he gave students and clients pre-loaded $100 and $25 gift cards with the instructions to spend it on someone else, preferably a stranger. He also donated over 200 laptops to local lower-income schools to help the students prepare for the new Florida state assessment tests, which this year have a typed essay component.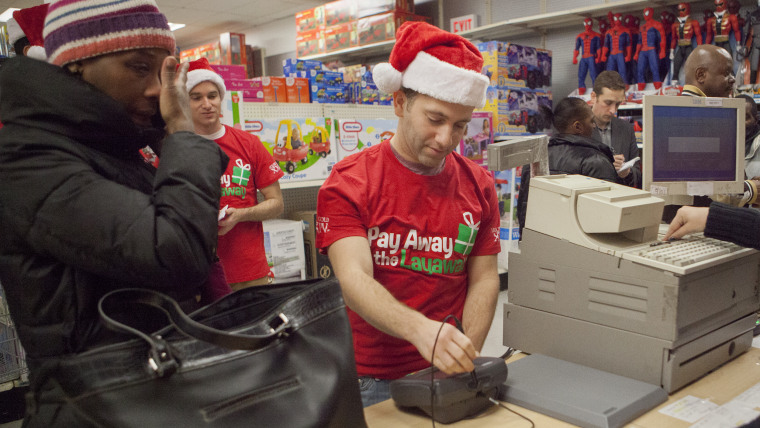 Parady says business has been good this year and he wanted to share his good fortune. Profits at the firm increased by 60 percent, he said, compared to 35 percent increases in years past.
Continued media interest in layaway angels have helped boost the giving too.
"I wish I could understand the brain of people giving $50,000," said Lee Karchawer, whose group, Pay Away The Layaway, crowdsources online donations, some as small as a few dollars, some into the thousands, and sends teams to pay off layaway plans across the country. This year they're on track to raise over $42,000, up from $25,000 last year.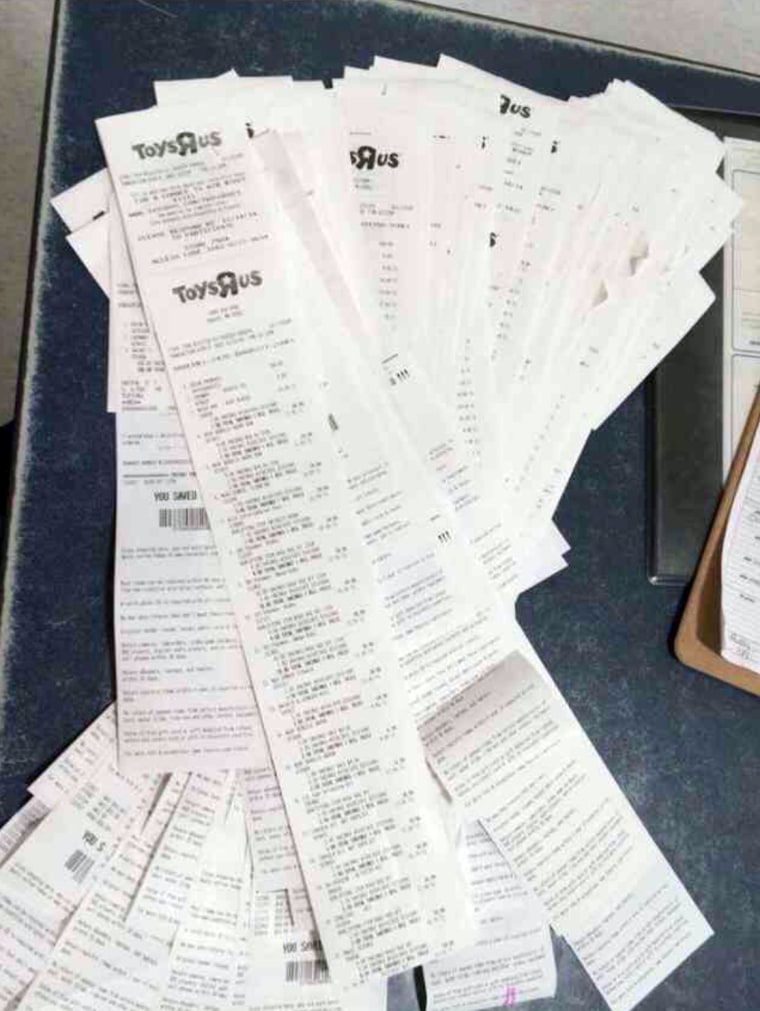 "Now that the layaway angel trend is it its fourth year more people understand what it's all about and want to take part in it," said Karwacher.
Some of these big ticket layaway angels have a history of charitable acts, but say now they're in search of something greater from their giving.
"Donations are very generic," said Cathy O'Grady, a 46-year-old accountant who this year paid off over $21,000 in layaways at Toys R' Us locations in Massachusetts. Besides being a layaway angel, she also gives out blankets to the homeless and organizes real life "random acts of kindness."
"That look on the face, and being able to hug them, there's that one-to-one interaction you're not able to get with a traditional donation," she said.
Unlike a traditional donation, walking into a store and paying off people's toy lists isn't tax-deductible. In some ways, that's part of the charm.
"The person is giving truly altruistically," Lisa Dietlin, a Chicago-based philanthropic adviser. "They're not expecting a tax deduction. They're doing it out of generosity and want to do something different."
Email ben.popken@nbcuni.com or tweet @bpopken.