Larry King, the veteran broadcaster and TV personality who was a fixture on the air for decades, has died at age 87.
King's passing was announced in a statement posted to his Twitter account. "With profound sadness, Ora Media announces the death of our co-founder, host, and friend Larry King, who passed away this morning at age 87 at Cedars-Sinai Medical Center in Los Angeles.
"For 63 years and across the platforms of radio, television and digital media, Larry's many thousands of interviews, awards, and global acclaim stand as a testament to his unique and lasting talent as a broadcaster. Additionally, while it was his name appearing in the shows' titles, Larry always viewed his interview subjects as the true stars of his programs, and himself as merely an unbiased conduit between the guest and audience. Whether he was interviewing a U.S. president, foreign leader, celebrity, scandal-ridden personage, or an everyman, Larry liked to ask short, direct, and uncomplicated questions. He believed concise questions usually provided the best answers, and he was not wrong in that belief."
The statement continued, "Larry's interview from his 25-year run on CNN's 'Larry King Live,' and his Ora Media programs 'Larry King Now,' and 'Politicking with Larry King' are consistently referenced by media outlets around the world and remain part of the historical record of the late 20th and early 21st centuries.
"Ora Media sends our condolences to his surviving children Larry, Jr., Chance, Cannon and the entire King family."
According the statement, "Funeral arrangements and a memorial service will be announced later in coordination with the King family, who ask for privacy at this time."
A source close to the King family told TODAY in a statement that King's passing is, "Very sad but not unexpected."
Earlier this month, it was reported that King had been hospitalized with COVID-19 and had been admitted to the intensive care unit.
Last August, two of King's children, Andy and Chaia, passed away within weeks of each other. Andy King was 65 when he died on July 28, 2020 and Chaia King was 51 when she died the next month on August 20, 2020.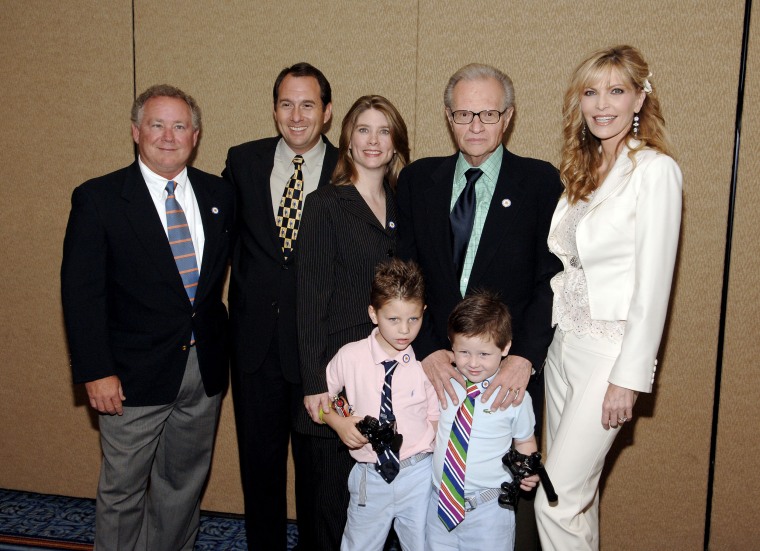 At the time, King shared a short statement on Facebook and on Instagram, writing in part, "Both of them were good and kind souls and they will be greatly missed. Andy passed away unexpectedly of a heart attack on July 28th, and Chaia passed on August 20th, only a short time after having been diagnosed with lung cancer.
"Losing them feels so out of order. No parent should have to bury a child."
King, whose career spanned over 60 years, was born in Brooklyn, New York, on Nov. 19, 1933 as Lawrence Harvey Zeiger. As a young man, he moved to Miami in search of his big break and took on the last name of King after noticing it in a liquor store ad.
According to the Radio Hall of Fame, King started his career at WAHR in Miami and left in 1958 for WKAT. He continued onto WIOD, also in Miami, and made the shift to television and print journalism in the 1960s. The disc jockey-turned-host was inducted into the Radio Hall of Fame in 1989.
King then joined CNN in 1985 and launched his eponymous show, "Larry King Live." He stayed for 25 years at the cable news and broadcast network and left in 2010.
In 2012, King started a new endeavor, founding Ora TV with billionaire Carlos Slim and creating an online show called "Larry King Now." The next year, he launched a second show, "Politicking with Larry King," in a partnership with the Russian RT Television Network. King told Willie Geist on TODAY in 2013, "I love asking questions. I've been doing it all my life. When I was 9 years old, I asked the bus driver, 'Why do you want to drive a bus?' And I'm still doing that, 'Why do you want to drive a bus?'"
King smoked in his early life and in February 1987, he had a heart attack. He underwent a successful quintuple-bypass surgery that same year. The experiences inspired him to write two books, "Mr. King, You're Having a Heart Attack: How a Heart Attack and Bypass Surgery Changed My Life" in 1989 and "Taking On Heart Disease: Famous Personalities Recall How They Triumphed over the Nation's #1 Killer and How You Can, Too" in 2004.
The longtime host experienced other health setbacks in addition to heart disease. He had also diagnosed with type 2 diabetes, prostate cancer, and lung cancer during his lifetime. in 2017, King, who was then 83, revealed he had been treated for what appeared to be stage 1 lung cancer and said he was "lucky" to be able to get surgery when signs of the disease often go undetected until it has progressed to late stages.
The 87-year-old had been married eight times to seven different women. He divorced his seventh wife, Shawn King, after 22 years of marriage in 2019. King is survived by his remaining three children — sons Larry King Jr., 58, Chance King, 21, and Cannon King, 20.