Pennsylvania schoolteacher Jim Addlespurger was walking home, minding his own business, when a group of teenagers knocked him out in broad daylight with no warning at all. He dropped face-down to the curb.
It's called the "knockout game": teenagers knocking people out for the fun of it. They even target women and children. Cases are piling up, and police are on high alert.
"I was hit with one punch that knocked me to the cold concrete," said Addlespurger, who has since recovered from the attack, which was caught on video. "It's a horrific thing to see, and I'm fortunate that I'm alive here to tell you about it."
Want an issue, a scam or a rip-off investigated? Email Rossen Reports.
Police fear the knockout game has been spreading, with cases from San Diego to St. Louis and Chicago. In Syracuse, N.Y., two men were killed in a possible knockout case. In New York City, police are investigating at least seven attacks.
One knockout game video shows a woman walking down the street when a stranger runs up and clocks her from behind — a sucker punch so brutal, the victim lies on the sidewalk, unable to move. In New Jersey, it appears suspects filmed their own attack, laughing and bragging about it.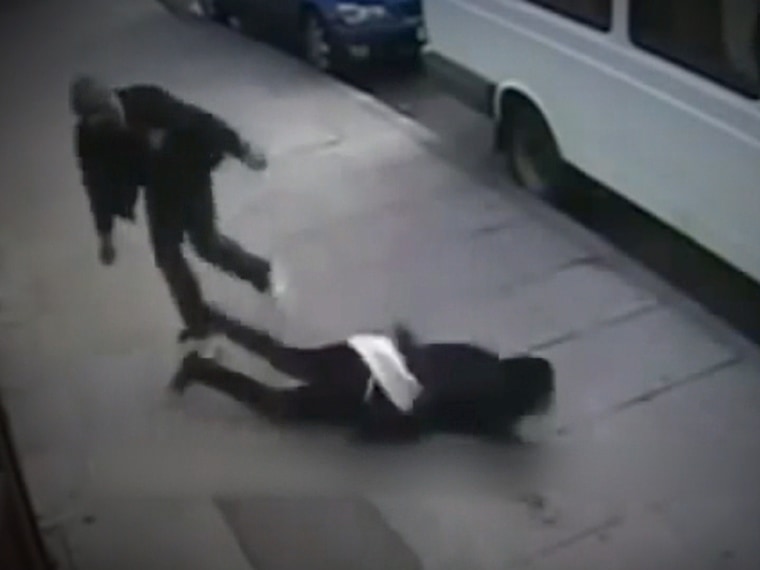 "It appears these are just random acts of violence," said former FBI profiler Clint Van Zandt. "There's no robbery, there's no rhyme or reason; it's just simply youths making a decision they're going to punch somebody out — sometimes as simple as $5 bet between themselves."
Seventeen-year-old Marvel Weaver admits he played a version of the knockout game using a stun gun. He was caught and is now in jail. 
"It was a lesson learned," Weaver told TODAY. "Someone throws it out there: 'Want to play this?' And people go along with it and one thing leads to another, and it just goes all downhill."
"These kids are acting, maybe not thinking and not knowing the consequence of what could happen," said knockout game victim Jim Addlespurger.
In New York City, a man arrested for playing the knockout game has been charged with a hate crime. Police believe the victim was targeted because he's Jewish. Now, as these videos end up on YouTube, officials are worried about copycat attacks in cities nationwide.
Have an idea for a future edition of Rossen Reports? Email us.