/ Source: TODAY contributor
The platinum-selling rock star who has promoted the city of Detroit worldwide has a clear message for his hometown newspaper: Cancel my subscription.
On Monday, a Detroit Free Press story was published highlighting the fact that some T-shirts from Kid Rock's Made in Detroit clothing line are not actually produced in Detroit or even in the United States. The star fired back an expletive-laced response at writer Susan Tompor on the company's website Friday for a story he called "a hatchet job.''
"You failed to say that a majority of our products are in fact MADE IN AMERICA,'' Kid Rock wrote in the statement. "You didn't care about printing the fact that 98 percent of all clothing sold in America is not made in America. The majority of clothes that are made in America still import the cottons and other parts needed to make these items from outside the country."
Never made the claim
Rock wrote that the company has never claimed to have made its products in Detroit since he bought it out of bankruptcy in 2005 in an attempt to re-instill pride and give back to the area. Tompor reported that some shirts and other Made in Detroit clothing are manufactured in Honduras, the Dominican Republic and Ohio. Made In Detroit's operations manager, Tommy Dubak, told The Detroit Free Press that Made in Detroit uses eight to 10 different manufacturers, and each manufacturer could have shirts made in more than one country.
"We, like most brands in America, use some products that are not created in America,'' Rock wrote. "That doesn't mean we can't do better. We're trying to move away from those products while still keeping our prices affordable and keeping us and the stores that depend on us in business.''
Free Press senior managing editor Jeff Taylor told the Associated Press "the column was fair, balanced and accurate."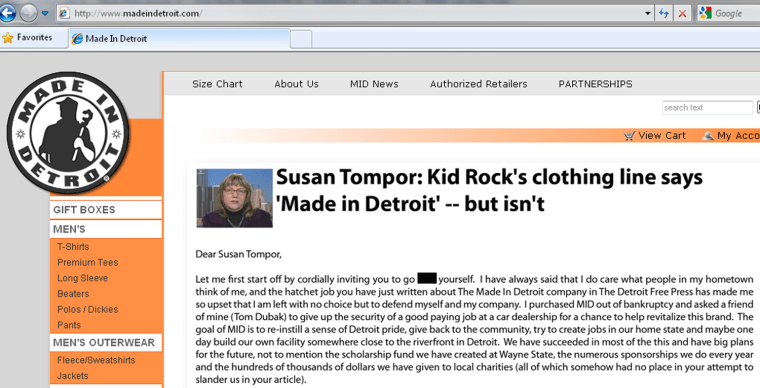 The multi-platinum singer also highlighted the positive work that Made In Detroit has done for the local community, including donations and sponsorships for nearly 30 charities since 2005. He added that he has never taken a dime out of the company for himself, which is reported in Tompor's story. Tompor also notes that a partnership between Kid Rock and Wayne State established in 2008 funded a $25,000 scholarship.
"Made In Detroit has created jobs for people in and around Detroit, we've made money for local merchants and donated money to many local charities on behalf of MID, Badass Beer and The Kid Rock Foundation along with creating 7 jobs at MID alone,'' he wrote.
Tags removed?
Another issue raised in the Detroit Free Press article was that tags on some of the shirts indicating where they were made had been found by Tompor to be removed. Dubak told the newspaper that he had the tags cut off because of a design choice. Dubak did not return a call from TODAY.com seeking comment.
Removing the labels from goods that fall under federal textile regulations could result in action by the Federal Trade Commission for failing to disclose where the T-shirt is manufactured. It's unclear if the FTC is looking into the matter with MID, as it does not comment on whether a company is potentially being investigated over violations, according to a spokesperson.
Consumers unruffled
Despite the flap over where the shirts are made, retailers who sell them in Detroit and the surrounding suburbs said it has not been an issue with customers. It's more what's on the shirt than the label or its origins.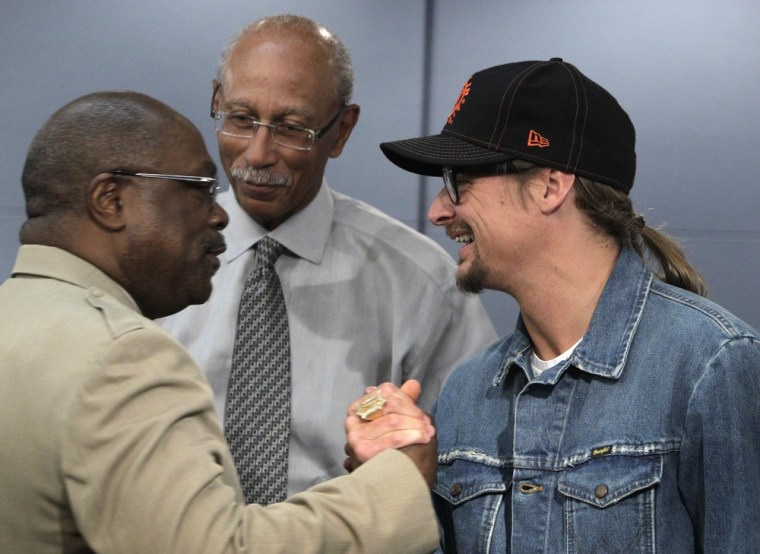 "The people that buy them could care less where they're made,'' said Carrie Vestrand, the owner of City Style in Berkley, Mich. "They're wearing it because of the statement on the front of the shirt. The good (Kid Rock) does with this company far surpasses anything negative about it.''
"This is really much ado about nothing,'' said Mary Topous, the owner of Incognito in Royal Oak, Mich. "We've never had anyone question where things have been made. In our industry, it's very hard to outsource everything in the United States. I think people like to pick on celebrities and people they think are trying to get away with something.''
The company was started in 1991 and then bought by Kid Rock when it went into bankruptcy in 2005. Robert Stanzler, who helped build the brand in its origins and later served as a consultant after it was bought, has been critical of the new ownership of the company, saying that it has abandoned Detroit and telling The Detroit Free Press that the clothing line is "just an ATM to them.'' The company's operations are currently in Clarkston, Mich.
"When we chose this company, we didn't know he owned it at the time,'' Vestrand said. "It was just a positive image of Detroit. You're going to hear people squeal about it online, but the majority of people support the company.''
"It's slamming somebody who's done nothing but try to promote the city,'' said Dan Tatarian, the owner of Showtime Clothing in Detroit, which also sells the clothing line. "The positive is way more powerful than the negative.''