NBA players want Los Angeles Clippers owner Donald Sterling to face the maximum penalty the league can assess for his allegedly racist comments, Sacramento mayor and former NBA all-star Kevin Johnson said Monday. 
On Friday, TMZ Sports released an audio recording of what it claims is Sterling telling his girlfriend that he does not want her bringing black people to his games, particularly Los Angeles Lakers Hall of Famer Magic Johnson. 
As an adviser to the NBA Player's Association, Kevin Johnson spoke with commissioner Adam Silver over the weekend to convey the players' position regarding the controversy following a conference call with representatives from each team. 
"It's a defining moment in the history of this league,'' Johnson told Matt Lauer on TODAY Monday. "I am very confident that the commissioner will act in the best interest of the players, the owners and the league, and I feel like the only way to do that is to do the most severe sanctions possible, and I do expect him to do that in short order." 
On the audio, a man TMZ claims is Sterling speaking to girlfriend V. Stiviano, makes statements such as, "It bothers me a lot that you want to broadcast that you're associating with black people. Do you have to?" The man also goes on to say, "You can sleep with (black people). You can bring them in, you can do whatever you want. The little I ask you is not to promote it on that...and not to bring them to my games."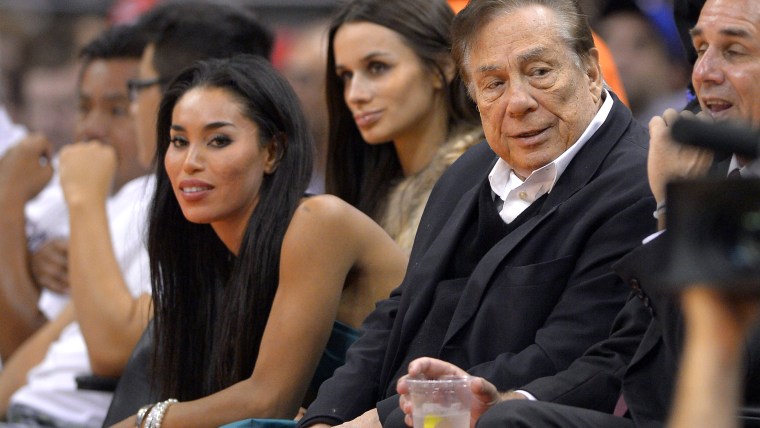 Stiviano is also castigated on the audio for uploading a photo of herself with Magic Johnson on Instagram and told not to bring Johnson to Clippers games. Through her attorney, Stiviano told NBC News that the audio is legitimate but that she did not release it to any news outlets. 
"All players feel that these comments were reprehensible and unacceptable,'' Kevin Johnson said. 

"I believe once commissioner Silver does all his due diligence and gathers the information, he has to come down hard,'' Magic Johnson said on ABC's "NBA Countdown" on Sunday. "He shouldn't own the team any more, and he should stand up and say 'I don't want to own a team anymore.'"
In speaking with the player representatives, Kevin Johnson conveyed their concerns to Silver over the weekend. 
"Players weighed in, and they wanted me to communicate a few important points with the commissioner, which I did,'' Johnson said. "One is, they want an immediate investigation. They want to make sure that those tapes are legitimate. Due process is deserved. 
"Number two, Mr. Sterling should not be allowed to go to any Clipper playoff games, or participate in the playoffs throughout the duration. Number three, they were very clear that the player's voice has to be front and center. The players don't want to be a passive participant. They want to make sure they have a seat at the table. Number four, they want swift and decisive action, and then lastly, they want to make sure that the maximum sanction that...is allowable under the by-laws, is what he does." 
Lauer asked Johnson if Sterling could be stripped of his ownership, or whether he simply becomes a pariah whom players refuse to play for. 
"I think it's a good question,'' Johnson said. "From a players' standpoint, we want to make sure, and I want to be clear, that whatever the maximum that's allowable is what we want the commissioner to impose, if that allows him to force a sale (by) the owner, (or) if it allows him to determine whether the fitness of this person is intact and something in question. 
"If it doesn't allow the commissioner to take those acts, it is very clear that all of our players in the league want to explore the option. What player, exactly, would want to play for this owner?" 
Sterling has been getting strongly criticized on social media, and a pair of Golden State Warriors fans had a field day with the accusations at Sunday's game against the Clippers. 
When TODAY fans voted on what they thought should happen to Sterling, 76 percent said he should be forced to resign.
Before the game Sunday, the Clippers dumped their warm-up outfits at center court and wore inside-out shirts that concealed the team's logo. Rochelle Sterling, Donald Sterling's wife, sat court-side at Oracle Arena in Oakland but her husband was not present. 

"I do not condone those statements that you heard," Rochelle Sterling said in a statement to ESPN that was read during the live broadcast of the game. "I do not believe in them. I am not a racist. I never have been, I never will be. The team is the most important thing to my family.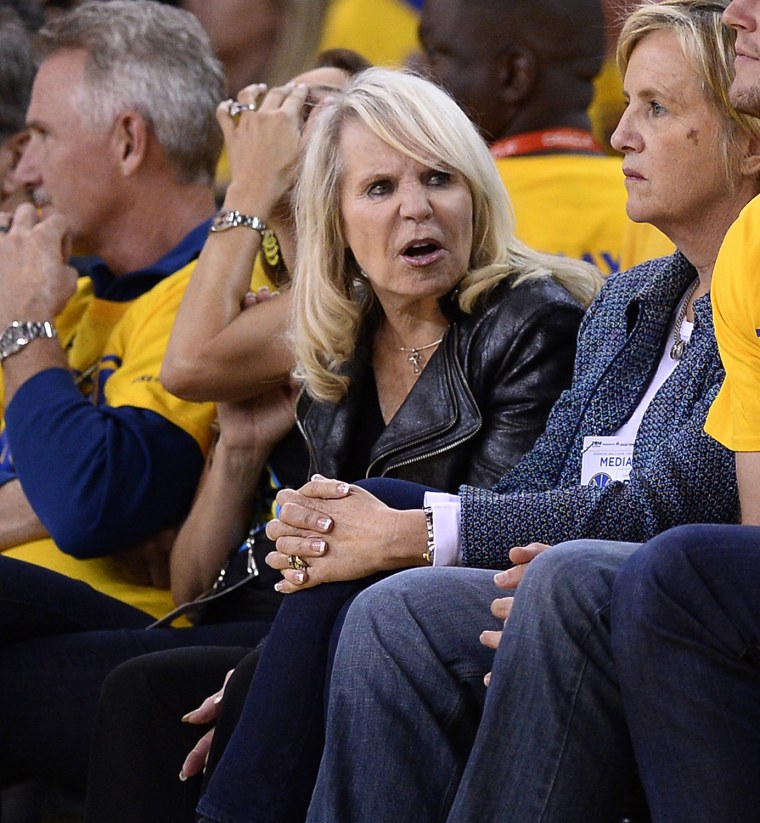 "I don't know (if it was Donald Sterling's voice). I haven't listened to the entire thing. I do believe there were some parts that were cut out. I will let the experts handle that. The one thing I want everyone to know: I am not a racist and I do not condone what I heard on that tape."
Multiple media reports have outlined Sterling's documented history of allegedly racist behavior, which includes a pair of federal lawsuits for allegedly refusing to rent apartments to blacks and Latinos. Lauer asked Johnson if the NBA bears some responsibility for not sanctioning Sterling earlier given his track record of alleged racial discrimination. 
"One of the questions that the players wanted me to convey to commissioner Silver was, if he has such a history and a track record of doing things that were improper and do not represent the league, why were there not sanctions and consequences in the past?'' Johnson said. "He said, 'Absolutely it's a fair question,' and he said going forward he wants to make sure that he acts swiftly and decisively. 
"He's got to be forceful on this. And quite honestly, it's a very good question. We believe as players, there's got to be a two-way accountability. Players want to be held accountable to a high standard of contact, and certainly owners have to be held to a high standard of conduct as well." 
Clippers president Andy Roeser issued a statement regarding the matter on Saturday. 
"We have heard the tape on TMZ,'' Roeser said. "We do not know if it is legitimate or it has been altered. We do know that the woman on the tape — who we believe released it to TMZ — is the defendant in a lawsuit brought by the Sterling family alleging that she embezzled more than $1.8 million, who told Mr. Sterling that she would 'get even.'
"Mr. Sterling is emphatic that what is reflected on that recording is not consistent with, nor does it reflect his views, beliefs or feelings. It is the antithesis of who he is, what he believes and how he has lived his life. He feels terrible that such sentiments are being attributed to him and apologizes to anyone who might have been hurt by them. He is also upset and apologizes for sentiments attributed to him about Earvin Johnson. He has long considered Magic a friend and has only the utmost respect and admiration for him — both in terms of who he is and what he has achieved. We are investigating this matter."