Disaster reporting can lead to unexpected assignments. For NBC's Kerry Sanders, combing Florida's Gulf Coast beaches the morning after they were hit by Hurricane Irma, it meant a chance to save a pair of dolphins.
Sanders first helped a man who found a baby dolphin that had washed ashore Monday on the beach of hard-hit Marco Island.
Hurricane Irma brought storm surges of 4 feet and taller, which fell short of meteorologist predictions but were still strong enough to wash wildlife onto the sandy shores.
Sanders said a good Samaritan had brought the baby dolphin to the beach after finding it about a half mile away.
"He had picked it up from a sidewalk and brought it to the beach. That's where we saw him. He had wrapped it in a blanket and then we stumbled upon him," Sanders said.
The two men held the dolphin for about 15 minutes to give the disoriented and exhausted animal a chance to rest.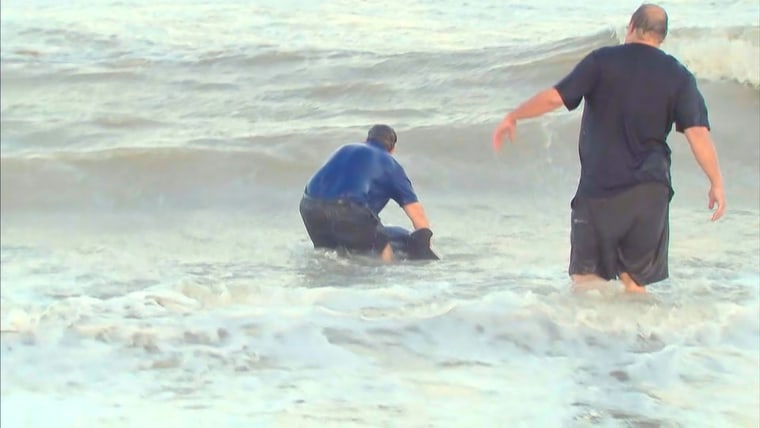 They then made several attempts to guide it back into the water while fighting rolling waves that kept pushing the dolphin back to shore. Finally, the animal found its way.
Sanders said he had been in touch with the local dolphin-stranding network and received advice on helping the beached animal. But, as a veteran correspondent who has covered more than 60 hurricanes and more than a dozen dolphin stories, including numerous rescue missions, he already knew the right steps to take to help the mammal.
Less than an hour later, Sanders learned about another stranded dolphin further up the beach, this time an adult that was panting and showing signs of confusion.
A small crowd quickly gathered around the animal, and Sanders took advantage of the group's size and strength to carry the larger, much heavier mammal back into the water.
"I explained, 'This is what we're going to do. We're not going to pick it up by the dorsal fins or pectoral fins. We're going to get our arms underneath it and lift it up all together, 1-2-3, and then we're going to walk it out,'" said Sanders, who is based in Florida.
The group slowly carried the dolphin into deeper water and then let the animal rest to catch its breath.
"I could feel it with my hand — the heart was just racing in that big one," Sanders later recalled.
Some of the volunteers then swam back to shore ("We were not going to risk human life for dolphin life," Sanders emphasized) while the others ventured slightly deeper and successfully guided the mammal into the water.
"It's an emotional experience," commented one person who participated in the rescue.
"Surreal, unbelievable," another said.
"Once that dolphin started to show a little bit of life, that was pretty inspiring," added a third.
Sanders noted that being a longtime Florida resident has led him to report numerous dolphin-related stories and that he gets teased about being what he describes as a "dolphin groupie." He's reported and been involved in dolphin rescues following past hurricanes, including Katrina and Rita, both in 2005, as well as several others.
He called being able to help "exhilarating" but downplayed descriptions by social media fans who called him a hero.
"I'm not sure hero is the right word," he said. "It was the one good moment people could have amid all the devastation because we actually saw something that could continue life here."