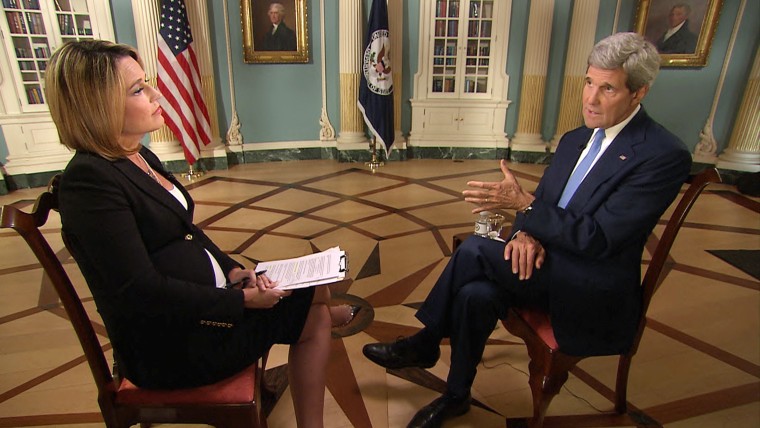 Secretary of State John Kerry said the Obama administration continues to rely on high-level talks to halt hostilities in Iraq because enough American troops have already fought and died there.

"The test is in really these next few days and weeks, and we are going to do everything in our power to follow through and try to get the job done through diplomacy, if we can, in order to honor their sacrifice," he said Thursday in an exclusive interview.
In the first of a two-part interview with TODAY's Savannah Guthrie, Kerry also clarified his recent remarks about plans to deal with Iran over its neighbor.
"We are interested in communicating with Iran to make clear that the Iranians know what we're thinking, and we know what they're thinking. And that there's a sharing of information so people aren't making mistakes," he said.
Kerry got defensive over the idea he suggested in an interview earlier this week that the administration would consider working directly with Iran.
"It would be a head-scratcher, and no, we're not sitting around contemplating how we're going to do that, or if we're going to do that," he said. "That's not on the table."
A senior Iranian official who had not seen the comment told NBC News' Ali Arouzi that it is "typical of Americans," and that "it is natural that we would have talked about" Iraq. "It is a major issue and it has come up several times in the sidelines."
Kerry also dismissed scathing criticism posed by former Vice President Dick Cheney over the way the Obama administration has handled Middle Eastern policies. In a "Wall Street Journal" op-ed published Tuesday, Cheney placed the blame of Iraq's deterioration squarely on the current White House.

"Rarely has a U.S. President been so wrong about so much at the expense of so many," Cheney wrote. 
Kerry, however, pointed out that Cheney was the one who oversaw plans to invade Iraq in 2003.
"This is the man who took us into Iraq saying this? Please," he said.
The second part of Guthrie's interview with Kerry will air Friday.
Follow TODAY.com writer Eun Kyung Kim on Google+ or on Twitter.