Kerri Walsh Jennings is hoping some hustle and Sweat results in a gold medal at the 2020 Olympics in Tokyo.
The beach volleyball legend announced Tuesday that she will be pairing up with new playing partner Brooke Sweat, 32, in a bid to secure a berth in her sixth Olympics and make a run at her fourth gold medal.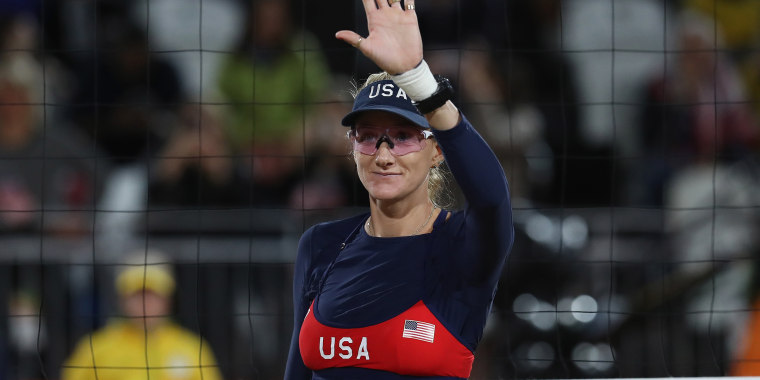 "I have always appreciated the way Brooke approaches the game," Walsh Jennings told TODAY. "It's clear that she loves it!
"She plays simply and with great heart and hustle. Her skill set is complete and she is a very consistent player at a very high level. She is extremely steady and extremely dedicated."
The two have never played together in any formal setting in a sport where players frequently change playing partners. Sweat, who has been playing professionally for 11 years, was an Olympian in 2016 and is a three-time AVP Defensive Player of the Year.
The new partners will make their debut at the FIVB Las Vegas Open on Oct. 18-21, which will count toward Olympic qualifying. Sweat's skills as a defender serve as a complement to Walsh Jennings' renowned ability as a blocker.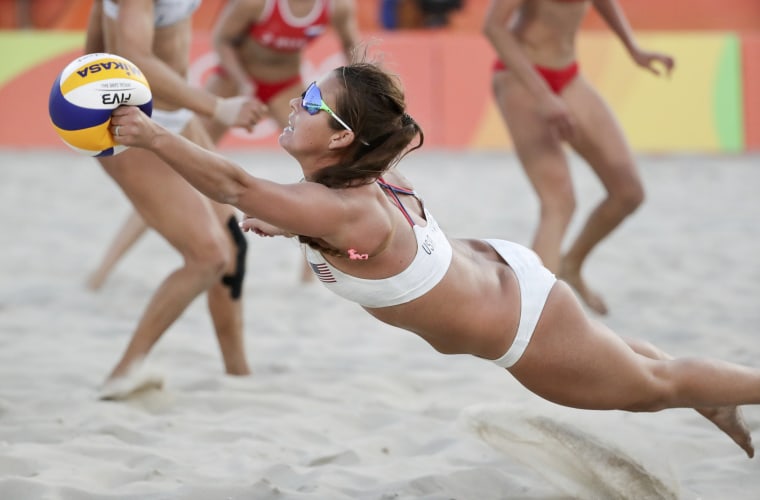 "I've only admired her game from the other side of the net,'' Walsh Jennings said. "Brooke and I already have a great rhythm about us. Our styles complement and fit each other. We will continue to build upon this as we go. I am excited to get to know her both on and off the court and to grow together as a team."
"We're in this for Tokyo gold,'' Sweat told NBC Sports. "That's my focus."
Walsh Jennings, 40, took home the bronze at the 2016 Olympics in Rio de Janeiro while paired with April Ross after suffering her first loss in Olympic beach volleyball competition.
She previously formed the greatest duo in women's beach volleyball history with the now-retired Misty May-Treanor, winning Olympic gold medals in 2004, 2008 and 2012.
Before the current season, she said that the 2020 Olympics would be her last if she qualifies.
Walsh Jennings will have a full plate leading up to qualifying for Tokyo. She and husband Casey Jennings, who is also a professional beach volleyball player, are co-founders of p1440, a new beach volleyball series aimed at bringing more prize money and attention to the sport.
The name p1440 comes from Walsh Jennings' belief that people should spend all 1,440 minutes of every day with a purpose. In addition to getting p1440 off the ground and sharpening her game for Tokyo, Walsh Jennings is also a mom to Joey, 9, Sundance, 8, and Scout, 5.
She was pregnant with Scout during the run to gold at the 2012 Olympics in London.
"Preparation for a successful journey to Tokyo 2020, a successful p1440 and a successful feeling in life is all the same — the more I can live in the moment, the more capable and successful I will be,'' Walsh Jennings said.
"My family is a huge part of this journey that fortifies and inspires me. My plate is overflowing with my most favorite things in life, and I choose to always acknowledge the blessings of it all instead of the difficulties. I can do difficult things with a grateful heart."
The new p1440 series, which also features concerts and wellness events around the beach volleyball competition, had its inaugural event in San Jose, California, last month.
It brought to fruition months of hard work to create a tour separate from the Association of Volleyball Professionals tour after Walsh Jennings and her husband had disagreements with the AVP about how to bring more attention to the sport.
"My heart was overjoyed and overwhelmed with how amazing everything went at our inaugural p1440 experience,'' Walsh Jennings said. "It went beyond expectations."