Kelley Paul, the wife of Republican White House candidate Rand Paul, said she found it difficult to watch her husband get publicly panned for the way he dismissed Savannah Guthrie in his interview with the TODAY anchor last week.
"As a spouse, you always want the person you love to come off the best that they can, so it's hard for me sometimes to see him being criticized because that's not who he is in terms of his relationships with women," the former political consultant told TODAY's Hoda Kotb about her husband, the Kentucky senator who announced his Oval Office bid earlier this month. "His long time surgical partner, over 10 years, was a female surgeon."
Last week, just after announcing his run for the White House, Rand Paul appeared somewhat testy during his TODAY interview, telling Guthrie at one point she had "editorialized" her questions to him.
"When I read criticisms like that, I want him to obviously come off the best that he can. I hate to be overly critical because now that I'm doing some of it myself," she said, referring to an increasing number of media interviews she's granted, including one to the New York Times, which profiled her Monday.
"This is kind of an interesting world in politics because I love him, he's my husband, so It's difficult to be in a situation where I'm being asked about things he's saying or doing."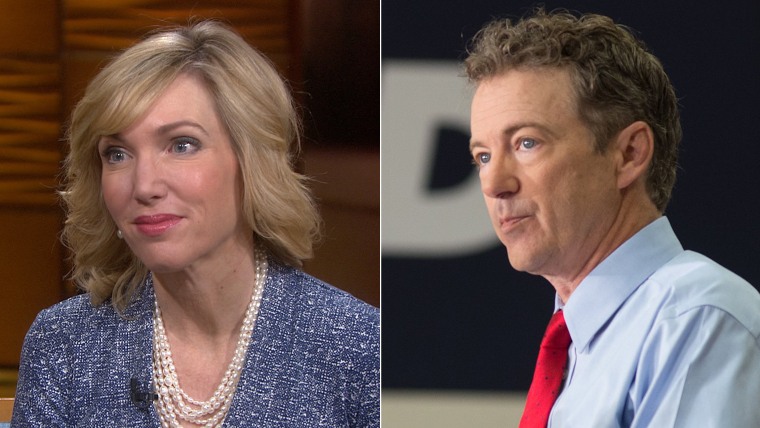 The couple, who have been married 24 years, have three sons, William, 21; Duncan, 18; and Robert, 15.
In a 2013 Vogue profile of Paul, she was described as the senator's "secret asset," someone who could help balance out her husband's prickly demeanor and draw out his "warmer, more mischievous side."
Follow TODAY.com writer Eun Kyung Kim on Twitter.