A familiar face to TODAY viewers will help kick off the festivities at next month's Winter Olympics in South Korea.
Former TODAY anchor Katie Couric will return to NBC for her first Olympic broadcasting stint in 14 years when she cohosts next month's opening ceremony in Pyeongchang.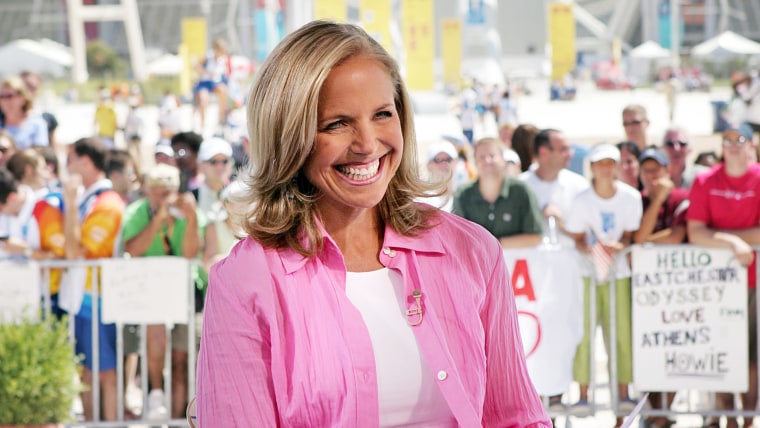 NBC announced on Wednesday that Couric will join Mike Tirico on Feb. 9 in cohosting the opening ceremony.
Tirico is taking over for Bob Costas, who passed the Olympic torch to him last year after a record-setting 25-year run as the prime-time host of the Summer and Winter Games. Tirico served as the daytime host of NBC's Olympic coverage in Rio de Janeiro in 2016.
Couric served as the co-anchor on TODAY from 1991 to 2006 and returned last year for a special guest-hosting stint.
Jim Bell, president of production and programming for NBC Olympics and a former executive producer of TODAY, said at a news conference on Wednesday that he contacted Couric "a few weeks ago" about returning because of her previous experience in handling the "hard job" of hosting the Opening Ceremony.
"We have been eagerly awaiting Mike's first prime time Olympic hosting duties, and now, with Mike and Katie, viewers will have two pros, and two terrific storytellers leading the way,'' Bell said in a news release.
"During my years at NBC, I loved covering the Olympics and showcasing the hard work, dedication and perseverance of athletes from around the world,'' Couric said in a news release. "There's nothing quite like it."
This will be Couric's fourth Olympic experience, as she hosted the Opening Ceremony in Sydney in 2000, Salt Lake City in 2002 and Athens in 2004.
The Opening Ceremony in Pyeongchang will be shown on tape delay on prime time and also will be streaming live at 6 a.m. ET on Feb. 9 on NBCOlympics.com and the NBC Sports app.
Follow TODAY.com writer Scott Stump on Twitter.