Remembering her late husband as "the most generous person I've ever met," TODAY's Kathie Lee Gifford had to fight back tears during her acceptance speech at the Broadcasting & Cable Hall of Fame ceremony.
Kathie Lee and Frank Gifford were both inductees into the Hall of Fame Tuesday, just over two months after Frank died at 84 years old.
"I have to thank my incredible husband, who taught me so much, who was the most generous person I've ever met,'' she said at the end of her speech at the Waldorf Astoria New York hotel.
"He gave me the two greatest gifts that any human being could have and that's their children. My children make me a better person every day."
RELATED: Kathie Lee, Frank Gifford inducted into Broadcasting Hall of Fame
She was joined at the ceremony by the couple's children, Cody and Cassidy, who accepted the Hall of Fame award on their father's behalf.
The event was emceed by her TODAY co-host, Hoda Kotb, and her former long-time co-host, Regis Philbin.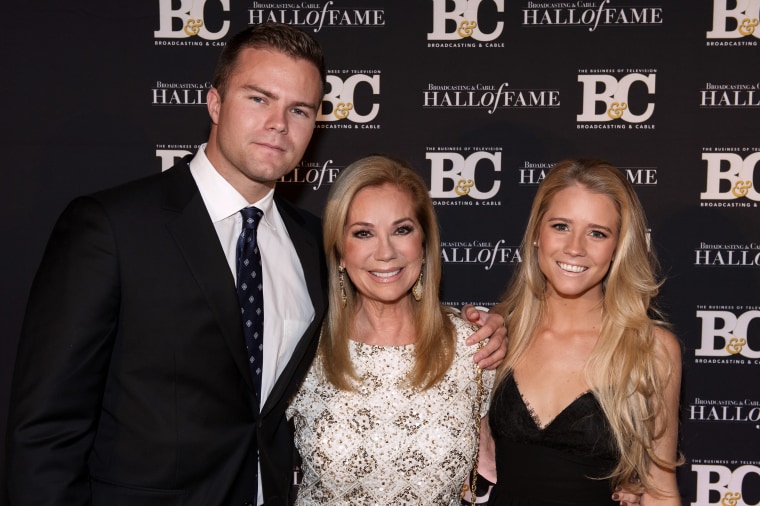 "It was difficult for all of us,'' Kathie Lee said on TODAY Wednesday after getting a bouquet of flowers from Matt Lauer.
RELATED: Friends, athletes remember Frank Gifford
"We keep our tears at home. We really have learned to do that as a family. You do learn when you're in the spotlight like we've been. You learn to keep all the private, precious stuff at home."
The Hall of Fame honor was just the latest for Frank Gifford, who was inducted into the Pro Football Hall of Fame in 1977 after a legendary career as a running back and receiver for the New York Giants in the 1950s.
He then went on to become an Emmy-winning broadcaster as part of the iconic "Monday Night Football" team for 27 years.
"The best part of the evening was that they also honored Frank,'' Kathie Lee said on TODAY. "I think it's the only Hall of Fame he is not yet in. Our children were there to receive it for their dad, so it was going to be difficult for me emotionally.
If if it had just been me, then you keep it all in perspective, but then the fact that it was to honor Frank and all his accomplishments.''
"Frank Gifford was the type of man that never once kept count of the Halls of Fames he was a part of, the Emmys he had won, or the people that he touched,'' Cassidy, 22, said in her speech.
"He was a man that was motivated without agenda. He had his faults, as do we all, but he was a man that personified grace, dignity, love, compassion, generosity and kindness without any expectation of return."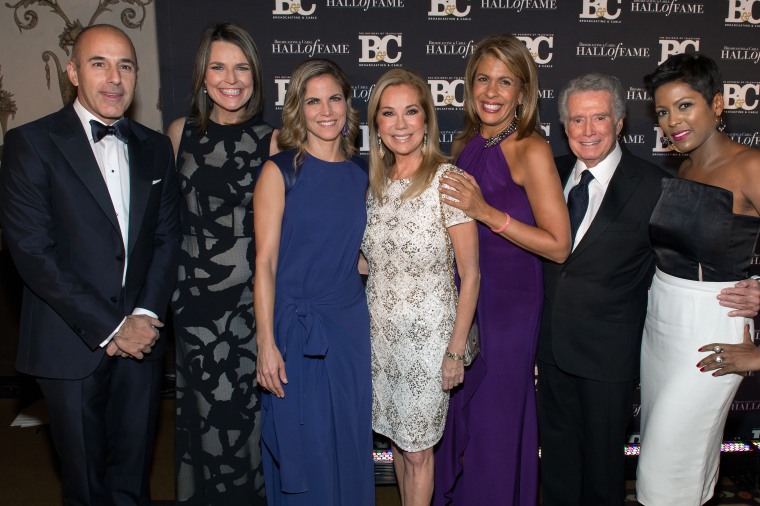 Kathie Lee married Frank in 1986 and even shared the same birthday with him, Aug. 16.
"I am truly the most blessed woman on the earth,'' she said in her speech while fighting tears. "I had 29 years with my incredible husband, and I remember thinking when we getting married, I said 'Lord, if you just give me 10 with that amazing man.' I got that, and a whole bunch more.''
Follow TODAY.com writer Scott Stump on Twitter.