As the third anniversary of her husband's death approaches, Kathie Lee Gifford opened up Tuesday about her life as a widow, describing her personal journey toward acceptance.
"You have a moment where you just accept that you are a widow," she told her Fourth Hour co-host, Hoda Kotb. "It looks weird to you for the longest time. You don't define yourself that way."
"For me, it was on our one year anniversary of his passing," she recalled. She then held up her right hand. "That was when I took my wedding ring off and put it on this hand."
Frank Gifford, a former New York Giants player and Kathie Lee's second husband, passed away at their Connecticut home on Aug. 9, 2015, just days away from his 85th birthday. The couple had been married since 1986 and have two children together.
"In some ways it seems like yesterday, and in other ways it seems like 15 (years)," Kathie Lee said about his death. "It's just weird. You have waves."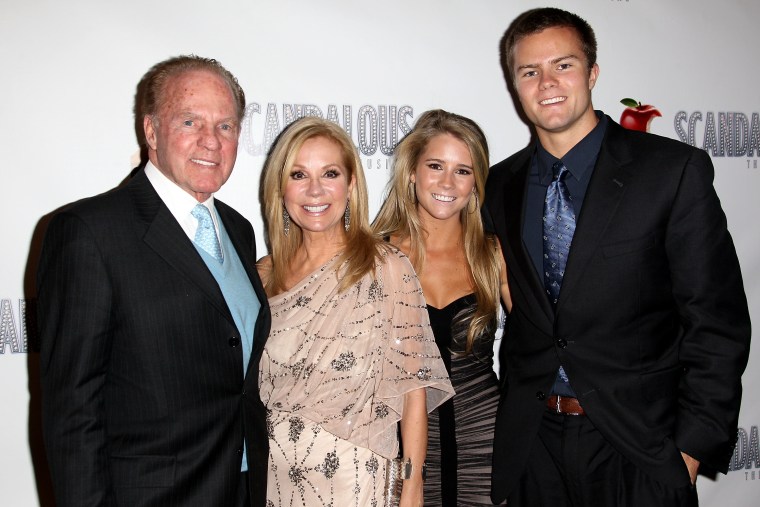 Kathie Lee recently returned from Scotland where she was shooting "Love Me to Death," a movie she wrote and will star in about a recently widowed woman. She told Hoda that the film's script had recently summoned those feelings on widowhood.
"When I was doing the movie, it was very much on my mind because it's about a woman who's lost her husband," she said. "There's something in the movie about when she finally has that understanding that, 'I'm ready. I'm ready to not be defined by this anymore.'"
Speaking more about her happy marriage to Frank, Kathie Lee also shared the sweet story behind the first time her late husband met her parents. It was over one Fourth of July weekend and everyone had gathered at the Hamptons home she had just bought. Her parents, she said, were initially a little bit skeptical about meeting Frank.
"They were hesitant," she recalled. "23 years older. Been married twice before. Already a grandfather. Didn't look right on paper, that's for sure. But you know what? My first one looked perfect on paper and it was a disaster."
But Frank and her parents ended up getting along wonderfully "from the very beginning," Kathie Lee said, joking about all they had in common.
"Well, they were the same age!" she laughed. "My parents were his peers."