A day after the death of football great Frank Gifford, a tearful Hoda Kotb shared some heartfelt thoughts from her TODAY co-anchor Kathie Lee Gifford about her husband of nearly 30 years.
"She said this is not a tragedy,'' Kotb said on TODAY Monday. "I was holding her hand, and she said, 'A 4-year-old girl having cancer is a tragedy.' She said Frank lived to be almost 85. She said he lived an incredible life, has an incredible family and an incredible legacy. She said his life is a triumph."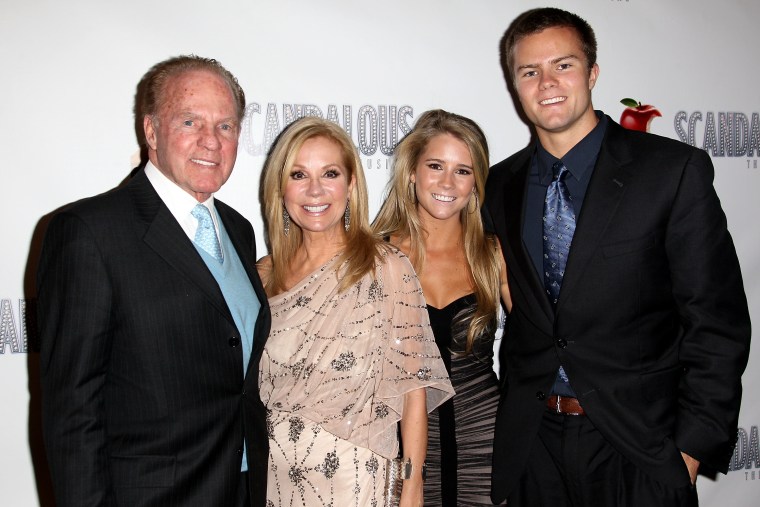 Gifford, who was inducted into the Pro Football Hall of Fame in 1977 after a legendary 12-year career with the New York Giants, passed away at 84 years old of natural causes in his Connecticut home on Sunday.
RELATED: 'Heartbroken' friends, athletes, celebrities remember Gifford
Married to TODAY's Kathie Lee Gifford since 1986, he also is remembered for his career as an Emmy-winning play-by-play analyst and commentator on "Monday Night Football" with Howard Cosell and Don Meredith from 1971-1997. He had two children with Gifford, Cody and Cassidy, and also had three children, Jeff, Kyle and Victoria, from his first marriage with Maxine Avis Ewart.
"Frank died suddenly this beautiful Sunday morning of natural causes at his Connecticut home,'' his family said in a statement. "We rejoice in the extraordinary life he was privileged to live, and we feel grateful and blessed to have been loved by such an amazing human being. We ask that our privacy be respected at this difficult time and we thank you for your prayers."
Members of the TODAY family as well as a host of celebrities, friends and athletes remembered Gifford on social media on Sunday.