A high school senior from Los Angeles who posted a YouTube clip asking Kate Upton to his prom was stunned Wednesday when the Sports Illustrated cover girl responded to his request live by phone on TODAY.
Jake Davidson was talking to Savannah Guthrie and Hoda Kotb about his ambitious goal of getting Upton to come to his May 23 prom when the supermodel herself phoned in, leaving the 17-year-old momentarily speechless.
Recovering quickly, Davidson said: "This just got so much better now that you're on the phone. I'm telling you it will be a great night, great evening – I could even get the curfew extended hopefully by my parents maybe. I hope you'd be interested if your schedule is free, and what time should I pick you up if you are interested?"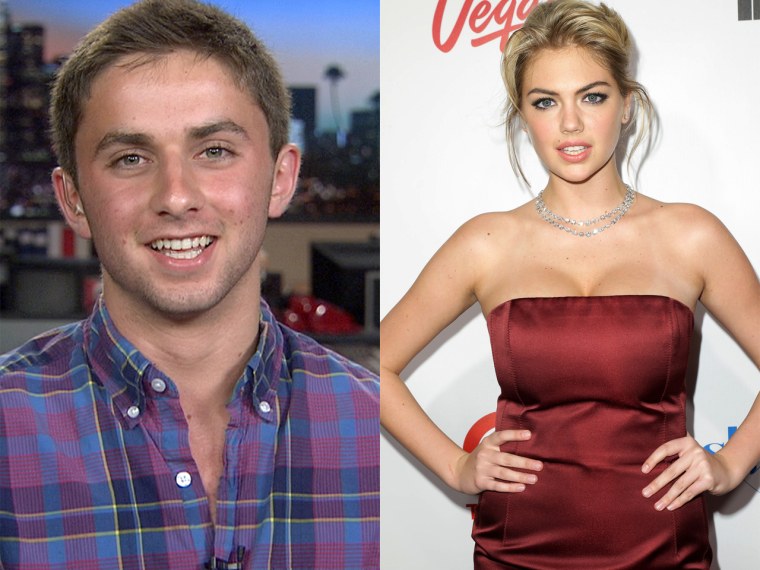 "I definitely have to check schedules, but you seem like so much fun and if everything works out, I'd love to go with you,'' Upton said. "I know we'd have a blast.''
"I can't believe it,'' Davidson replied.
Davidson made his pitch in a video he posted March 16. The 1:48 film shows him maintaining good hygiene, knocking out some push-ups, and putting on his tuxedo. The teen asks Upton if he can call her "Katie," and lets her know that "we can ride around all night long – until 11, that's my curfew.''
"I'm Jewish, 5'9" on a really good day –- and I can't dance. At all," he jokes in the video. "You're Christian, 5'10", and that Cat Daddy video should have won an Oscar for best short film. You could say this is destiny."
DAvidson also notes common interests in the video.
"You like sports, I like sports,'' he says. "You like fine dining, I like fine dining. You're on the cover of Sports Illustrated. I read Sports Illustrated.''
"I absolutely love the video,'' Upton said on TODAY. "It was so hilarious and so creative. Thank you so much for doing that, I really appreciate it.''
Davidson also had a Twitter exchange with Upton heading into Wednesday that made things look promising.
Davidson came up with the idea a few months ago and enlisted family friend Talia Myers, a University of Southern California student, to shoot the video. As for why he would give it a try, that's a purely rhetorical question.
"She's obviously very pretty,'' Davidson said on TODAY. "Sports Illustrated, I read it. She was great on the cover over the last two years. She likes sports. I've seen some of her videos where she talks about sports. I like sports as I said. She's young, we're close in age. Give it a try, see what happens.''
He already has decided he will go with the wrist corsage for Upton to keep it classy.
"I was thinking about that a lot, and it was plaguing me,'' he said. "I've gone with the wrist if that's OK with Kate. I think that's the way to go. Very classy.''
Read more:
Kate Upton on Antarctic shoot for SI: 'My body was shutting down'
Sneak peek: Who is this year's SI Swimsuit cover model?
Is Kate Upton ad too racy for Super Bowl audience?