From the moment the royal couple announced in December 2012 that they were expecting, the world has been captivated by Kate's many maternity looks.
With less than a month to go until the prince or princess' expected arrival, royal family fans are eagerly eyeing Duchess Kate's every purchase. Interest in stores linked to the future monarch have seen increased foot traffic and sales have soared. From bassinets to Bugaboos and even a luxurious hotel room "fit for a royal baby," retailers are keen to cash in on the highly anticipated birth.

"Mothers will rush to copy what Kate chooses for her baby," said Pauline Maclaran, a professor of marketing and consumer research at the University of London.
"Kate has already made a major impact on the fashion market – her choices are studied and copied avidly by designers around the world, so we can presume that she will have a similar influence on the baby wear and accessories market," said Maclaran, who has co-authored a forthcoming book on the consumption and production of the royal family.
Prince William and Duchess Kate have kept mum about the sex of their baby – she has said she'd like a boy, while he would like a girl – and have made a scant few public shopping outings. But, every suspected purchase has made headline news and helped stores see their sales skyrocket.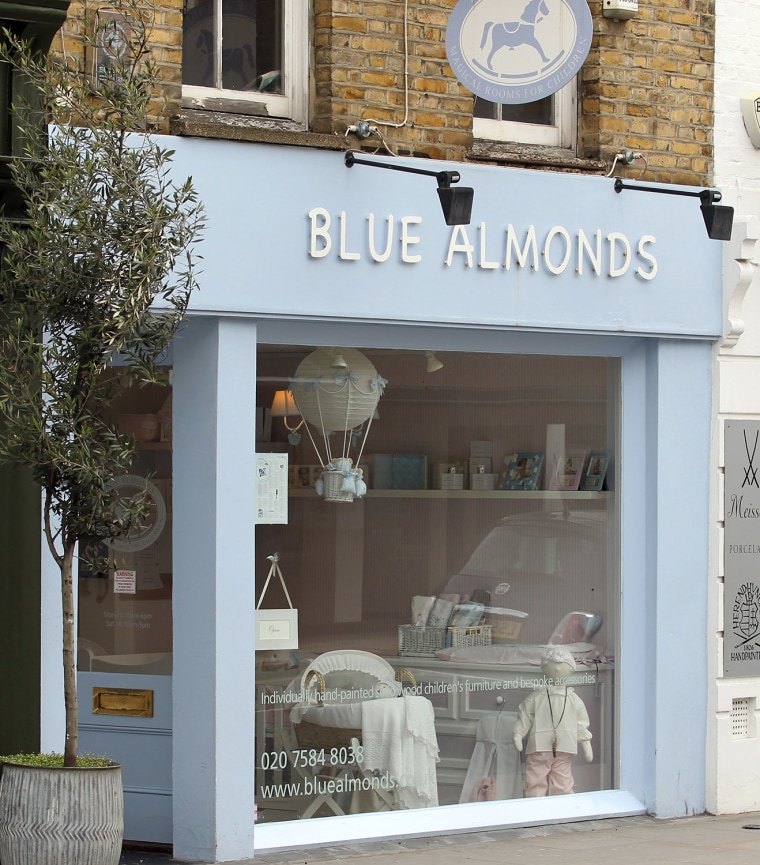 Photographs of Kate leaving U.K. luxury baby boutique Blue Almonds carrying a white wicker Moses basket were recently splashed across magazine covers.
"Interest in Moses baskets have definitely increased recently," said Izabela Minkiewicz, founder of the South Kensington store, which will be launching a "royal collection" at the end of the month.

While Minkiewicz's clients "look to spend anywhere from £2,000 ($3,140) to the sky's the limit" on their nurseries, she said, and a Moses basket alone costs up to £265 pounds ($416), sales of similar infant beds have boomed across all budgets. Asda, a U.K. supermarket chain owned by Walmart, reported a 57 percent increase in online sales of its £35 ($55) Moses basket.
Noble brands
Although British brand Silver Cross has supplied the royal family's baby carriages for more than a century, reports have emerged that Kate bought a light blue stroller from Dutch brand Bugaboo – a popular choice among celebrities including Victoria Beckham and Gwyneth Paltrow.

St. James' Palace has not confirmed any purchases for the House of Windsor heir, leaving royal watchers to eye brands and styles preferred by Princess Diana and other nobles.

Dragons of Walton Street, a bespoke children's furniture design store near Kensington Palace, created the nurseries of Princes William and Harry and Princesses Beatrice and Eugenie.
When news broke that Dragons had worked with Princess Diana, "we had people queuing outside the store," said managing director Lucinda Croft, who was a teenager when the Princess of Wales visited the family shop.
Shortly after the announcement of Kate's pregnancy, Dragons was commissioned by historic five-star hotel Park Lane Grosvenor House to craft a room with a nursery "fit for a royal baby."
The Suite Dreams room, which costs £2,230 ($3,500) a night and opens to the public in July, boasts a voile-curtained cot with a regal coronet, miniature furniture, doll house, and toy chest hand-painted by five artists, and comes with a Balmoral Silver Cross stroller worth £1,450 ($2,276).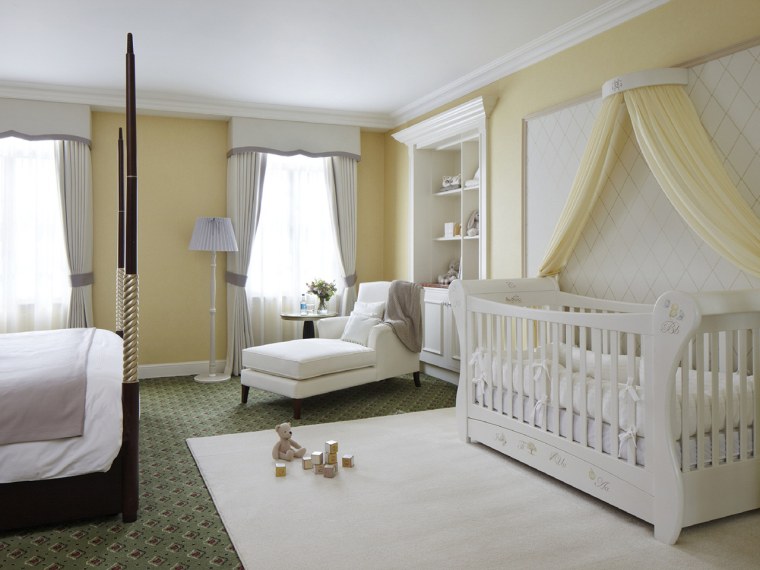 Hype over the hotel and speculation as to whether or not Dragons designed the royal baby's nursery have brought visitors and paparazzi to the store's doorstep on a daily basis.

"Interest has been fever pitch," said Croft. "Every day somebody wants to talk about something to do with the royal baby. If it's this crazy for us, I can't imagine what it must be like for them," she said.
Kate has also had a tremendous influence on women's fashion – from her Topshop maternity dress style selling out in an hour and retailing on eBay for four times the original price, to fashion designer Lulu Guinness styling smaller purses in response to the duchess' preference for clutch bags.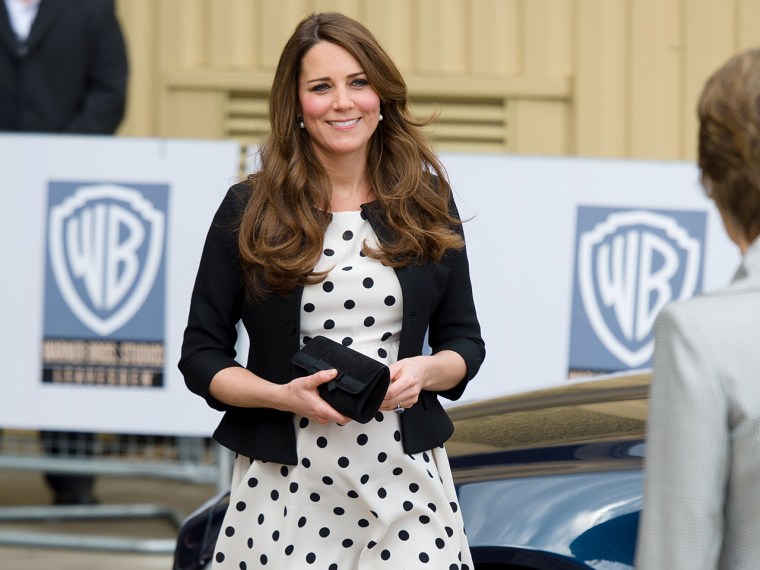 "I think the birth will give a major boost to manufacturers and retailers of babywear and baby equipment and their choices will definitely influence and even lead fashion in those sectors," said Professor Maclaran.

A royal wardrobe
So, how will Kate dress her precious little royal?

Maclaran predicted high-quality, natural fibre clothes that are fashionable but not as ostentatious as those associated with celebrities such as the Beckhams.
"She will probably make some strategic choices to support British industry and other, more indulgent choices to please herself (and Prince William)," said Maclaran, who has been researching the royals for seven years for her upcoming book.
"She will certainly not want to appear too extravagant in this time of economic recession, but like any new mum, she's going to want some indulgences!"
Meanwhile, just as retailers profited from the royal wedding, this is another "rich" opportunity for them, she said.
The country's biggest mom and tot chain, Mothercare, will sell rompers with the words "Prince in Training" and "When I Grow Up I Want to be a Princess." Themed play sets and possibly a stroller in the design of a royal horse-drawn carriage will also go on sale in July.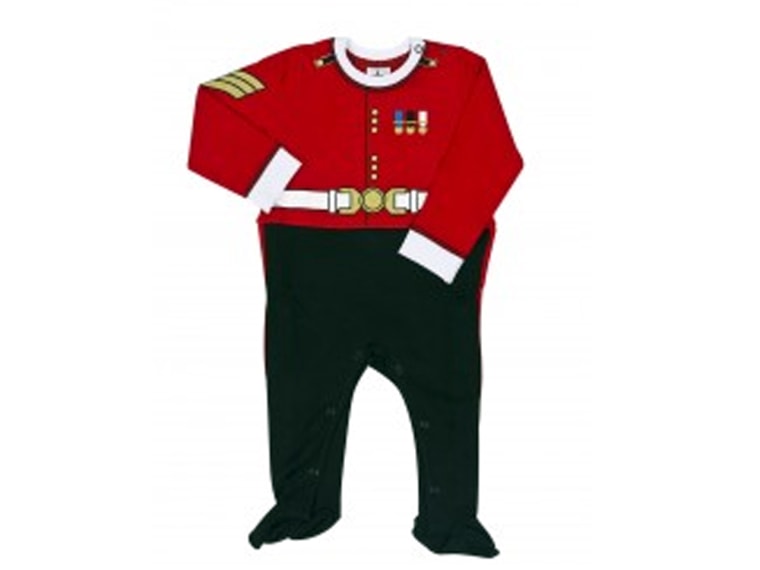 British kitchenware designers Emma Bridgewater and Sophie Allport have themed mugs in the works, while baby wear line Huddle & Bliss have plans for a "royal baby" collection, and Amazon is selling books titled "Royal Baby" and "The Royal Nappy". ("Nappy" is the British term for a diaper.)
Even the royal family is in on the merchandise. Although the Royal Collection – the official retailer of royal memorabilia – is waiting until after the birth to produce its commemorative range, Kensington Palace gift shop has Grenadier Guard sleep suits for sale and Buckingham Palace is selling Guardsman onesies.
The royal baby spending spree is likely to spill out of Britain's borders and have a global effect.
Since Princess Diana chose Dragons for the princes' nursery, their quintessentially English designs have been highly sought after across Europe, the Arab world (especially among royalty), and in the United States.
"I think Kate's influence will definitely include the U.S.," said Maclaren.
"Many Americans are actually keener on the royal family than the British themselves!" she said.
The Princess of Wales was known for her sense of style and that didn't change during her pregnancies. From William to Harry, Princess Diana continued wearing stunning looks while sporting her baby bumps.