University of Kansas student Jordan Stiers had 15 minutes to mull over what she would do with $10,000 in the improbable case that a half-court shot at a basketball event on Saturday night actually went through the net.
By the time her designated shooter splashed in the long shot to the roar of the crowd at the school's Late Night in the Phog event, Stiers, 20, already knew where the money would be spent.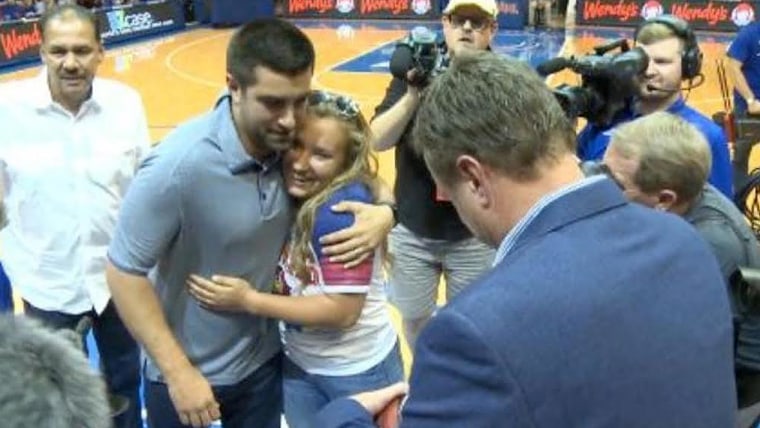 "I was just thinking about what I would do if this ever actually happened,'' Stiers told TODAY. "I thought it would only make sense to help someone who has helped me my whole life and saved me from what happened when I was younger."
RELATED: Family celebrates 4 holidays in 1 joyful weekend before dad deploys
Stiers is giving the money to her paternal grandmother, Roxanne Edwards, 59, whom she affectionately calls her 'Nana.' Edwards helped raise Stiers, who is the oldest of seven, and several of her siblings while Stiers said her parents struggled with drug addiction. Stiers said she moved 11 times before she was in sixth grade until Edwards gave her a stable home.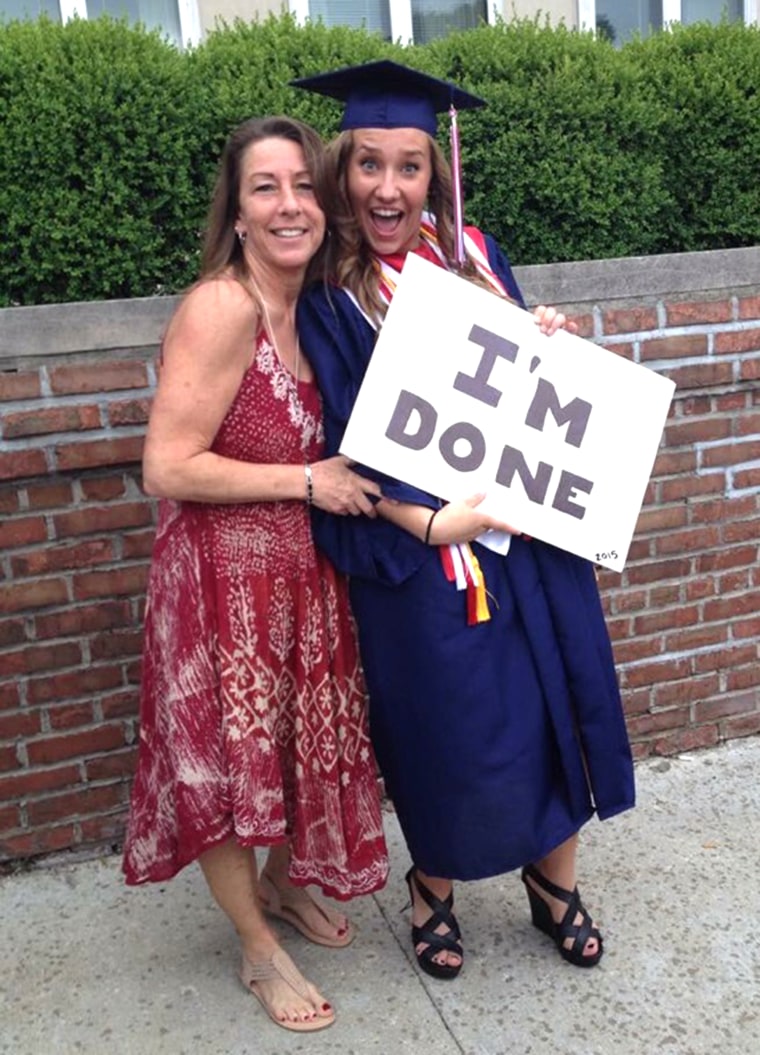 "When I was 10, my brothers and sisters and I were taken out of our home by the Department of Family Services, and if she hadn't stepped up and taken us in, we would've been split between five different foster homes,'' Stiers said. "She saved us."
Three of Stiers' younger siblings, two of them in high school and one in middle school, still live with Edwards at her home in Independence, Missouri. Stiers' younger sister, Miah, 18, is a freshman at the University of Kansas who was right under the basket when the shot went through the net.
"This money also helps my siblings, and they are everything to me,'' Stiers said. "They are my world, and this can now also help them with whatever they need as well."
Every year, Kansas men's basketball coach Bill Self puts up $10,000 of his own money if someone hits the shot at the Late Night event, which serves as a way to get fans excited about the upcoming season. Stiers, a sophomore majoring in athletic training and sports medicine, was selected as a contestant after entering to win via text message.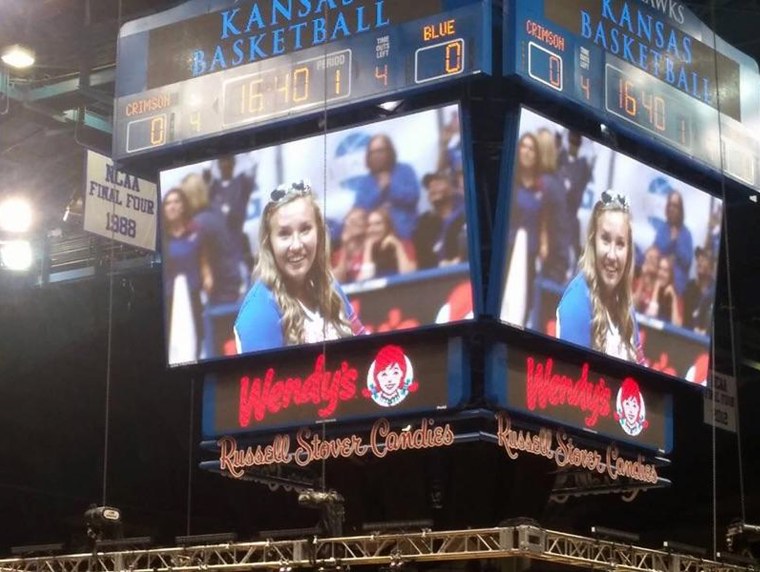 Stiers was one of two contestants, who were each allowed to select a non-basketball player in the building to take the shot for them if they didn't want to do it themselves. She went with Kansas director of basketball operations Brennan Bechard, who has a knack for swishing half-court shots.
"I went to Late Night last year and I saw that (Bechard) made the $10,000 shot,'' she said. "I was like there's no chance I will make it, so let's go double or nothing on him and see what happens. As soon as he made the shot, I was in shock."
Stiers received a personal check for $10,000 and a hug and a kiss from Self, who joked that she at least needs to buy him lunch.
RELATED: How a stranger's simple act at a gas station is inspiring others to 'pass it on'
"The first thought was just relief,'' Bechard told TODAY. "You don't want to get out there and disappoint everyone, especially the person you are trying to win the money for. It makes it much more satisfying after hearing Jordan's wonderful story about helping out her grandmother. It was an awesome moment, and I couldn't be happier for Jordan and her family."
Edwards found out about Stiers' selfless pledge through the local media before Stiers could reach her the next day.
"She said, 'You don't have to do this,''' Stiers said. "I said, 'You also didn't have to take us in when you were building your own life, so this is the least I could do.'"
"Very proud,'' Edwards told NBC affiliate KSHB. "I did not expect that at all, not at all."
Follow TODAY.com writer Scott Stump on Twitter.