Spring 1974: An up-and-coming young filmmaker named Steven Spielberg, flanked by a film crew and a giant, pneumatically powered shark, descends upon sleepy and unsuspecting Martha's Vineyard, Massachusetts. Their mission: Shoot a film based on Peter Benchley's popular novel about Amity Island, a fictional summer community terrorized by a massive ocean predator. But plagued by an unfinished script, an uncertain cast and a routinely malfunctioning mechanical shark (ostensibly the focal point of the film), their initial prospects are far from promising. Eventually, Spielberg sews up his script and cast and works around his faulty fake fish by opting not to fully reveal the beast until well into the film, gambling on the premise that what you don't see is significantly scarier than what you do.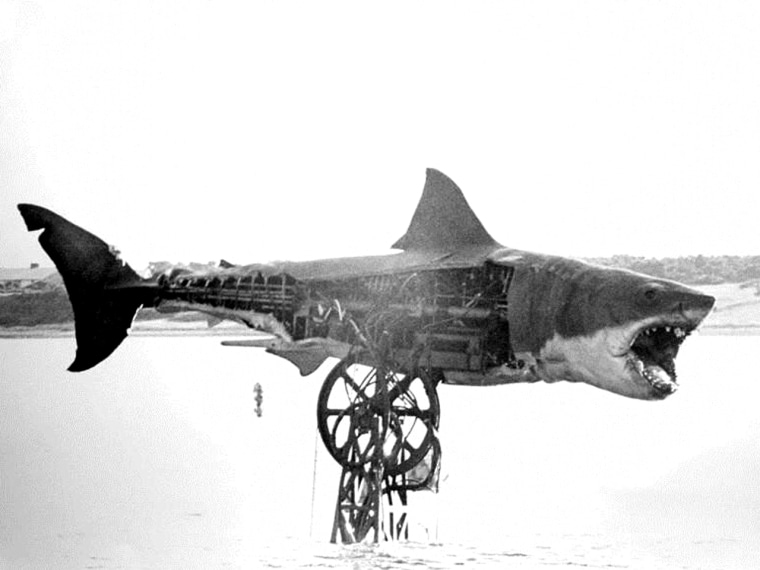 Summer 1975: Spielberg's gamble pays off and then some. "Jaws" opens huge, becomes the highest-grossing film in history (though "Star Wars" will bump it off the top of that heap two years later) and wins a pile of prestigious awards. In short order, "Jaws" redefines the blockbuster and becomes the benchmark by which all other summer movies are judged.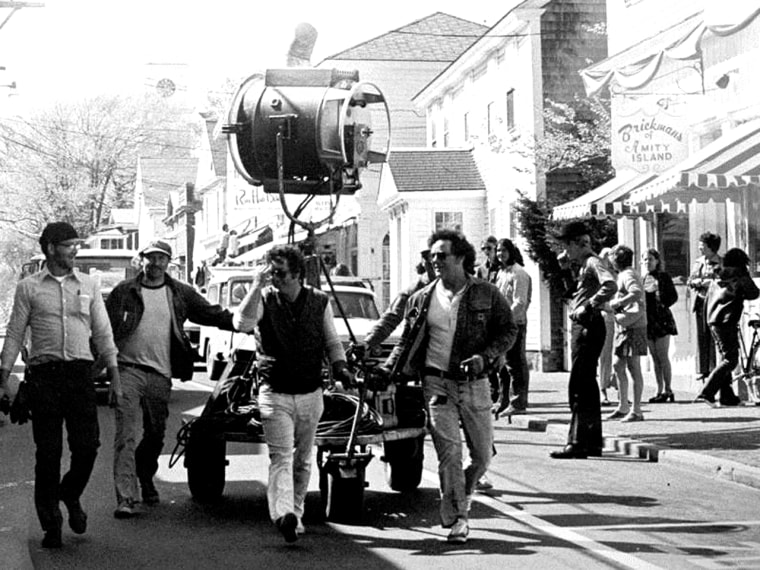 Accolades and record books aside, however, Spielberg's realization of Benchley's novel also resonates on a new, visceral level. By tapping into our collective fear of a realm wherein human beings are very pointedly not at the top of the food chain, "Jaws" captures audiences' imaginations like precious few others. While the movie spawns legions of imitators —from "Orca," about a killer whale, all the way down to "Slugs," about those ferocious lawn predators  — there remains something singular and pure about the original (in spite of its three lamentable sequels). Even in an age of superior digital wizardry and CGI animation, the comparatively primitive special effects on display in "Jaws" still manage to shock, scare and captivate.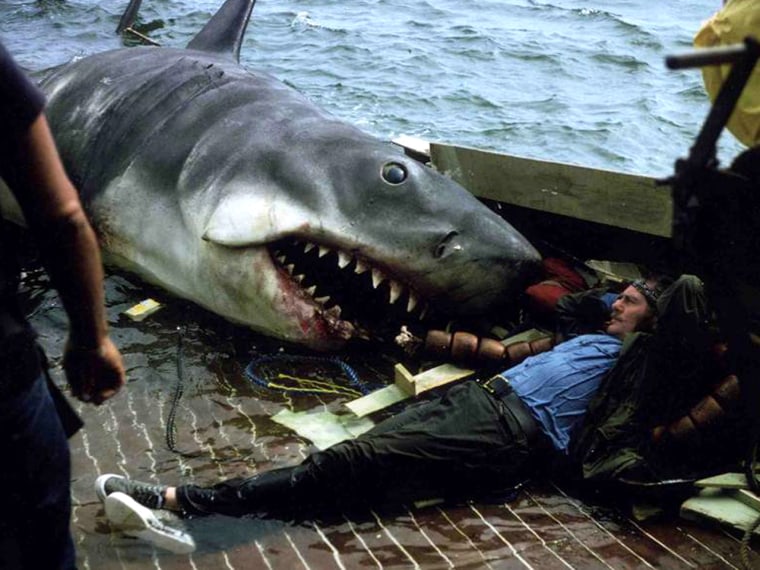 It's not all about the shark, though. Augmented by the idyllic locations of Martha's Vineyard, John Williams' timeless, haunting score (cribbed liberally from Stravinsky's "Rite of Spring" —  its famously ominous strings are probably playing in your head right now), and the memorable performances of its stars, "Jaws" connects on virtually every cinematic level.
The film is framed around the endearingly twitchy apprehension of exiled urbanite Sheriff Martin Brody (Roy Scheider), the boyish enthusiasm of learned oceanographer Matt Hooper (Richard Dreyfus), and a signature performance by Robert Shaw as Captain Quint, a rough-hewn shark hunter prone to vaguely lurid sound bites ("here's ta swimmin' with bow-legged women"). This ensemble cast delivers more quotable lines ("you're gonna need a bigger boat" was ad-libbed on the spot by Scheider) than can be quantified. "Jaws" goes on to become a classic in every sense of the term.
Summer 2012: Martha's Vineyard is once again playing host to an infestation of a non-"islanders" as "JawsFest: The Tribute" convenes to the delight of "Jaws" fanatics worldwide.
"We like to call them 'fin-addicts!" event director Susan Sigel Goldsmith tells TODAY.com.
A four-day celebration that weds science, cinema, sightseeing and, well, silliness, "JawsFest: The Tribute" should make for the ultimate "Jaws" pilgrimage. 
"The response has been tremendous," Goldsmith says, "with people coming in from as far as Australia for the event. With the advent of social networking, the connection to fans is much stronger  — Universal Studios' "Jaws" movie Facebook page has more than 815,000 fans, and our own page has tremendous activity as well. We have received calls, e-mails and letter from fans consistently since 2005."
But what caliber of aficionado (or should that be afishiando?) would be attracted to such an event? "We've had some incredible responses," says Goldsmith, "from people sending us pictures from their 'Jaws'-themed weddings to 'Jaws' tattoos, numerous Quint Indianapolis speech video submissions, and some really great look-alikes. 'Jaws' resonates deeply with marine artists, shark conservationists, writers and fans, and in many cases the movie has literally changed lives. There is a significant group of fans who have seen 'Jaws' hundreds of times, have dedicated a portion of their lives to collecting 'Jaws' memorabilia, and know the entire movie by heart."
In coordination with Martha's Vineyard, "JawsFest" offers trivia hunts, re-enactments, tours to key locations from the film, discussions and documentaries about the making of the movie, autograph sessions with surviving cast members, forums about shark conservation and even a seminar on the making of the film from a woman's perspective dubbed "The Women of Jaws."
"This event is for the fan," says Goldsmith, "and we appreciate all the direct participation we have received from them. With the recent passing of [original 'Jaws'producer] Richard Zanuck, we are reminded that we don't have a lot of time left to hear these stories firsthand from those involved with the making of 'Jaws.' Personally, I can't wait to live that experience just one more time."
Not entirely coincidentally, "JawsFest: The Tribute" is happening in tandem with Universal's 100th Anniversary celebration, the Discovery Channel's 25th Anniversary Shark Week and, most significantly, the long-anticipated release on Aug. 14of the re-mastered incarnation of "Jaws" on Blu-ray, featuring a state-of-the-art restoration of the movie and over four hours of bonus features, including an all-new documentary dubbed "The Shark Is Still Working." 
"We'd love it if Spielberg would come," Goldsmith adds, "and although we think that's not likely, we have not given up hope."
Did "Jaws" scare you out of the water? Tell us on Facebook.
Alex Smith is a TODAY.com editor who was disappointed to find that the huge dorsal fin he spotted cutting through the water off his local beach in 1978 belonged to a harmless (albeit still freaky-looking) sunfish.