Judge Rosemarie Aquilina, who presided over the sentencing of former USA Gymnastics team doctor Larry Nassar, expressed no regret over her harsh sentencing of the fallen physician and said letting his victims testify in her courtroom about their sexual abuse helped them heal.
"As they spoke, I literally watched them grow to 10 feet. And they got their power back," Aquilina said Monday in an exclusive interview on TODAY. "It was so transformational, even for me."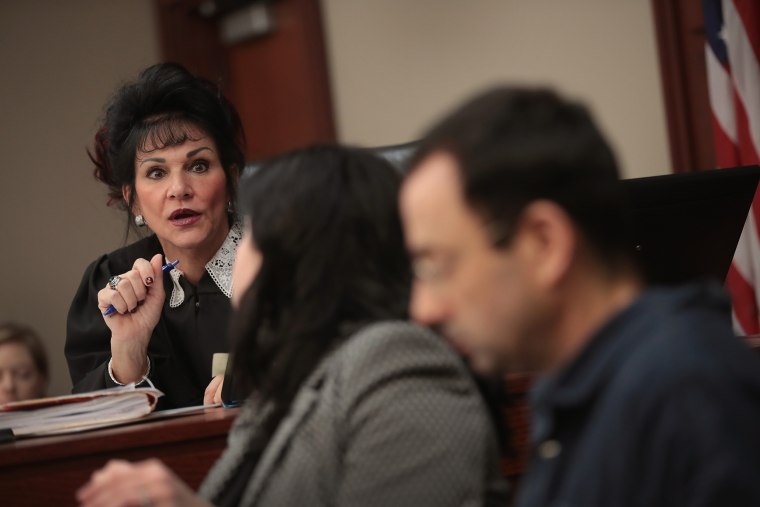 The Michigan circuit court judge earlier this year sentenced Nassar to 40-175 years in prison for sexually molesting patients under the guise of medical treatment. Nassar had already pleaded guilty for multiple sexual crimes, but during his sentencing trial, Aquilina allowed more than 150 young women to confront him publicly during their victim-impact statements.
"People said, 'How could you have gone and listened to that for seven days, do you need some help?' And I said no, because they energized me," she told TODAY in her first interview since the trial. "As they got their power back from him and said, 'I am not a number. I am a name and here's what you did to me,' they took their power back. They know they mattered. They were just transformed to butterflies. Beautiful."
Aquilina, who told Nassar she had "just signed your death warrant" when she issued her sentence, defended her decision. She said she could have altered her sentence had Nassar shown remorse. Instead, she said he submitted a letter to the court that complained about his treatment.
"He has no idea what he did. He still thinks he's a good doctor. That it was medical. It's not medical, sir," she said.
Among those who have publicly accused Nassar of sexual assault are Olympic gold medal gymnasts Aly Raisman, Simone Biles and McKayla Maroney, who said she was abused during her first visit to him when she was 13.
Those women and hundreds of other survivors have alleged that Nassar molested them under the appearance of medical treatment when he served as the team doctor for both USA Gymnastics and Michigan State University.
Aquilina said sexual assault survivors have reached out to her after the Nassar trial to thank her for empowering them.
"Around the world, women have contacted me and said, I felt those girls were telling my story verbatim. And when you spoke to them and you believed them, your words are healing me. I'm not committing suicide today. I'm not cutting myself. I'm eating. I sought out therapy. I want to live and it's because you believed me," she said.
Glamour Magazine named Aquilina, along with the dozens of women who helped take down Nassar, its "Women of the Year."
The judge said she was honored to receive an honor that will help keep "the conversation going" about sexual assault and speaking out.
"This mean that they've heard. They want the world to hear, and they are part of eradicating sexual assault," she said.