A Superior Court judge in Bibb County, Georgia, has been regularly bringing teens to tears — with a tough but uplifting message. Judge Verda Colvin, part of a voluntary program aimed at helping troubled youth stay in school and find a path toward success, gets kids' attention during monthly talks by placing a prison jumpsuit and a body bag in front of them to indicate where they could end up if they don't change their ways.
What Colvin didn't expect, though, was that her talk would go viral after it was videotaped and placed on the Facebook page of Bibb County Sheriff's Office on March 30. It has since been viewed more than 250,000 times.
"You can have the ultimate experience — in this body bag. The only way someone is going to know you're in it is by this tag with your name on it," Colvin warns in the video.
RELATED: Woman who shared 'tough love' ultimatum to cocky son responds to mom judging
But the judge, 50, who is also a single mom raising a son and daughter, makes a point of weaving in messages of hope and kindness. "Whether anyone has ever told you before, you're special, you're uniquely made," Colvin says, addressing three girls in the video shortly before they can be seen crying.
She even confides how she would go home and cry when she heard her own son had gotten into trouble at school. "I wondered if I failed him," she tells the group of 17 kids, as a court officer hands tissues to a couple of boys tearing up. "When I see you all hurting, it makes me hurt too," she continues. "Because I don't even know you all personally, but I love each and every one of you."
Colvin told TODAY that she didn't know what to think when she first found out about the video's popularity. "I was a little apprehensive," she said. "But then I realized that it was a good thing. I believe everything is for a reason, and this program and video can reach out to help other parents and teens."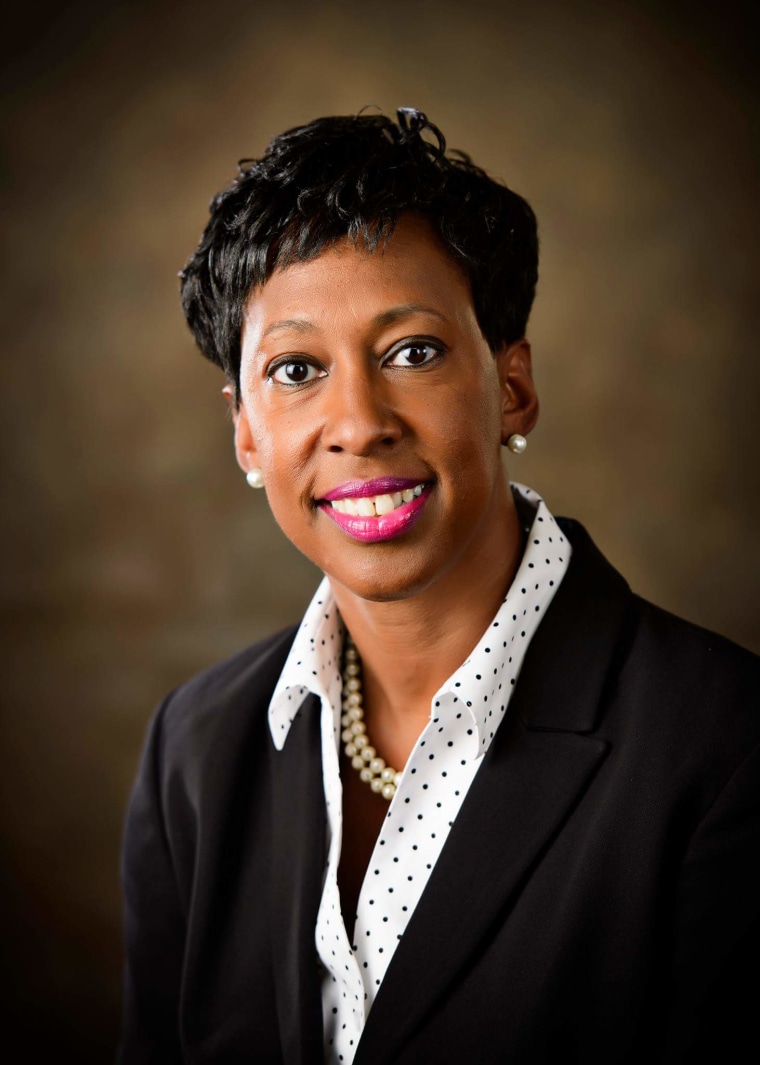 She reveals that her dad left when she was only 6 years old. "My mother could make a penny spend a million ways, and I never knew we were below the poverty level growing up because my mom provided me with everything I needed," she said. "I refused to let my circumstances define who I was. I was the first person in my family to go to college. That is what I try to tell these kids — there is nothing they cannot do if they put their mind to it."
RELATED: Angry mom bills 'unappreciative son' $39K for things he takes for granted
That's part of why Colvin is so passionate about helping children in the program. "Be somebody," she urges in the video. "It doesn't take anything to be nothing. Nobody else can do what you are supposed to do in this world."
The Consider the Consequences program was started by Lieutenant Ellis Sinclair of the Bibb County Sheriff's Office last May. Sheriff David Davis asked Colvin if she would participate in the program aimed at keeping adolescents out of the judicial system.
Colvin said she feels she can connect with kids because of her own experience. "I can empathize with these kids because I can remember how it felt to live in a single parent family in tough circumstances," she said. "I can meet these kids where they are emotionally."
RELATED: Why this 'cool cop' skateboards with teens
Consider the Consequences is a monthly program for kids ages 9 to 17 available to families for free. Participants do not have to be involved with the judicial system, and parents can just sign their child up for the yearlong program run by volunteers.
On the first day of the program, children visit the sheriff's office, and then are brought to the courtroom, where Colvin gives her talk.
RELATED: #Copslovehopscotch: Police officer plays hopscotch with homeless girl
"I have a blurb about each child, and I read the offenses aloud and then I tell them what the penalties are if they were convicted of that crime in my courtroom," she said. "I do not believe anyone is lost forever. I am known as a tough judge, but I have to give consequences. Often I offer to write the people that I must send to prison, with the promise that I will write them back. I am a glass-half-full kind of person. I believe people can choose to change and that society needs them to fulfill their destiny."
Colvin believes there needs to be more programs like the one she is part of in Bibb County. "Our children are the least paid attention segment of our population because they can't vote and they don't pay taxes. They are our future and deserve more love, giving and compassion in their lives."