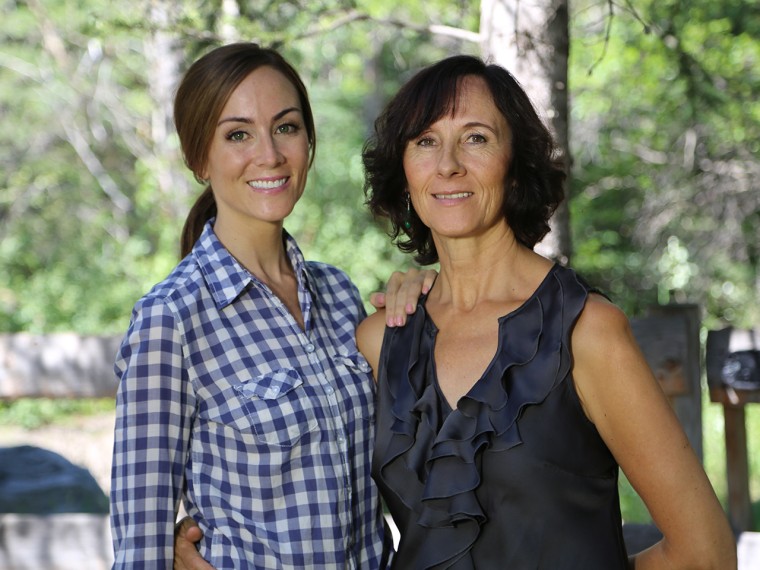 Former freelance journalist Amanda Lindhout, who endured beatings, starvation and sexual assaults by Islamic rebels after being kidnapped in 2008, will appear live on TODAY Friday after giving her first extensive interview about her horrific ordeal.
In her new book, "A House in the Sky,'' Lindhout shares deeply personal details from the 15 and a half months she spent in captivity, the abuse she endured, and fighting through thoughts of suicide. She spoke about her ordeal in an hour-long report from NBC News correspondent Kate Snow on "Dateline'' Friday at 9 p.m. ET.
Lindhout recalled Aug. 23, 2008, the day she was kidnapped by about a dozen men with pointing AK-47 assault rifles at her vehicle when she went to visit a refugee camp outside the Somalian capital of Mogadishu. Lindhout, who was 24 at the time, was kidnapped with 36-year-old Australian photographer Nigel Brennan on their third day in Somalia.
"I went into shock,'' Lindhout told Snow. "The next thing I knew, my door was pulled open and then I found myself lying face down in the dirt, spread eagle, with a gun held to the back of my head. That was a line in the sand of my life. There was my life before that moment, and there is my life after that moment."
During one point in her kidnapping, she said her captors brought her outside to a tree and had her kneel down before pulling her head back and holding a serrated knife to her throat.
"So many times I had feared that my head would be cut off, because it was something that they threatened us with a lot,'' Lindhout said. "I was sure that was it, that they were going to kill me."
The seconds felt like an eternity as Lindhout waited, thinking she would die, before her life was spared.
"I felt despair because I didn't want it to be the end,'' she said.
In another incident during her captivity, she said the kidnappers tied up her arms and legs in a room, pulled her body up by ropes and left her in excruciating pain. During that time she contemplated suicide.
"It's very hard for me to go back to that and think about what happened to me during those three days that I was tied up in that room,'' she said. "The three longest days of my life. When they left the room, and I laid there on my mat, alone, every single part of my body screaming and throbbing and absolute agony, I made a very calm decision to end my life.
"At the moment where I was going to slit my wrists, out of the corner of my eye, I noticed some movement in the room. And there was a small brown bird hopping around on this little square of sunlight — curious, looking at the room, looking at me. And then he flew out. And what I felt next was this almost overwhelming desire to live, and to be part of the world again."
Lindhout and Brennan spent 460 days in captivity before being freed in November 2009. 
"In the dark house, it was very often minute by minute,'' Lindhout said. "I felt like I was hanging on by a thread. But the dark house is also where I found my house in the sky. Which is the place that I would go to a safe place that was in my own mind, where I could escape my reality, this brutal, violent existence." 
Amanda Lindhout will appear live on TODAY Friday. Kate Snow's hour-long report on her ordeal and the remarkable role her mother played in the story will air on "Dateline" Friday at 9 p.m. ET.