Jordin Sparks stood tall during her performance of the national anthem before Monday night's football faceoff between the Dallas Cowboys and the Arizona Cardinals.
But just because the singer didn't take a knee alongside so many of the players, doesn't mean she didn't make a statement of her own.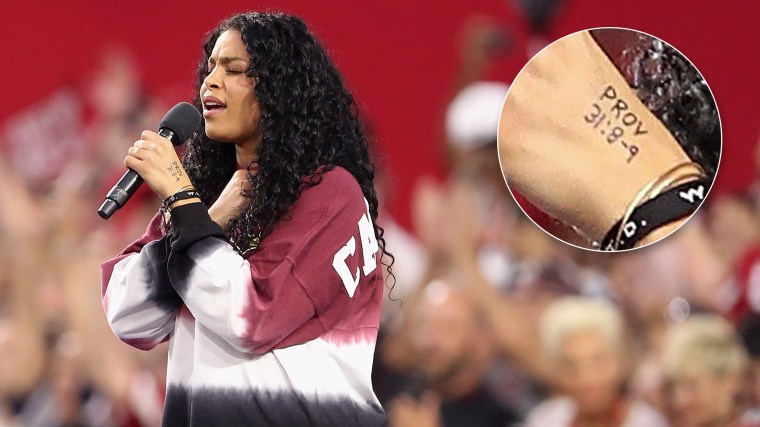 As Sparks belted out "The Star-Spangled Banner" at the University of Phoenix Stadium, she let her hand do the talking.
Written in black ink on the backside of her left hand was "PROV 31:8-9," a reference to a bible verse from the Book of Proverbs.
It reads, "Speak up for those who cannot speak for themselves, for the rights of all who are destitute. Speak up and judge fairly; defend the rights of the poor and needy."
During the game, many on social media speculated that verse was meant to be a "silent protest" in response to recent comments from President Donald Trump, much like the locked arms of the players on the sidelines.
The 28-year-old, who took top honors on "American Idol" back in 2007, has a personal connection to the game— and to both Phoenix and Dallas.
Her father is former NFL cornerback Phillippi Sparks, who played for the Cowboys in 2000 and for Arizona State in his college days.