While this has been the hardest year of Chris Singleton's life, a trio of Yankees and wrestling star John Cena helped put a smile on his face Monday with a great surprise on TODAY to kick off the baseball team's annual Hope Week.
Singleton has been a symbol of strength and hope since losing his mother, Sharonda Coleman-Singleton, 45, who was one of nine parishioners murdered in the shootings on June 17 at Emanuel A.M.E. Church in Charleston, South Carolina.
"When something like this happens, you never think it would happen to you, so I think everybody praying for me has allowed me to be this strong,'' Singleton told Tamron Hall and Cena on TODAY's Take.
Alex Rodriguez, Brett Gardner and Dellin Betances surprised Singleton by inviting him as a special guest to throw out the first pitch at Monday night's Yankees game against the Minnesota Twins at Yankee Stadium.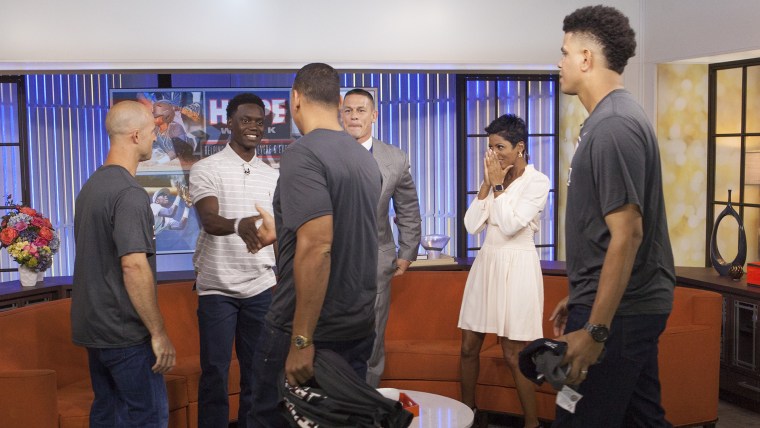 The surprise for Singleton began Hope Week (Helping Others Persevere & Excel), an annual initiative by the Yankees featuring acts of goodwill that aim to provide hope and encouragement to more than just the recipient. Every day this week, the Yankees will highlight a worthy individual, family or organization, which includes being recognized during a game at Yankee Stadium.
"For one week, we have an opportunity to get into the community and give back, and the message for us is that you don't have to be an athlete or a celebrity to give back,'' Rodriguez said on TODAY. "There's tons of people out there who need a lot of help, and that's what we're trying to do."
"It's something that we always look forward to every summer,'' Gardner said. "We enjoy getting involved in the community and really shedding some light on some special stories and special people."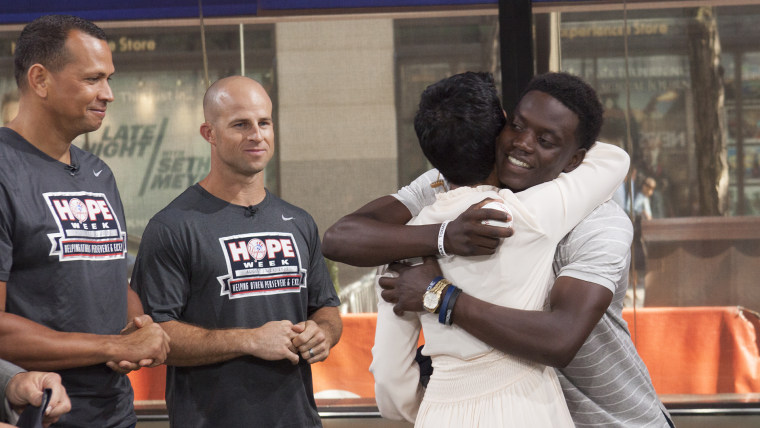 Singleton, who just finished his freshman season on the baseball team at Charleston Southern University, delivered an inspiring message the day after his mother's death during a memorial at his former high school.
"I just say that love is always stronger than hate,'' he said at a vigil that day. "So if we just love the way my mom would, the hate won't be anywhere close to what love is...(We've) shown that we can come together as a community to try and get past these things. Tragedies happen, but life's going to go on and things are going to get better."
Singleton also publicly forgave shooter Dylann Roof.
"I felt like there was only two things I could do in that situation,'' Singleton said on TODAY Monday. "I could be hateful and not forgive him, or I could forgive him, and I just chose to love him and to just forgive him."
"The strength he's shown has been incredible,'' Charleston Southern baseball coach Stuart Lake said on TODAY.