President Jimmy Carter, 96, and first lady Rosalynn Carter, 93, rang in the New Year with a sweet smooch that was captured by a longtime friend.
Taking a moment to celebrate at the annual "peanut drop" in his hometown of Plains, Georgia, Carter, leaned in to share a kiss with his wife as she pulled down her mask. The Carters have been married for 74 years and became the longest married presidential couple last year, surpassing the late President George H.W. Bush and wife Barbara.
The New Year's Eve kiss was captured by the couple's friend Jill Stuckey.
"I caught these folks kissing in my driveway tonight! If that doesn't make your New Year start out right nothing will!! HAPPY NEW YEAR," she posted on Facebook.
Stuckey told TODAY over the phone that President Carter watched the peanut drop from his car while the former first lady got out but immediately returned to the car to give her husband "a big kiss."
"Between the seatbelt and the mask, it was hard to get that kiss, but he persevered and landed a great kiss to his bride on New Year's Eve," Stuckey added.
"What a lovely and joyful picture!" posted one commenter.
"To have an immortal love like theirs. Love their hearts. Happy New Year Jill!" wrote another friend of the photographer's.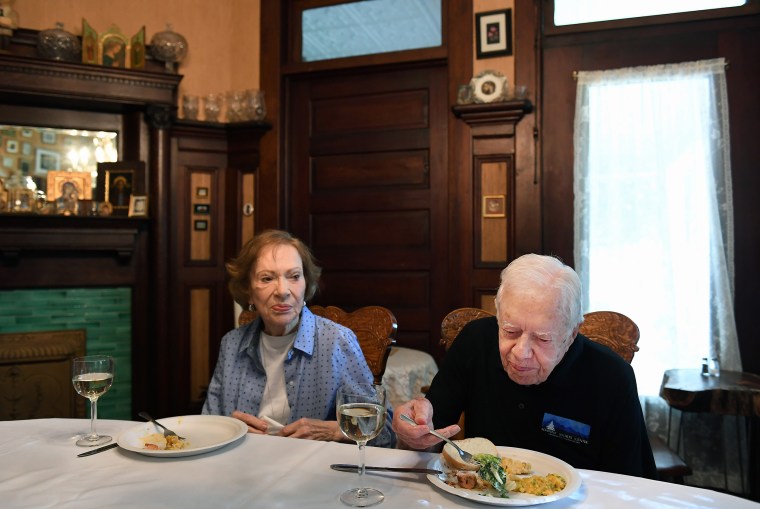 "This is what love looks like!" commented another person. "What a sweet picture."
This isn't the first time this loving couple has been caught kissing in public. On Valentine's Day 2019, they were seen on the "Kiss Cam" at the Atlanta Hawks game, sharing a smooch to cheers from the crowd.
In 2015, they also showed their love for one another on the kiss cam at an Atlanta Braves game.
Former first lady Rosalynn Carter has been kissing her hubs for a lifetime and even revealed that she broke a personal rule, allowing him to kiss her on their first date!
In 2015, when asked by a reporter during a C-SPAN interview at The Carter Center what he was most proud of looking back at his life and career, Carter didn't hesitate.
"The best thing I ever did was marry Rosalynn," he said. "That's the pinnacle of my life."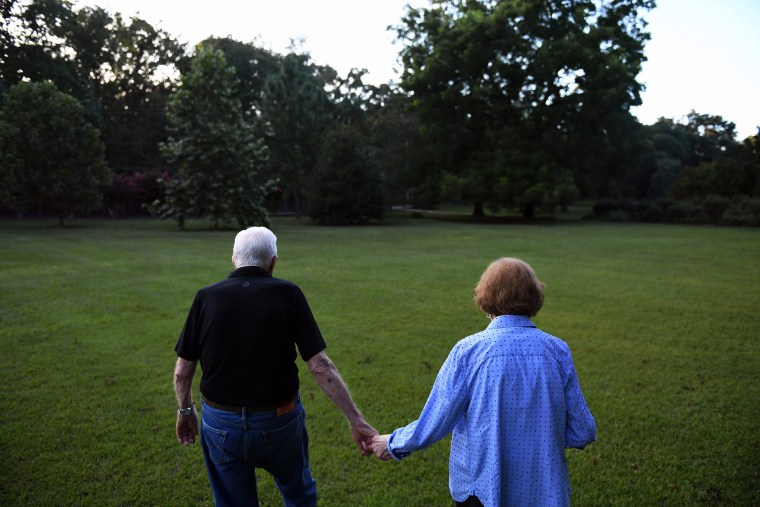 Here's wishing many more New Year's Eve kisses and happy years to our longest running presidential couple!
This story has been updated to include quotes from the photographer Jill Stuckey.