In the aftermath of a snowstorm in the Northeast last week that disrupted the airline for nearly a week, JetBlue unveiled its new Consumer Bill of Rights on TODAY this morning and announced it will spend $20 million to $30 million in an effort to appease thousands of angry customers left stranded on Valentine's Day.
JetBlue founder and CEO founder David Neeleman said in an exclusive interview that he was "horrified" by the inconvenience JetBlue's "overwhelmed" customer service and crew services created for passengers by just one snowstorm that targeted the six-year-old discount airline's hub at John F. Kennedy International Airport in New York.
About 1,100 flights were canceled between Feb. 14 and Monday, and tales of travelers forced to sit inside JetBlue planes on tarmacs for hours are still emerging nearly a week later.
"We're flying. We're up and going; the first flights have left," Neeleman told TODAY host Matt Lauer.
"On Friday night, we made a decision to put some flights on the ground ... just to try to reset the airline," he said. "It was probably an over-reaction, and in hindsight we probably didn't need to go that far, but we have put our customer and crew members through so much these past couple of days ... we needed time to get back to normal."
For JetBlue, getting back to normal could take some time. Lauer noted that the company's failure to deliver because of just one storm may have threatened the company's position in the highly competitive discount airline travel business.
"You spent thousands of man hours and millions of dollars creating an image for this airline, that it is passenger friendly," Lauer said. "What was it like to ... watch one snowstorm basically take that image and flush it down the drain?"
"It was horrifying," Neeleman conceded. "It was the worst possible thing imaginable."
The company's public relations woes continue, but its financial problems may linger for some time. Neeleman estimated that the new Consumer Bill of Rights he unveiled on TODAY will be applied retroactively through Feb. 14.
Bill of Rights paymentsUnder the scheme, JetBlue-caused departure and ground delays will earn affected passengers travel vouches ranging from $25 for an hour delay to round trip tickets for delays of four hours of more.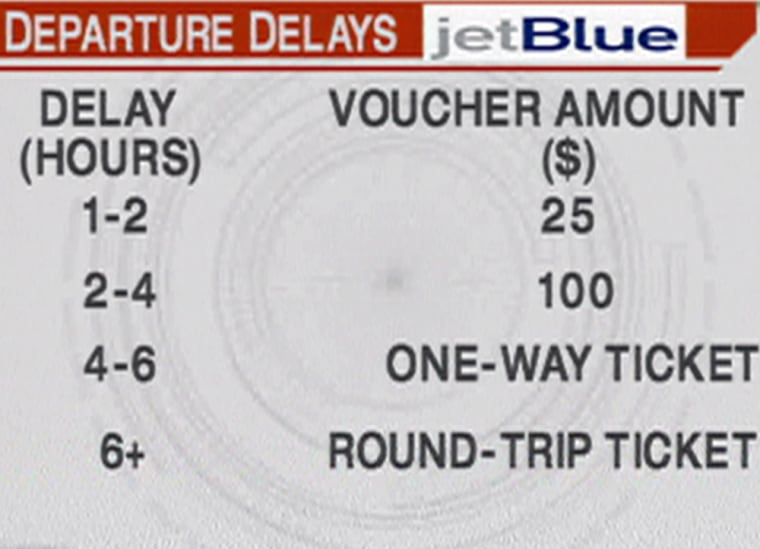 "We're going back and [retroactively applying] all of that. We're going to give that to all of our customers," Neeleman said, estimating that the storm's fallout will cost JetBlue between $20 million and $30 million. "It is going to be very expensive."
JetBlue's new pledge to compensate passengers for the company's goof-ups, believed to be the first for the industry, comes as Congress is getting ready to consider its own "Passenger Bill of Rights" that could be more wide-sweeping. Among other things, Congress may force airlines to let passengers have the option of deplaning because of extended tarmac delays.
Neeleman said the company would have made the move regardless of what Congress does or does not do.
"Why should Congress tell us how to treat our people?" Neeleman said. "We should be able to do that. We want to do it because it is the right thing to do."
It remains to be seen whether passengers will forgive JetBlue, which Neeleman started in 2000 after leaving the other big kid on the discount airline block, Southwest. Although Neeleman said all of JetBlue's problems last week came down to a lack of internal communication and backup plans, he said no heads will roll at company headquarters in New York.
Lauer couldn't believe it.
"No firings?" he asked twice.
"No," Neeleman said. "We had a problem. This is a defining moment in our company. We have learned a painful lesson .... It has really affected us to our core. We are determined to put in different processes to make sure it never happens again."
JetBlue, which operates 600 flights per day, will release additional details about its new Consumer Bill of Rights on its Web site on Tuesday afternoon at www.jetblue.com.
— John Springer, contributor for TODAY