Hours after a photo-finish victory that turned them into the first Americans to win Olympic gold in cross-country skiing, Kikkan Randall and teammate Jessica Diggins continued to express amazement over their unexpected win.
"It's still sinking in," Randall, 35, told TODAY on Wednesday shortly after their medal ceremony. "We always hope to create that kind of reaction for cross-country skiing, so it makes us feel so good to hear you guys were excited."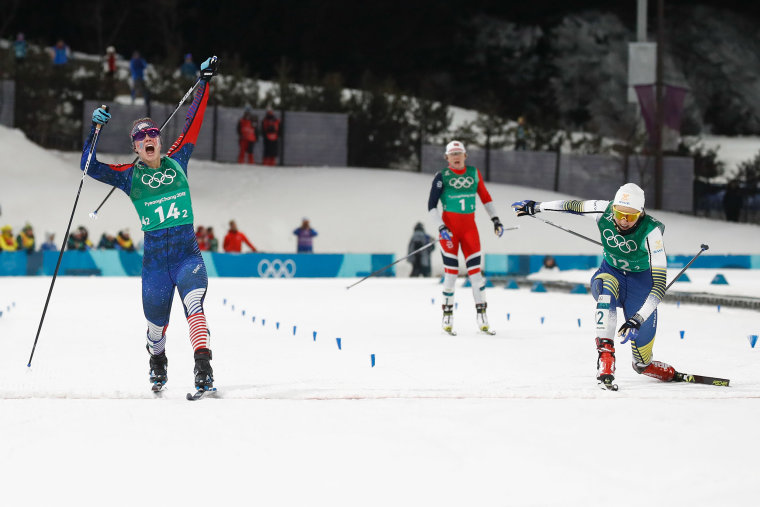 With their gold in the women's team sprint, Randall and Diggins also became the first Americans to medal in cross-country skiing since Bill Koch won a silver in 1976.
Randall's win also was significant for another reason: She's the only mother representing Team USA in Pyeongchang. This year marks her fifth and final appearance at the Olympics.
"I wish I had him here with me right now," she said about her 1-year-old son, Breck, who is back in the United States with his grandparents.
"It was this race in particular that really motivated me to go for one more Olympics, and really pushed me through this comeback after having my son," she continued. "It's been so fun. This family on this team has been helping me raise Breck. It's just so cool. I hope it gives a lot of inspiration to all the moms out there that you can come back to being active and physical and stronger than you've ever been."
Randall and Diggins won the gold by crossing the finish line just 0.19 seconds ahead of Sweden, which took home the silver. Norway captured the bronze.
They were thrilled to realize they had won. Randall recalled Diggins asking, "Oh my gosh, did we just win the Olympics?"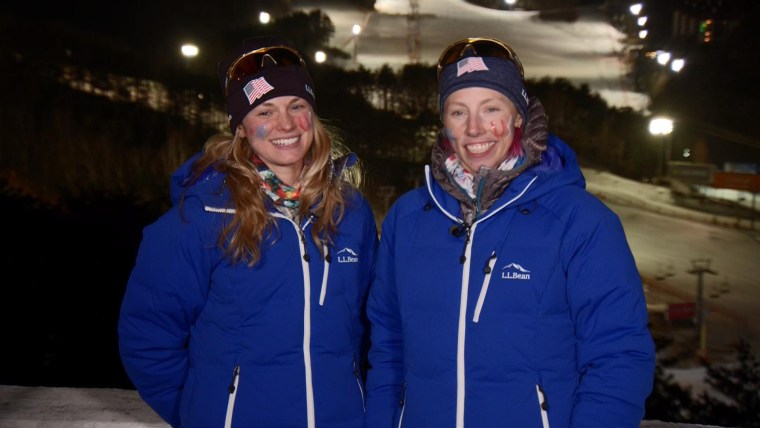 Diggins, 26, said she "just gave everything I had" during the final lap, but also employed some risky tactical moves that paid off.
"I felt like this coiled spring that just came loose on that last 100 meters," she told TODAY. "I had so much energy. I've been in the best shape of my life in these Olympics and the team events always bring out the best in me."
"When you have someone that you care about so much waiting for you at the finish, you're never going to give up, ever," she continued. "So those last 100 meters I dug really, really deep."
Diggins said winning as part of a partnership makes the victory more special for her.
"It was so, so cool to do this as a team," she said. "There are so many strong women on this team that could have also been skiing these legs and we were just honored to represent Team USA out there."