When it came time for Justin Timberlake to pick an engagement ring for fiancee Jessica Biel, the singer/actor/designer made the decisions all by himself.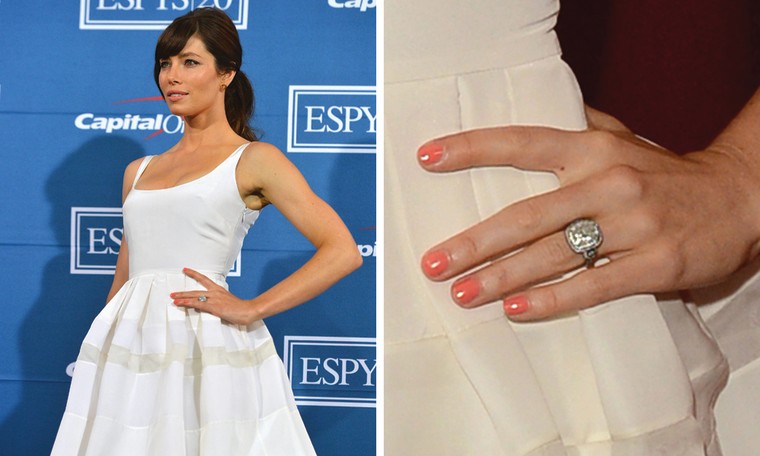 "I had no say whatsoever [in the ring]. I don't micromanage," the 30-year-old "Total Recall" beauty told InStyle's August issue.
VIEW THE PHOTOS: Celebrity Engagement Rings — The Bling Is The Thing!
"[Justin] is fearless in his choices and has a real eye for design. And I'll be honest: He has better taste than I do!" Biel said, explaining that Justin often helps her pick out what to wear.
"When I walk out of the closet after getting dressed in the morning, I'll go like this [turns palms upward as if to say, 'Well?'] And he goes like this [shakes his head no]. Then he picks again. It's hilarious," she continued.
VIEW THE PHOTOS: Hollywood's Smokin' Hot Couples
The actress, who got engaged in December, also opened up about what makes a relationship work for her.
"Letting go of the little stuff. You can't let it get to you," Biel explained. "It is important to me to have a partner who is loving and fun -- someone who inspires me and he must be a good person."
Biel says that having a strong sense of her own identity is a key to her happiness.
VIEW THE PHOTOS: Justin Timberlake: From The Stage To The Red Carpet!
"In my earlier experiences with relationships, I really was vulnerable to somebody else's personality, hobbies, and way of life. But as I've gotten older, I've become proud of the traits that make me who I am. Maintaining my individuality is really important to me because otherwise I can easily slip into somebody else's life. So I'm glad I'm getting better at it. It's a process, but it's getting simpler," she told the mag.
Biel and Timberlake might be super busy with numerous projects, but they try to maximize their time with each other.
VIEW THE PHOTOS: Hot Shots Of The Lovely Jessica Biel!
"Justin and I have a rule that we don't let a certain amount of time go by without seeing each other, but it doesn't always work. Sometimes you are both working and it just happens. But from here on out, I want to participate in making smart choices for the relationship," she added.
Catch Jessica -- along with Colin Farrell and Kate Beckinsale -- in the "Total Recall" reboot in theaters on Aug. 3.
More Entertainment news: