Dottie Sandusky, Jerry Sandusky's wife of 37 years, maintains that her husband is innocent of the charges of child sex abuse that resulted in his imprisonment.

"Do I believe him?'' she told Matt Lauer. "I definitely believe him. Because if I didn't believe him, when I testified at trial, I could have not said what I said. I would have had to tell the truth."
She believes the victims' financial gain was at play.
"I think it was, they were manipulated, and they saw money,'' she said. "Once lawyers came into the case, they said there was money."
Sandusky spoke with Lauer on TODAY in her first TV interview since her husband was convicted on 45 of 48 charges of sexual abuse of young boys in June 2012. She was joined by filmmaker John Ziegler in her State College, Penn. home.  
Lauer asked Dottie if she believed her husband was guilty of inappropriate behavior with some of the young boys who have accused him. 
"I don't believe that,'' she said. "I believe he showered with kids. That's the generation that Jerry grew up in....There were always people coming in and out no matter what time that was."
"I fully acknowledge, I would not do it in a million years, nor would I recommend anyone do it in a million years, especially in 2014,'' Ziegler said about the showering. "But that's not what Jerry Sandusky is in prison for. That's not why he's probably going to die in prison and has had his pension taken away. That's not why Joe Paterno was unjustly fired and three Penn State administrators are facing losing their freedom over this case."
Lauer mentioned a story in the Washington Post in which Melinda Henneberger wrote, "It's a shame that Dottie Sandusky doesn't have a cell of her own next to her notorious husband. We know that predators prey on the more vulnerable. They also tend to choose spouses who can be counted on to suppress any unpleasant ideas that might occur to them."

"I'm not a weak spouse,'' she replied. "As you know...they call me 'Sarge' because Jerry said I kept everybody in line. If they want to say that, let them say that. I know who I am. And I know who Jerry is. And I know he did not do the horrible crimes that he's convicted of.  
"That's one thing I was taught by my parents. And that's something that we've taught our kids, to always be truthful." 
Sandusky said she did not block out the crimes in her mind.
"No, because there was nothing that went on,'' she said. "Because I was here. I will take you downstairs and let you see the basement. It is not a dungeon. It is not what those kids said. You can scream, and you can hear it up to the second floor."
One of the victims said that he screamed while being sexually abused by Sandusky in the house's basement and Dottie never came to see what was going on. She pointed out the small size of the house, and told Lauer she never heard anyone "because he didn't scream."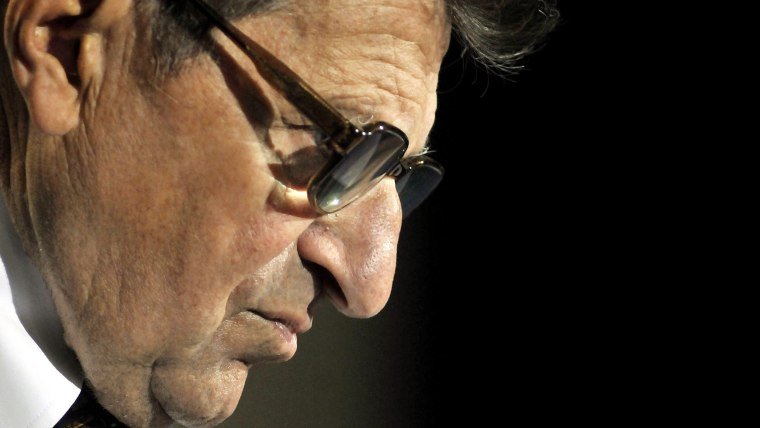 Sandusky took Lauer on a tour of the basement, pointing out its proximity to the rest of the house. "It's not a dungeon," she said. 
Ziegler, who runs a website called FramingPaterno.com, has frequently spoken out about his belief that Paterno, the late Penn State coach who was fired in the wake of the Sandusky scandal, and other school officials did nothing wrong.
"I presumed, like a lot of people, that Dottie has to be delusional or not understand the case,'' Ziegler said. "I'm certain of one thing above everything else after two years of investigating this case, and that is that Dottie Sandusky is not delusional. She knows the case better than the vast majority of media members, and she is positive that Jerry Sandusky is innocent."
She visits her husband once a week at a maximum security prison in Waynesburg, Penn., a three-hour drive from her home. She said Jerry Sandusky spends 23 hours a day in his cell, with one hour outside in the yard while inside a cage or handcuffed.
"Most of the guards, he says, are nice to him,'' she said. "I guess they don't understand Jerry's a happy person, and he smiles, and he tries to make people laugh. He said, 'I'm in the situation I'm in, and I'm gonna make the best I can out of it.'''
Following the trial, one juror noted that Jerry did not react when the verdict was read in the courtroom.
"He's not a show person,'' his wife said. "He said, 'I just did not want to make a show. He's a person that can keep his emotions under control. I'm sure once he left that courtroom, he was a different person."
Sandusky also spoke about the changes she has seen in her husband since his imprisonment. 
"A friend had written to him and asked him what he missed — what did he take most for granted — and he said family meals, fun time with the grandkids playing ball, (and) doing special things with friends,'' Sandusky said tearfully. 
Jerry, she said, remains hopeful for an appeal. In January 2013, a judge denied his request for a new trial.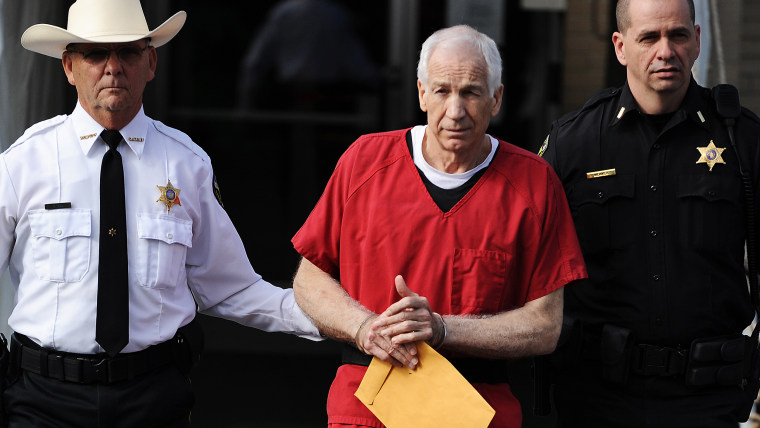 "He is allowed to go to the law library once a week, which is for two hours. He has access to a computer that he can look up cases, different cases, and…I kid him and say, 'Well, maybe you're gonna become a lawyer.'''
With her husband incarcerated, she continues to live in the couple's home in State College, where the family has been for decades.
"I'm thankful that we have the support that we have,'' she said. "I go to a gym, and the people there…if they think anything, they don't say it to my face. I did have one lady after all this happened that came up to me at the airport and looked right in my face, came right to my face and went, 'I thought so,' and walked away. I guess she wondered who I was."
The couple has maintained some supporters in the wake of Jerry's conviction, but Dottie said some of their friends have been advised to stay away. 
"We had a lot of friends that were connected with some school districts," Sandusky said. "I think they've been told by their lawyers just not to have anything to do with us. There's some people in town who were friends of ours, who we know have said that they really care about us and really know what's happening, but they've been advised by their lawyers to stay as far away from us as possible."
The family has suffered, too, she said. 
"It's been tough. It's been rough on them. Some of our grandchildren are old enough that they know what's going on. And they've been told what's going on. And they know...who their Pop is and what he was," she said. "Some of our children have lost their jobs, whether it's because of this or not or it just happened, I don't know."
Ziegler, who researched the case for two years and has interviewed Jerry Sandusky twice in prison, laid out some of his reasons for defending Sandusky.  
The man known as Victim 6 testified that after he told his mother he had showered with Sandusky in 1998, investigators eavesdropped on a conversation between his mother and Sandusky. He claimed that in that conversation, the boy's mother said Sandusky would never see her son again, and Sandusky replied that he was sorry and that he wished he were dead. Ziegler disputes that account. 
"In the 1998 (case), you said the mother said, 'You'll never see my son again,''' Ziegler told Lauer. "Well, guess what happened? For 13 years, Jerry Sandusky had a close relationship with her son, and she was well aware of it and acknowledged its existence. Thirteen years later, the boy you're referencing sends Jerry Sandusky text messages: 'Happy Father's Day. I love you. Thank you for being in my life.' Not one allegation in 13 years after that."
Ziegler said that in his interviews with Jerry Sandusky, the most he admitted was, "I may have tested boundaries."
"Because that's the worst that Jerry Sandusky did in my opinion,'' Ziegler said. 
"I think people need to know that Jerry is not guilty,'' Dottie Sandusky said. "I think people maybe need to look at the transcripts and see all the discrepancies that went on at trial."
Lauer noted that Ziegler and Dottie's alternative — that everyone on the other side of the case has been manipulated or is lying — may be hard for the public to swallow.

"Look, the reality is, I understand exactly what you're saying,'' Ziegler said. "People will think that this is insane because they were given a perception of this case that was totally wrong."