The scene of thousands of jubilant family reunions at Naval Station Norfolk came with a special meaning to Jenna Bush Hager and her own family.
Jenna witnessed the joy in person in Norfolk, Virginia, on April 23 when 5,000 sailors returned from an eight-month deployment in Europe and the Mediterranean aboard the USS George H.W. Bush.
The aircraft carrier is named after her late grandfather and the former U.S. president, who served as a Navy pilot during World War II. Jenna was in attendance in 2006 when the ship was christened, and she returned to see the emotional scene this weekend.
"It was a day I will never forget," Jenna said on TODAY on April 24.
Naval air traffic controller Craig Holloway, Chief Stephen Vaiza and Lt. Cornetha Williams shared their stories of sacrifice and their anticipation about seeing their families ahead of their heartwarming reunions.
"I think I'll be overcome with joy," Williams said. "Just pure joy."
Holloway was looking forward to meeting his baby son, Vincent, for the first time.
"I will definitely cry," he said before laughing.
Vaiza wrote love letters to his wife, Lisa, that he was waiting to personally deliver on the pier.
"Just to let her know that she was always on my mind, and what helped me through the deployments," Vaiza said.
As she hugged her family on the pier, Williams marveled at how tall her daughter Samara, 3, and son Elijah, 15, had gotten in her absence. Her husband, Michael, a Navy veteran himself, also was sporting a new beard.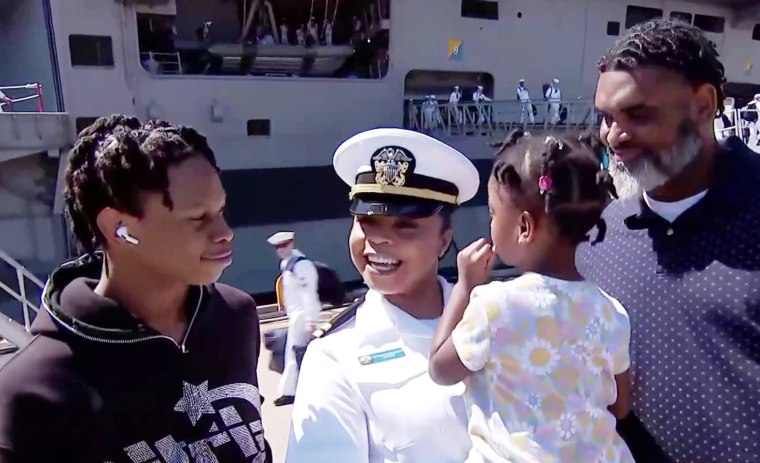 "That is one of the biggest sacrifices I have to make as a mother and as a wife to come out here every day to defend freedom for the United States, but at the same time my husband understands," she said ahead of their reunion.
"I think it'll all be worth it in the end," her husband said. "As a matter of fact, I know it will, because she's able to do what she needs to do for the betterment of the country. And I'm able to support her and still support the mission, just in a different way."
Holloway beamed as he held his baby son for the first time. He was one of 26 men on the ship who were meeting their newborn children for the first time, according to Jenna.
"We feel whole," Holloway's wife, Brittany, said as she took in the scene.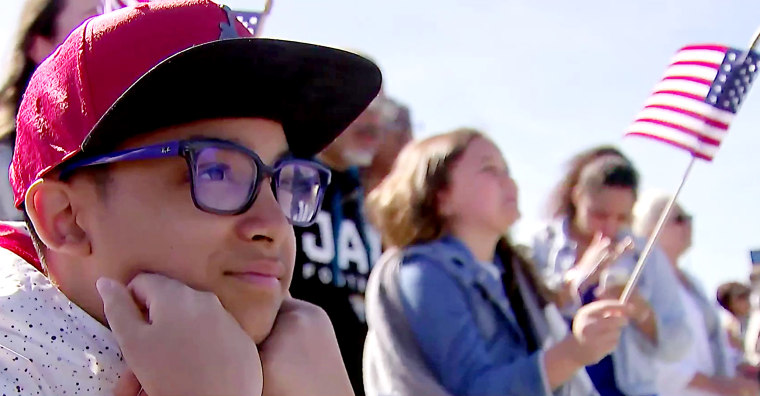 Vaiza was able to hand deliver his love letters to his wife.
"Feels amazing," he said. "I've missed her so much, and it's good to finally have her next to me. It's too good to be true."
Capt. David Pollard, the commanding officer of the USS George H.W. Bush, shared his pride in his sailors.
"They're the future of our country, and they're willing to do what it takes for liberty and freedom," Pollard told Jenna. "And your grandfather said, 'Let future generations know the burden and the blessings of freedom.'"
"I think we forget sometimes how much they sacrifice," Jenna said on TODAY.
The ship departed in August 2022 and supported operations with NATO allies and the largest bilateral U.S.-Israeli exercise in history, according to NBC affiliate WAVY.