Former president George H.W. Bush has sported a pair of socks featuring the smiling visage of a noted sock man — himself. 

While accepting an award from the Lyndon B. Johnson Foundation in Houston on Tuesday, Bush was photographed wearing a pair of red socks with white stripes that bore a picture of his own face on them.
"I have to say if you know him or know of him, he's a very humble man,'' his granddaughter, TODAY contributor Jenna Bush Hager, said on TODAY's Take Thursday. "His mom always said, 'Don't be braggadocious,' but evidently he likes his own face."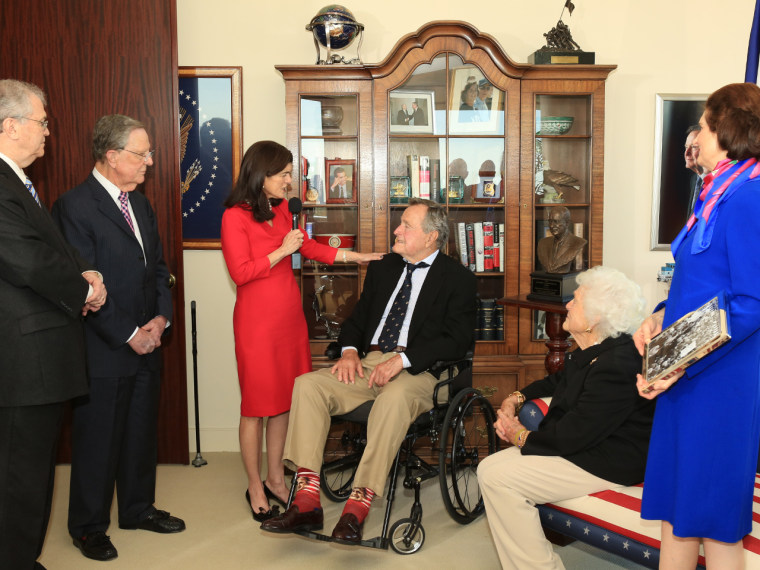 The socks are a gift from a fan, and are the latest distinctive ones worn by Bush, who broke out a pair of Superman socks for his 89th birthday and donned a polka dot pair for the dedication of the presidential library for his son, former president George W. Bush. He also wore a pair of red, white and blue American flag socks while unveiling the Houston Texans cheerleading squad in April. His latest socks bearing his own face may have topped them all. 
"You know what I like about them?,'' said Hager, who asked him to send her a pair. "They look like a hologram. It looks like a 1980s pair of socks with a hologram. It's like 3-D." 
"Wherever you look, he's watching you,'' Al Roker said. 
Bush also wore a pair of colorful socks while spending time with his great-grandchild, Hager's baby daughter, Mila, who was born on April 13. A photo taken while the family was at its home in Kennebunkport, Maine, shows Mila's tiny feet atop Bush's colorful footwear. Al and Willie Geist also admired Bush's slippers with the presidential seal on them. 
"They're some good perks (to being president) and one of those are the slippers,'' Hager said.