Jenna Bush Hager said her grandmother, former first lady Barbara Bush, is in "great spirits" and resting comfortably with family members.
"She's a fighter. She's an enforcer," the TODAY anchor said Monday, referring to the family's nickname for the matriarch. "We're grateful for her, for everybody's prayers and thoughts, and just know the world is better because she's in it."
The 92-year-old former first lady announced Sunday through a family spokesman that she had decided against seeking additional medical treatment to prolong her life. The wife of former President George H.W. Bush instead planned to focus on "comfort care" after consulting with doctors and her loved ones.
No specific illness was provided but the former first lady suffers from congestive heart failure and chronic obstructive pulmonary disease.
"We are grateful for her. She's the best grandma anybody could have ever had — or have," Jenna said on TODAY, quickly correcting herself.
Jenna said she and her twin sister, who was named after their paternal grandmother, spoke with the former first lady the previous evening.
"She's with my grandpa, the man she's loved for over 73 years. They are surrounded by family, but I think the fact that they're together and that he still says, 'I love you Barbie' every night is pretty remarkable," she said.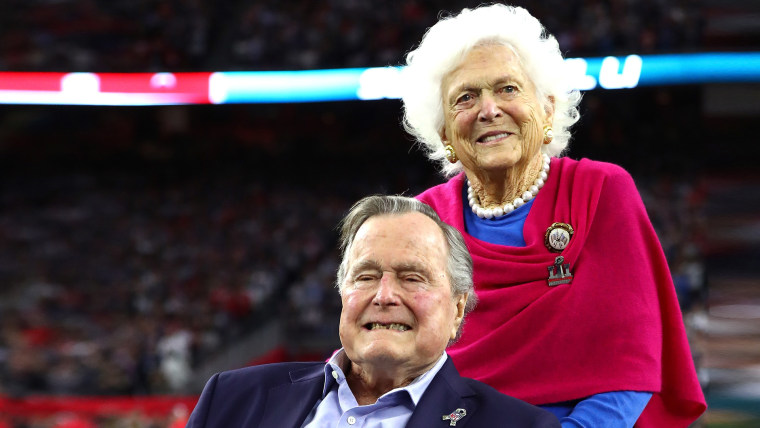 In recent years, Bush has been seen using a walker and an oxygen tank. She was briefly hospitalized last year for bronchitis.
She made a vague reference to her health in a recent magazine article published in the alumnae magazine of her alma mater, Smith College.
"I have had great medical care and more operations than you would believe," she said in the brief post. "I'm not sure God will recognize me; I have so many new body parts!"
Bush also remarked on her longtime marriage to her husband in the magazine, writing: "I am still old and still in love with the man I married 72 years ago."
Bush married her husband on Jan. 6, 1945. The couple went on to have six children, including a daughter, Robin, who died of leukemia when she was 3.