Saying that learning her grandfather has been hospitalized "is never good news to hear or wake up to," Jenna Bush Hager expressed her admiration for the former president and expressed her appreciation for an outpouring of support for his recovery.
"How lucky for our whole family that we have people that think about us and pray for us," Jenna said Wednesday while guest hosting on "Kathie Lee and Hoda."
Jenna's grandfather, former President George H.W. Bush, was hospitalized Wednesday in Houston and was later moved to the ICU to address respiratory problems stemming from pneumonia, his office said. Former first lady Barbara Bush was also admitted to the hospital as precaution after experiencing fatigue and coughing.
RELATED: Jenna Bush Hager: 5 things I've learned from my Gampy
On TODAY, Jenna shared a selfie she and her twin sister, Barbara Bush, took with her grandfather.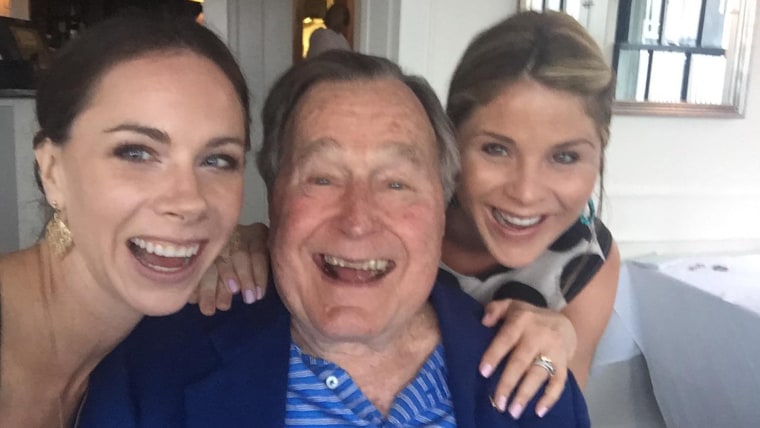 "I adore him. He's the best," she said. "He's really one of the most humble, wonderful men in the world."
Former President Bill Clinton also sent his well wishes in an a poignant tweet Wednesday afternoon.
Jenna said she was distressed upon learning the news about her grandfather, but that her husband reminded her of how strong and resilient he is, even at 92.
RELATED: George H.W. Bush rings in 92nd birthday with namesake, great-granddaughter Poppy
"We love you, Gamps," she said. "You're probably not watching but if you are, may we make you laugh. Or make you humiliated, one or the other, either one could be good medicine."