When Malia and Sasha Obama first arrived at the White House, they may have relied on the advice of their predecessors — another pair of sisters who knew a thing or two about growing up at 1600 Pennsylvania Ave.
Back then, Jenna and Barbara Bush penned a letter offering advice for the young Obama girls as their father took over the Oval Office.
Eight years later, the twin daughters of President George W. Bush have once again reached out to the Obama sisters, this time offering advice on another transition very few in the world ever make: leaving the White House and moving on to civilian life.
RELATED: Jenna Bush Hager shares rare photos of Obama daughters' first White House visit
In their newest letter to Malia and Sasha, published Thursday in Time magazine, Barbara and Jenna reminisce about meeting the then 7- and 10-year-old Obama girls at the White House on a cold November day. They gave them a tour of bedrooms that once belonged to them and showed them how to slide down the banister of the solarium.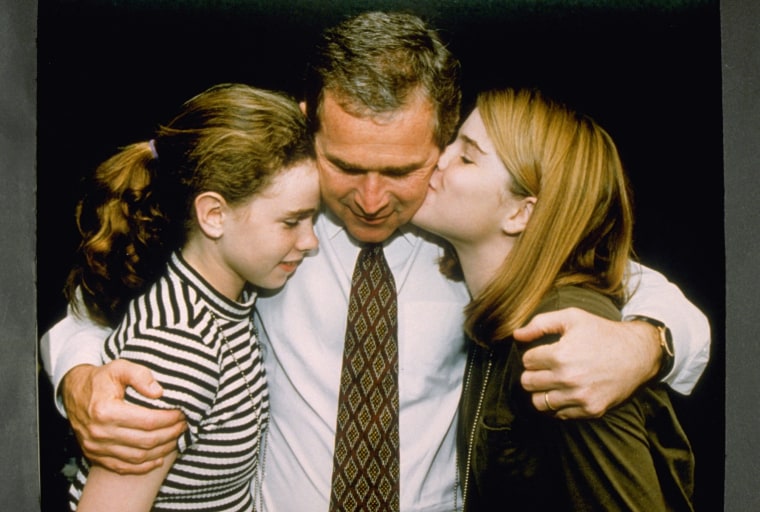 RELATED: Farewell to the first daughters: Malia and Sasha's best moments over the past 8 years
"In eight years, you have done so much. Seen so much," the Bush sisters write, noting Malia and Sasha's meeting with Nelson Mandela in the cell where he was imprisoned for decades, as well as trips with their mother to Liberia and Morocco to speak with girls about the importance of education.
"We have watched you grow from girls to impressive young women with grace and ease. And through it all you had each other. Just like we did," they say.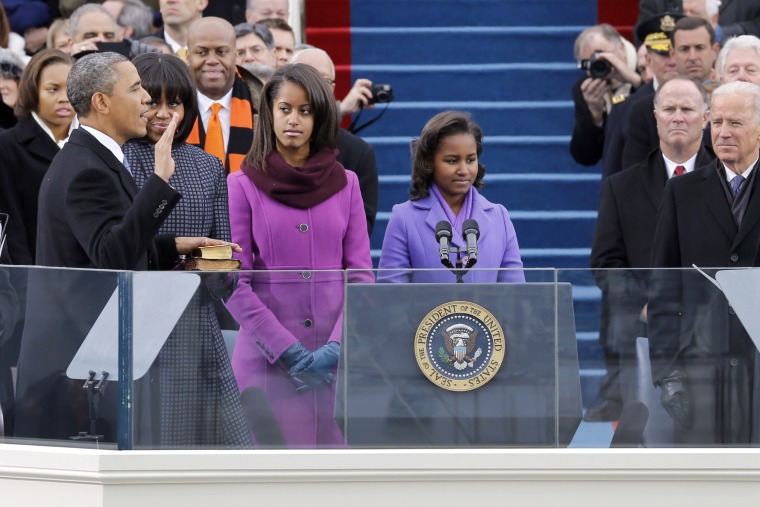 "Now you are about to join another rarified club, one of former First-Children — a position you didn't seek and one with no guidelines. But you have so much to look forward to. You will be writing the story of your lives, beyond the shadow of your famous parents, yet you will always carry with you the experiences of the past eight years."
The Bush sisters stress to Sasha, now 15, and Malia, 18, that there is much to look forward to, but urge them to keep close in their hearts the experiences of the past two terms.
RELATED: Jenna Bush Hager, sister Barbara Bush share secrets of being a twin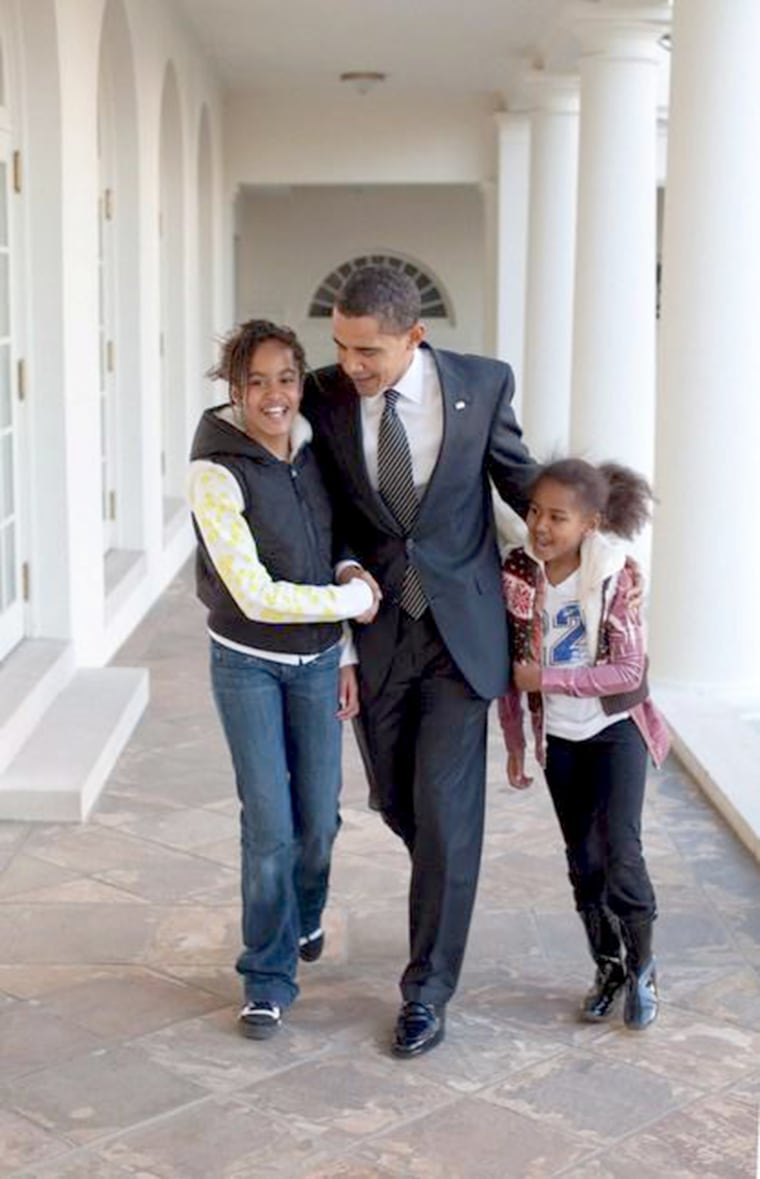 They urge them to never forget the people who dedicated their lives to making the White House a home — including the florists, the grounds-keepers and the butlers.
"Our greeter as 7-year-olds at our grandfather's inauguration was Nancy, the White House florist, who ushered us in from the cold. She helped us make colorful bouquets of winter flowers for our grandparents' bedside," the Bush sisters write. "Twenty years later, Nancy did the flowers for Jenna's wedding. Cherish your own Nancy."
And as Malia prepares to attend college this fall at Harvard, while Sasha remains in Washington to finish high school, they encourage the sisters to enjoy this youthful period of their lives.
"Enjoy college. As most of the world knows, we did," they say, a nod to the much-reported brushes with the law both Bush twins experienced while drinking underage.
"And you won't have the weight of the world on your young shoulders anymore. Explore your passions. Learn who you are. Make mistakes — you are allowed to."
Most importantly, Jenna and Barbara urge the Obama sisters to continue surrounding themselves with loyal and fiercely protective friends.
"Those who judge you don't love you, and their voices shouldn't hold weight. Rather, it's your own hearts that matter," they say.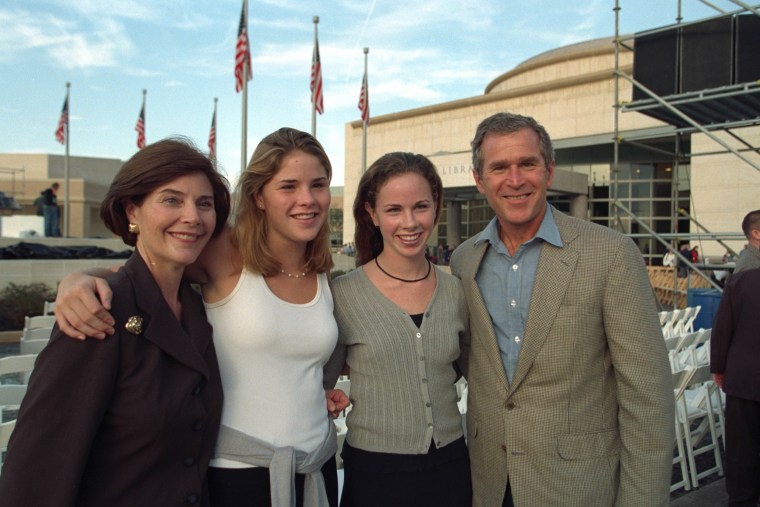 The Bush twins also encourage Malia and Sasha to find ways to incorporate the lessons they have learned over the past eight years into their futures. In particular, they note the impact of one particular meeting abroad with a young HIV-positive girl who grew sick while waiting for antiretroviral drugs that could save her life.
"After meeting this girl, Barbara went back to school and changed her major, and her life's path," the Bush twins write.
Barbara went on to become the founder and chief executive of Global Health Corps. (Jenna is a TODAY correspondent.)
"You have lived through the unbelievable pressure of the White House. You have listened to harsh criticism of your parents by people who had never even met them," the Bush sisters conclude in their letter.
"You stood by as your precious parents were reduced to headlines. Your parents, who put you first and who not only showed you but gave you the world. As always, they will be rooting for you as you begin your next chapter. And so will we."