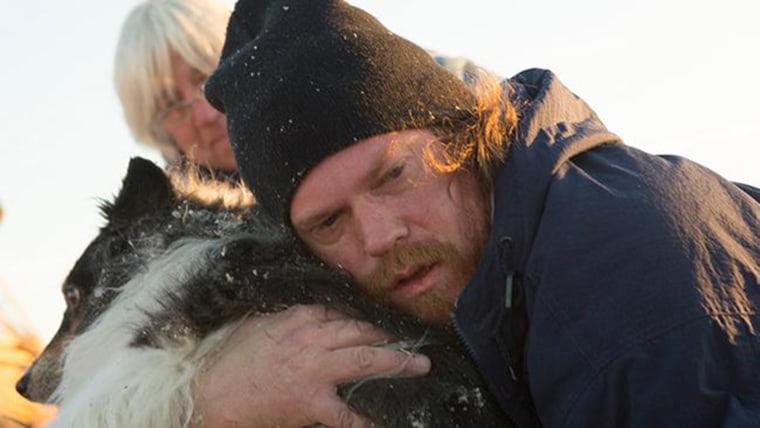 When a devastating tornado hit Jon Byler Dann's Illinois home on Sunday, ripping it apart, he and his four children were lucky to survive nearly unscathed.
But they were heartbroken by the feeling they'd lost their family pet, a dog named Maggie, who had gone missing in the chaos.
It was only when Dann and his friends surveyed the wreckage of his destroyed home on Monday that they heard a faint barking sound from underneath the debris. They quickly began removing the wreckage, including a large piece of masonry that required six men to slide it out of the way, and finally found Maggie alive, wrapped in a piece of carpeting.
"She was wrapped up in there with a whole bunch of insulation,'' Dann told TODAY.com. "We got her out, and she was dehydrated and had a dislocated hip. She was in shock, but her tail was wagging. She was happy to see me, and I was happy to see her. It was unreal."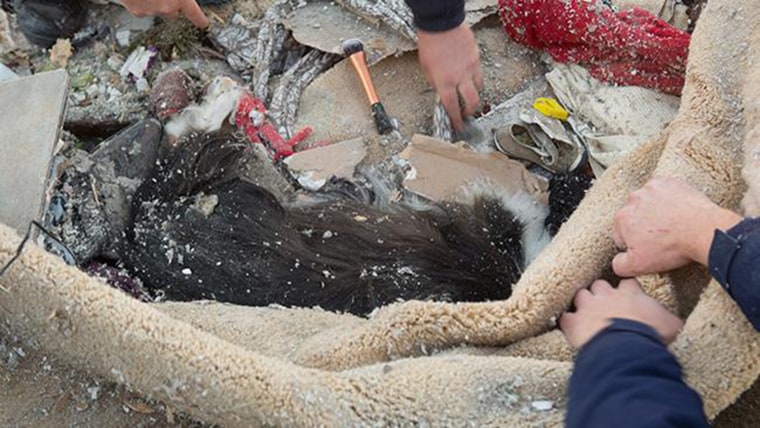 Before the tornado ripped apart his home in Washington, Ill., Dann had frantically tried to coax Maggie out of her kennel and into a safe room where his children were huddled. The frightened dog scratched and clawed him, escaping from his arms only seconds before the tornado made its impact.
"She was so scared that she bit my hand and scratched me,'' he said. "I tried to pull her out of her kennel, but she was thrashing and clawing and got out of my arms. Then I saw the debris field was hitting the house and felt a hot wind coming in, so I ran into the bathroom, threw a large amplifier in front of the door, and then (the house) was gone."
Dann was pinned down by bricks and other debris, but first responders and neighbors were able to pull him and his children to safety after they were trapped for about 15 minutes. His wife was not at home at the time because she was at work in Peoria, Ill.
"Every structure in our house was decimated,'' he said. "I was in the basement bathroom with myself and my four children, and the structure fell on top of us. When (the tornado) passed by, there was water shooting from the faucet all over us, and all I could see was clear sky.
"I didn't know if my kids were alive or not, but after a few seconds, I could hear all four of them individually screaming at me because they were terrified."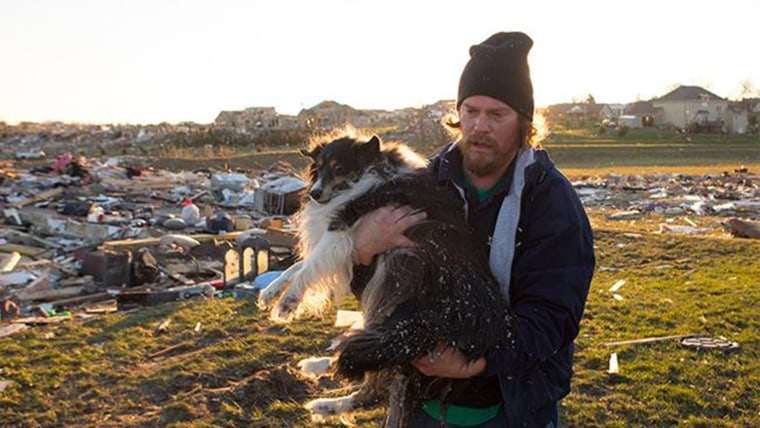 He soon began to worry, however, that the family pet had not been as lucky as he and his children.
"After it happened and my dog was lost, I didn't feel right,'' Dann said. "I felt extreme guilt, and I felt panic, but I really believe it's because she was still alive and in there just waiting for me to find her."
So when they found the dog buried under the rubble, the reunion proved incredibly emotional. "My children were relatively unscathed other than some scratches, and then finding my dog alive and kicking, it's like everything else is a bonus,'' Dann said.
Photographer Charles Ledford, a visual and multimedia journalism professor at the University of Illinois, was there to shoot photos for The Weather Channel, and captured the moment when Dann hugged the dog he thought his family had lost. The photos went viral, capturing a positive moment amid the destruction.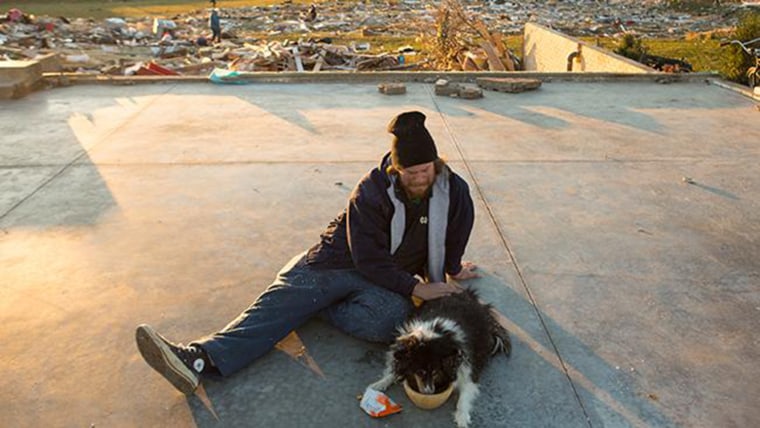 Maggie was taken to Teegarden Veterinary Clinic in Washington, Ill., around 5 p.m. local time on Monday. Her hip was put back into place and she was cleaned and treated with fluids for dehydration. Doctors also took X-rays of her chest and the dislocated hip. There was some minor respiratory distress, but no serious internal damage.
"So far, she's doing quite well,'' the clinic's Dr. Michael Thomas told TODAY.com. "By the next day, she started eating, drinking, walking and using her (injured) leg. It is quite remarkable.''
Not only that, but strangers on Reddit and elsewhere have pitched in to pay for Maggie's treatment after seeing the photos. Thomas estimates that so far $4,000 has come in, which more than covers the dog's medical bills. The excess is being earmarked to pay for the treatment of other animals affected by the destruction, according to Thomas. He said those looking to donate can go to Teegarden Veterinary Clinic's Facebook page or to the American Veterinary Medical Foundation's disaster relief page.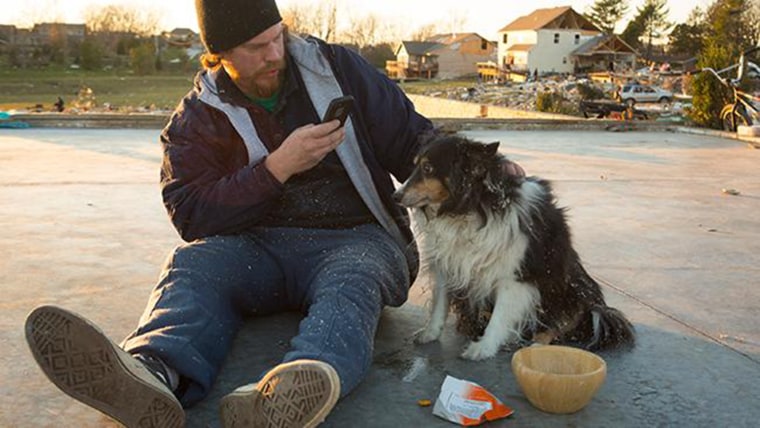 "It's just amazing when you hear the stories of all the help and kindness,'' Thomas said. "It's heartwarming to see all of the support that people have for the care of these animals that may be displaced or that the owners find and need care."
"The amount of support that's been given to our family is unreal,'' Dann said. "I feel extremely blessed and overwhelmed by the amount of support and help that have come my way from my church family to my musician friends to the response even internationally."
Dann is also grateful to have an important member of the family safe and sound with his wife and children.
"I'm into the surreal, and this is far beyond that,'' he said.