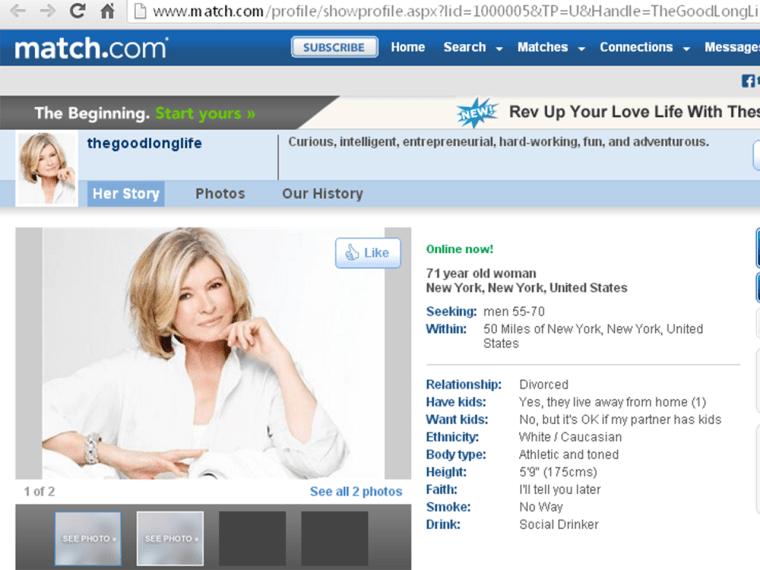 Martha Stewart is ready to meet her Match.
The 71-year-old mogul, who told TODAY's Matt Lauer on Monday that she wants to get serious about looking for love, has unveiled her official dating profile on Match.com, and she's laying it all out in the hopes of finding someone to share her breakfast table.
"You may recognize me from my pictures. Yes, it's really me," she writes on the dating site. "I've been curious about online dating for a long time, but, like lots of people, have been reluctant to take the leap."
She's even offering fans the chance to help select her profile photo.
In addition to cooking, dining out, and travel, she also includes "fishing/hunting" in her long list of interests, and notes that she's a fan of "the symphony, opera & rap." A Leo, Martha says she is "curious about everything" and has "an adventurous spirit."
Martha Stewart: Prison time was 'terrible'
While she's new to the digital dating scene, Martha's optimistic about finding the "needle in a haystack" who fits her criteria.
"So while I'm open to all kinds of people, and love to be surprised, here's what I know I appreciate in a man: Someone who's intelligent, established, and curious; and who relishes adventure and new experiences as much as I do," she writes. "Someone who can teach me new things. A lover of animals, grandchildren, and the outdoors. Young at heart."

Think you're the man of Martha's dreams? Then get clicking! And don't worry if you don't live in New York — location is not a dealbreaker.
"I travel frequently," she writes," so geography is but a detail."