Alana Duran and Lori Interlicchio aren't just a match on Tinder; the girlfriends recently learned they're compatible for a kidney transplant that Duran has sought for years.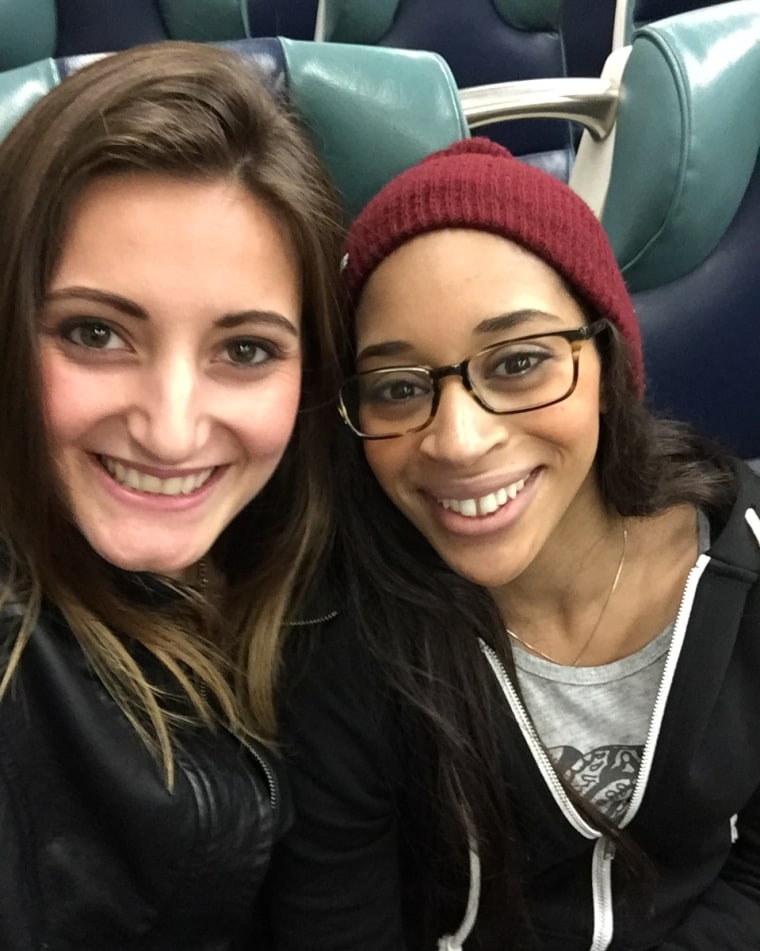 "If I was waiting another 2 more years on top of the 4 I have already waited [for a kidney transplant] then, yes, at that time it might have been life or death," Duran told TODAY.com via email Wednesday.
In an emotional video posted Friday on Facebook, Duran — who was diagnosed with lupus at age 12, endured a hip replacement, lives on dialysis and has been waiting for a kidney since 2011 — captures the exact moment she learned Interlicchio not only was a transplant match, but also was willing to donate her kidney.
What makes the 4 1/2-minute video extra-sweet is the element of surprise: Interlicchio films the reveal as part of an elaborate gift presentation, which shows Duran unboxing a variety of care-package gifts ranging from "Star Wars" Band-Aids to snacks.
Duran seems content with her collection of gifts when Interlicchio indicates that they're not quite done yet. Duran pushes aside some tissue paper to read four of Interlicchio's notes, including one with a double meaning: "No matter what, you'll always have a piece of me."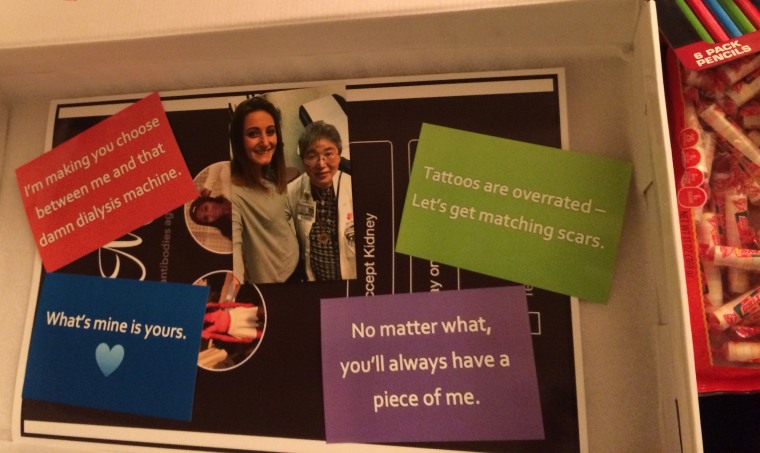 The reality doesn't appear to sink in until Duran sees a photo of Interlicchio with a doctor and a modified version of the "It's a match!" graphic that pops up when there's mutual interest among Tinder users.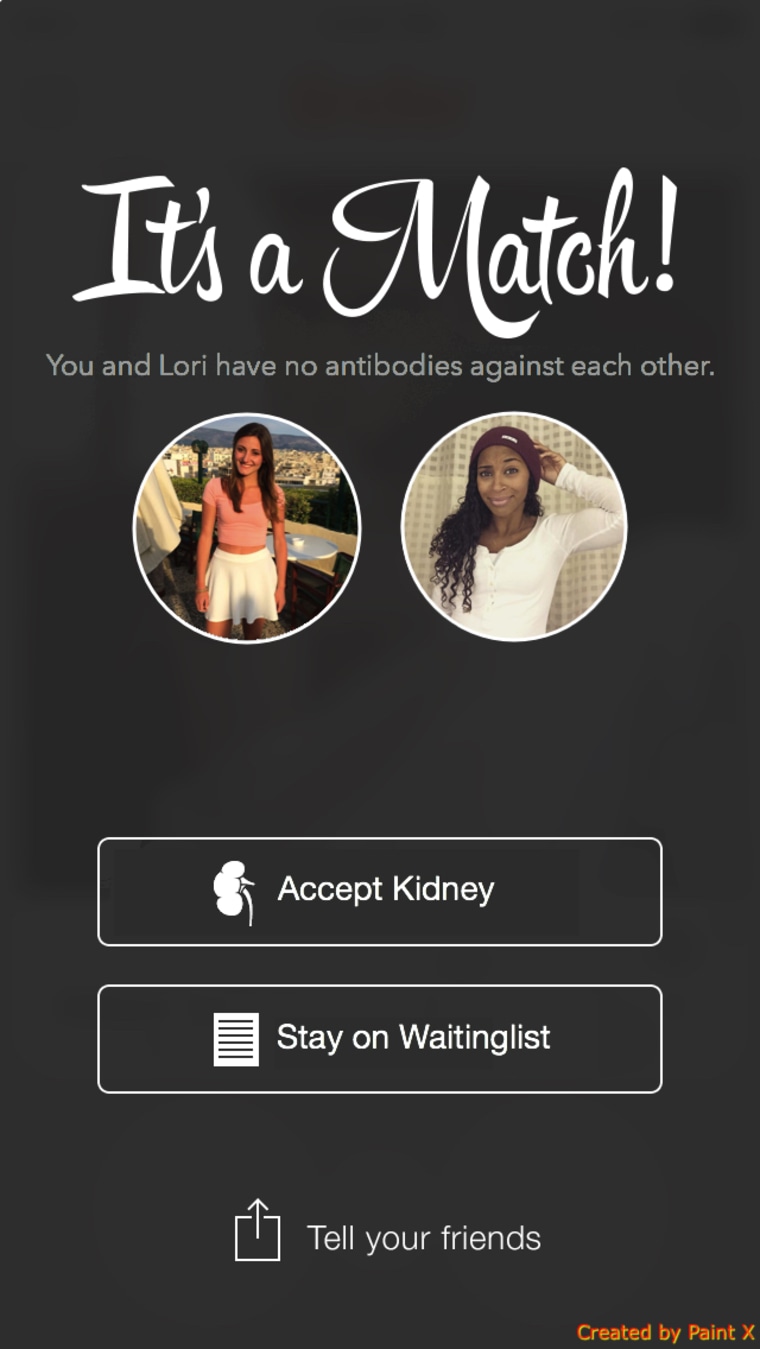 "Oh, my God!" says Duran, who then holds her head and cries tears of joy. "This is amazing. I have to call my mom!"
Part of Duran's caption to the video, which had been viewed more than 112,000 times as of Wednesday, sums up the moment perfectly: "Who knew that when we both swiped right on Tinder that day, that we would be more than just girlfriends but that she would be my kidney donor!"
Duran confirmed to TODAY.com that the video indeed captured the moment she learned they were a match for a transplant, adding, "If I did know [in advance], I definitely wouldn't have spent so long on 'Star Wars' Band-Aids!"
Keeping the kidney-match news a secret was hard, noted Interlicchio, who told TODAY.com it "took a lot of sneaking around" to pull off the surprise.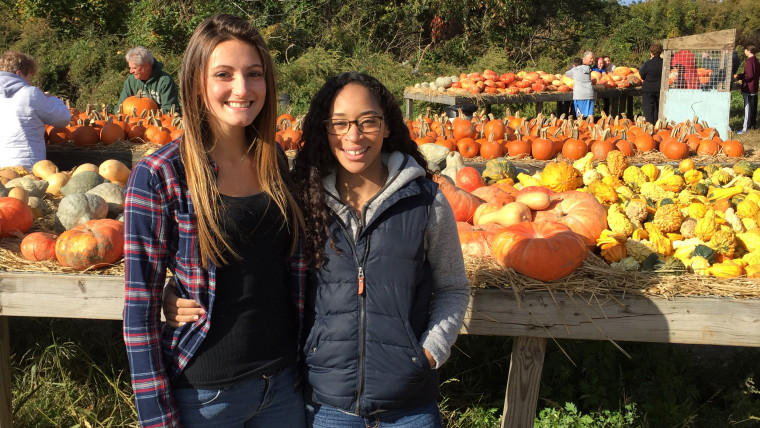 None of this would have happened had Duran, a 25-year-old Stony Brook University student, and Interlicchio, a 22-year-old cheerleading coach and paraprofessional aide, not matched Aug. 27 on Tinder, an app that pairs people interested in dating or friendship. While it would be a while before the two New Yorkers knew that their antibodies wouldn't clash during a transplant, other kinds of chemistry were more obvious.
"I remember the first time she texted me," Interlicchio told us. "I said, 'It's Lori,' and she responded, 'Lori Loughlin? My favorite actress from Full House?!' And sent a picture of Lori Loughlin. I knew she was the kind of person who would make me laugh a lot."
They met for the first time on New York's Fire Island, where they both happened to be heading for Labor Day weekend.
We spent an "afternoon and evening dancing with each other and talking (which was more like yelling because of the music)," Duran recalled. "When it was time for her to go she asked if she could kiss me and I said, 'Yes!' It was an excellent first kiss!"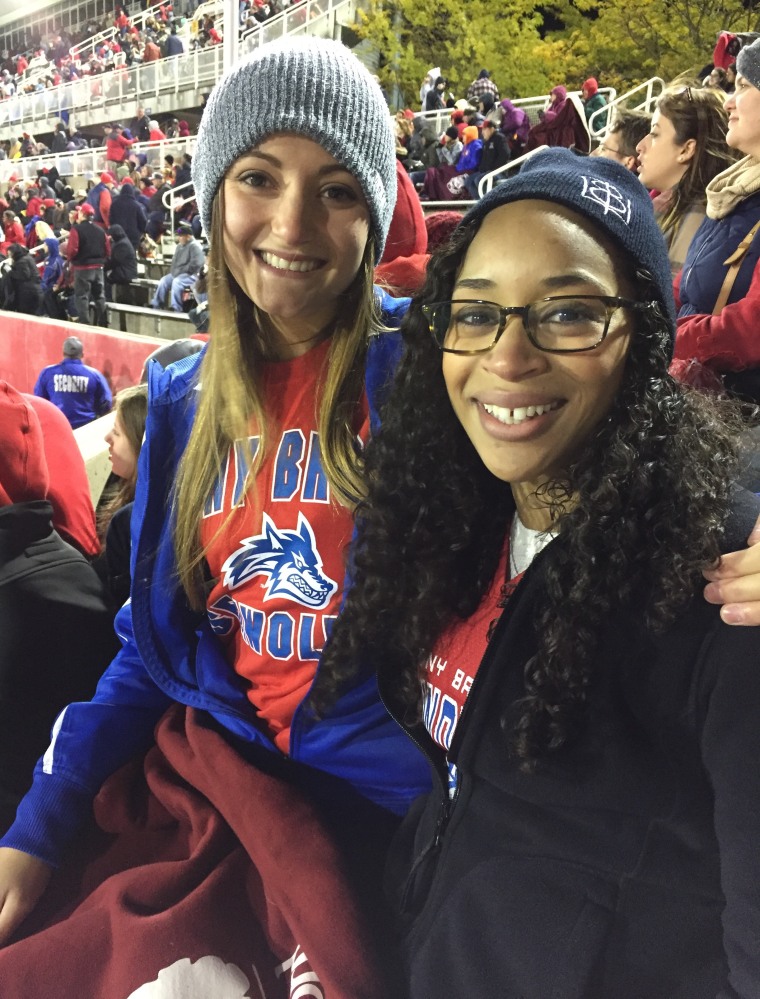 Duran added that telling Interlicchio about her lupus wasn't that difficult once she got to know her better. "It is a major part of my life whether I like it or not," she added. "I wasn't really worried with Lori. I like to tell myself I have a good judge of character and Lori only proves that statement right."
Interlicchio told TODAY.com she started investigating if she could be a kidney-transplant match during their "third or fourth date."
"By the time I learned that I was a match a couple of weeks later I had already done a ton of research and that really took away any fear."
Girlfriends since Sept. 27, the couple have a tentative plan to schedule transplant surgery in February. In the meantime, they've been floored by the reaction on social media.
"When we posted the video, it was really for our family and friends to see," Duran said. "We had no idea how much love and support we were going to get from strangers from around the world. It's been really surreal."
The couple also hopes the video fosters conversations about LGBT rights, as well as advocacy for organ and blood donation and their expansion.
"I love the outpouring of love and support that Alana and I have been receiving, but it pains me to know that if we were a couple of gay men, my kidney would be considered at risk," wrote Interlicchio, who's been drawing attention to the issue with the hashtag #DonateDontDiscriminate. "While I might be able to donate a kidney to her, I wouldn't be able to donate blood or tissue. I feel strongly that our federal government should be able to look past a person's sexual orientation in deciding whether or not they are suitable to give the gift of life."
Follow TODAY.com writer Chris Serico on Twitter.
This story was originally published on November 26, 2015.