Yogi Berra was admired for his baseball talent, but he was also beloved as an American original because of his unique "Yogi-isms."
The New York Yankees Hall of Famer, who died at 90 years old Tuesday night, was the king of creatively mangling the English language into quotable quips that strangely made sense, made people laugh, or both.
Even anyone who never followed baseball knows, "It ain't over 'til it's over."
Watch: Six commercials showing the lovable side of Yogi Berra
In honor of the 27 World Series titles won by the Yankees — including an MLB-record 10 by Berra — here are 27 of the best Yogi-isms:
1. It ain't over 'til it's over.
2. It's deja vu all over again.
3. You can observe a lot by watching.
4. Nobody goes there any more. It's too crowded.
5. Never answer an anonymous letter.
6. It gets late early out here.
7. Baseball is 90 percent mental. The other half is physical.
8. When you come to a fork in the road, take it.
9. I never said most of the things I said.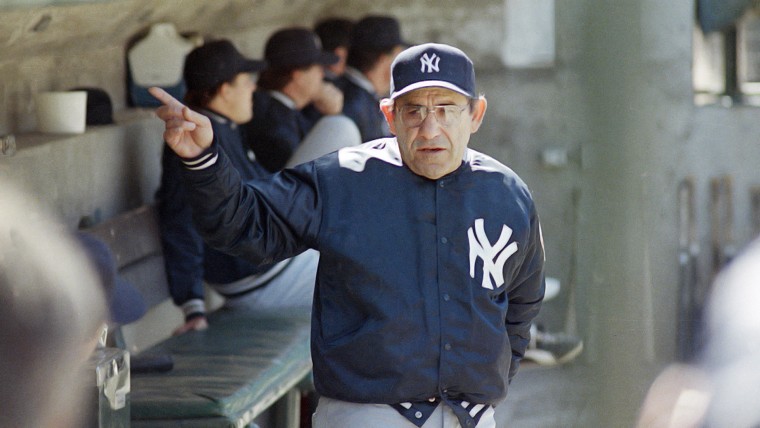 10. Why buy good luggage? You only use it when you travel.
11. Slump? I ain't in no slump…I just ain't hitting.
12. I knew the record would stand until it was broken.
13. Take it with a grin of salt.
14. You should always go to other people's funerals, otherwise, they won't come to yours.
15. I think Little League is wonderful. It keeps the kids out of the house.
16. So I'm ugly. I never saw anyone hit with his face.
17. I usually take a two-hour nap from one to four.
18. The future ain't what it used to be.
19. He hits from both sides of the plate. He's amphibious.
20. It ain't the heat, it's the humility.
21. I'm not going to buy my kids an encyclopedia. Let them walk to school like I did.
22. If people don't want to come out to the ballpark, nobody's going to stop them.
23. A nickel ain't worth a dime anymore.
24. Pair up in threes.
25. If you don't know where you are going, you might wind up someplace else.
26. We made too many wrong mistakes.
27. I want to thank everyone for making this night necessary.
Follow TODAY.com writer Scott Stump on Twitter.