/ Source: NBC, msnbc.com and news services
Iranian President Mahmoud Ahmadinejad told NBC News Tuesday that two Americans given eight-year prison sentences for spying and entering the country illegally will be released "in a couple of days" in what he called a "humanitarian gesture."
Ahmadinejad made the remark about Shane Bauer and Josh Fattal in a one-on-one interview with Ann Curry that was broadcast on NBC's TODAY on Tuesday.
"They illegally crossed our borders," Ahmadinejad told Curry. "And they were arrested by the border guards. And all countries have laws for illegal border-crossing. They have very tough laws. We have the same laws here in the country."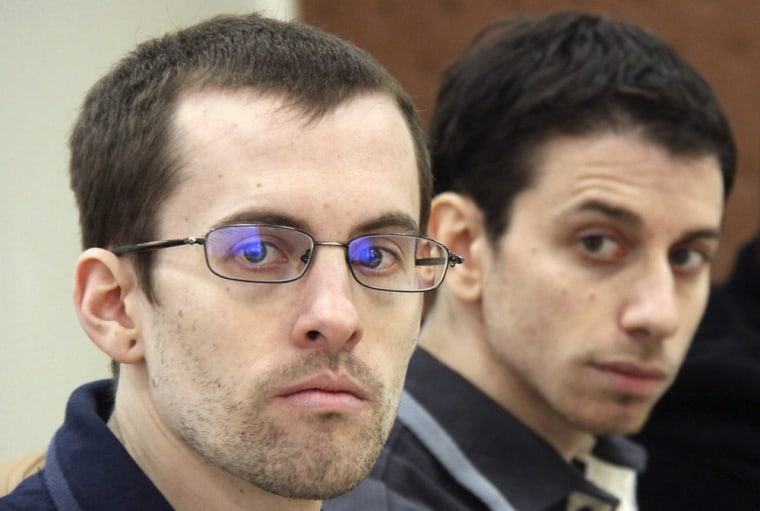 Citing defense lawyer Masoud Shafiei, the Associated Press later reported that Iran had set bail of $500,000 for the two men. He said the court would free Bauer and Fattal after the money was paid.
Shafiei said he had informed the Swiss Embassy on Tuesday of the decision. The Swiss represent U.S. interests in Iran. Though the State Department is aware of the situation and is working with Switzerland to find out about the men's status, the U.S. has no independent confirmation that the men will be released, an official said Tuesday.
A third American, Sarah Shourd, arrested along with the men, returned to the United States after she was released on $500,000 bail in September 2010.
The pair's families had heard the media reports and were hopeful they would be released, NBC News reported.
"While we do not have further details at this time, we are overjoyed by the positive news reports from Iran," the families said in a statement. "Shane and Josh's freedom means more to us than anything and it's a huge relief to read that they are going to be released. We're grateful to everyone who has supported us and looking forward to our reunion with Shane and Josh. We hope to say more when they are finally back in our arms."
Bauer, Fattal and Shourd insisted they were hiking in northern Iraq when they inadvertently strayed over the border into Iran in July 2009.
After their conviction, Shafiei said that he had lodged an appeal and hoped they might be pardoned. "I hope because of the holy month of Ramadan and Eid al-Fitr they might enjoy Islamic clemency," he told Reuters on Aug. 28. Under Iranian law, espionage can carry the death penalty. Their trial took place behind closed doors and no evidence against the hikers has been made public.
'Innocent'
Before the men were convicted, Iran's Foreign Minister Ali Akbar Salehi said in August that he hoped "the trial of the two American defendants who were detained for the crime of illegally entering Iran will finally lead to their freedom."
The gap between Salehi's words and the verdict indicated an increasing rift between Ahmadinejad's administration and hardline judiciary. It is controlled by Supreme Leader Ayatollah Ali Khamenei, who has final say on all state matters. The affair has compounded tension between Tehran and Washington, which have had no diplomatic relations since the 1979 Islamic Revolution and the subsequent storming of the U.S. embassy by students.
Samantha Topping, spokeswoman for Bauer and Fattal's families, said in a statement after the men were sentenced last month that "Shane and Josh are innocent and have never posed any threat to the Islamic Republic of Iran, its government or its people."
Topping had also appealed "to the authorities in Iran to show compassion and allow them to return home to our families without delay.
"We also ask everyone around the world who trusts in the benevolence of the Iranian people and their leaders to join us in praying that Shane and Josh will now be released," her statement said.
Ahmadinejad also referenced Iranians he claimed are being held captive in America. "You know how many Iranians are in the American jails?" he asked. "They are human beings. It's not about only two people in Iran.
"These two people are having the very good condition here in prison. It's like staying in a hotel. I think the problem is in our ... in the approach of the American politicians and leaders."
Curry questioned the Iranian president repeatedly about the International Atomic Energy Agency's plans to publish information that shows Iran may be working on a nuclear warhead.
"I think this is an old and repeated story," Ahmadinejad said. "In principle we are against nuclear weapons because it is against our beliefs and ideology.
"We do not need it. What is our need to do it?"
When Curry pressed for a firm denial that the warhead exists, Ahmadinejad replied, "Right. That's right. Certainly."
On President Obama, Ahmadinejad was critical of what he considers a lack of reform. "What has changed in the United States?" he asked.
More of Curry's interview with Ahmadinejad will air Tuesday on NBC's Nightly News.