TODAY anchors put Dan Stein's fleet feet to the test Thursday.
The SCOTUSblog.com intern, whose Monday sprint from the Supreme Court to NBC legal correspondent Pete Williams was captured in a video clip that went viral, appeared on the show to describe his role in helping the network break news about this week's historic Supreme Court decisions.
"It's just a lot of fun. It's an honor to be a part of the history and the things that happened yesterday," Stein said.
TODAY's Matt Lauer then tested Stein's nimbleness by having him deliver "crucial" weather forecast notes to Al Roker, who was waiting outside on Rockefeller Plaza.
Stein dutifully jogged his way through Studio 1A, only to be immediately turned around once he reached Roker, who told him: "This is the wrong thing, you gotta bring it back."
Earlier this week, Stein's running skills were showcased in a six-second Vine clip that showed him maneuvering through spectators and media to deliver a decision to Williams on Monday.
That clip started developing a wide following on Wednesday. It accurately captured the "intern foot race," an annual Washington, D.C, tradition of interns grabbing paper copies of Supreme Court decisions and scrambling to get them to anxiously waiting broadcast journalists perched outside.
Stein explained that the Supreme Court has strict rules against running inside the building.
"You got to do one of those awkward fast-walk kind of things," he said. But once outside, anything goes.
The clip captured Stein delivering the court's Monday ruling on affirmative action, but he didn't even know what he was carrying as he weaved through the crowd.
"I didn't read it, because I wanted Pete to be first, of course," he told the anchors Thursday.
But on Wednesday, Stein was wearing an earpiece as he ran. So he knew that the two decisions he was delivering that day were related to same-sex relationships: The Defense of Marriage Act and California's Proposition 8.
"I actualy heard the voice of (SCOTUSblog founder) Tom Goldstein reading the decision to me as I was running," Stein said.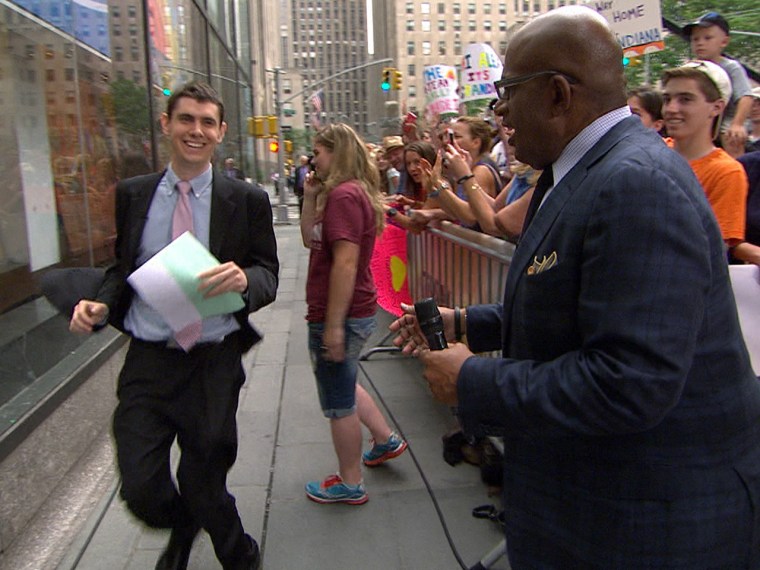 Thursday on TODAY, Pete Williams gave Stein credit not only for his people-dodging skills, but for his endurance.
"These were the hottest days of the year down here," he said. "I was perspiring just standing still, so he must have lost 10 pounds in the last few days."