Six months, 163 interviews and thousands of product samples later, InStyle reveals the expert product picks for makeup, hair, skin care and nails at a range of prices. Find out what's worth the credit card swipe:
Skin

Revaléskin $120/ 1.7 oz., revaleskin.com for doctorsSilky and super-absorbent, this night cream sinks in twice as fast as most others, and fights off fine lines and age spots. Its powerhouse antioxidant, coffeeberry extract, has been likened to "turbocharged green tea" by dermatologist David McDaniel.
Olay Regenerist $19/ 1.7 oz., drugstoresOlay's inexpensive night cream is packed with a collagen-building trio of vitamin E, green tea, and amino peptides. It'll leave skin feeling hydrated, not greasy.
Freeze 24-7 Freeze & Go $65/ .37 oz., freeze247.comFreeze's needle-free alternative to Botox fills in lines for instant gratification.
Suncare

Neutrogena Ultra Sheer Dry-Touch Sunblock SPF 85
$10/ 3 oz., drugstoresNeutrogena's fast-absorbing and waterproof sunblock will keep you safe from broadspectrum UVA and UVB rays without clogging pores. Unlike other formulas that leave you looking and feeling oily, this sunblock disappears into skin without a trace and leaves skin soft, smooth and protected.
Makeup: Lips

Cover Girl Wetslicks Amaze Mint$6, go to InStyle.com for 15 percent discountCover Girl's triple-threat lip color acts as a lightweight gloss, breath-freshener, and teeth whitener. Makeup: Eyes
Tarte Bottoms Up Lower Lash Mascara $16, go to InStyle.com for 15% discount This mascara's tiny bristles grab and separate the hard-to-reach lower lash hairs, leaving you with a wide-eyed Twiggy look.
L'Oréal Paris HIP Powder $7, drugstoresThis inexpensive line of shadows allows you to experiment with trendy color combinations without breaking the bank. Makeup pros rave about their satiny-smooth texture and blendability.
Makeup: Cheeks

Nars Multiple Duo $45, go to InStyle.com for 15% discountServing double-duty, the Multiple Duo acts as a blush and bronzer in one. Dab pink on the apples of your cheeks and bronze on your cheekbones for an instant face-lift.
Miscellaneous
Pixi Illuminating Tint & Conceal $35, go to InStyle.com for 15% discountThe ultimate multi-taker, this product offers hydration, sun protection and skin-brightening pigments in one.
Beauty Blender $20, beautyblender.netA foolproof foundation applicator found in every makeup artist's bag, the Beauty Blender's rounded edges and spongy-texture ensure smooth blending without any lines. Makeup artist Troy Surratt calls it "revolutionary."
Cargo Plant Love $16-$30, sephora.comCargo's Plant Love line is the perfect pick for the eco-friendly. Its packaging is 100 percent renewable and greenhouse-gas neutral, and a portion of its proceeds are donated to the St. Jude's Children's Hospital.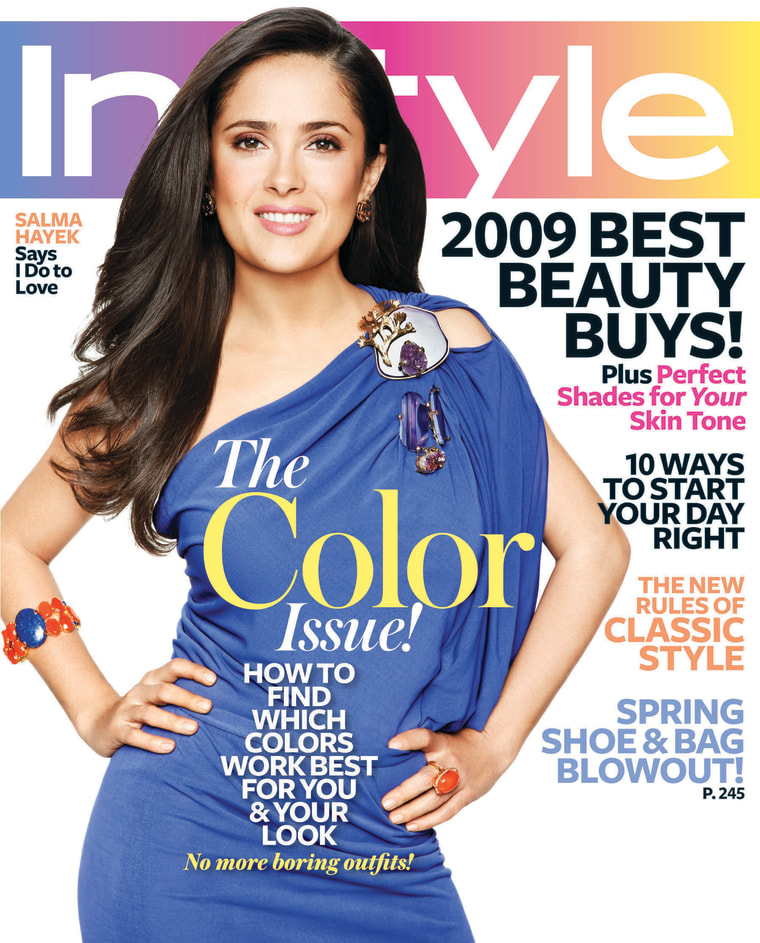 Hair

David Babaii for Wildaid Shampoo and Conditioner
$10 each/ 13.5 oz., db4wildaid.comL.A. hair stylist David Babaii collaborated with Kate Hudson in creating this luxurious green hair care line. The collection is free of harsh detergents, artificial fragrances, and parabans and is instead made from natural South Pacific ingredients including kiwifruit and mineral-rich volcanic ash.
Conair Mini Pro Ceramic Straightener
$24.99, go to InStyle.com for 15 percent discountOnly six inches in length, this straightener is perfect for travel or the office. It warms up in just 30 seconds and comes with a heat-safe carrying case.
Nails

OPI Big Apple Red $9, opi.com for stores
Named the best red nail polish, OPI Big Apple works perfectly with every skin tone.
Ped Egg $10, go to InStyle.com for 15 percent discount Ped Egg is the perfect foot buffer for a luxurious pedicure at home. Ergonomically designed and containing more than 100 microfiles, the Ped Egg rids feet of dead skin and smoothes away calluses.
For more great fashion advice to give yourself a Hollywood makeover, visit