Forget gold, silver and bronze — for some in Sochi, the real prizes are pins.
Olympic pin collectors have made a sport of swapping the souvenirs, and a pair of veteran pinners stopped by TODAY on Thursday to show off their favorites from the Sochi Games. While pin traders say the fervor isn't at the same pitch as it was during the London Olympics — fewer regulars made the trip to Russia than to previous games — multicolored mementos are attached to nearly everyone. 
"You can tell trading is getting big when you see all the volunteers have pins up and down on their lanyards," said enthusiast Mike Rose, from New York. "The Russians got into pins real fast."
Rose traveled to Sochi with fellow pin collectors and friends Pete and Linda Wade and Don Bigsby, the president of the OlymPin Collectors Club. Combined, the four friends have been to dozens of Olympics, and have tens of thousands of pins between them. They've racked up countless stories along the way, including meeting the Emperor of Japan in Nagano at the 1998 Games and trading with the TODAY talent in Sochi as well as back in 2000, at the Sydney Summer Games, where they met Katie Couric.
Their streak started in 1980 at the Lake Placid Games — the event that kicked off the "golden age" of pin trading — when things were a little different than they are today. "You could walk right up to a Russian athlete or a Spanish athlete and trade pins — they were just right there on the street," Bigsby said. "Security wasn't as big of an issue."
It's since become a bit of an obsession for the croup. "I went crazy," Pete admitted.
"And if I don't trade pins, then I never see my husband," Linda added — herself an avid pin trader. Her claim to fame: Trading with Princess Diana and Prince William at the Lillehammer Olympics in 1994.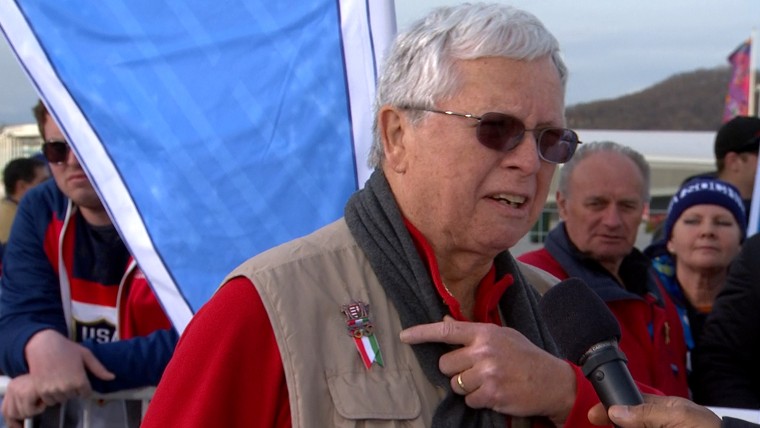 Bigsby, who has attended 15 Olympic Games, has owned more than 10,000 pins since 1992. These days, he's focused on quality over quantity. This year, for example, he found his white whale: the Hungarian athlete pin, made in their national mint. 
"It's not about aesthetics as much as rareness," he said, of what he's looking for these days. "The most beautiful pin can be the one that's hardest to get."
Most pin traders who consider themselves purists say it's against the spirit of the unofficial Olympic sport to trade for money, but that's not stopping some on eBay. 
TODAY Facebook fan Rita Zani asked us which Sochi pins are the rarest, and according to the online auction site, the ones in shortest supply are a Pikachu pin (going for more than $110) and NBC's Faberge Egg pin ($92). A Team USA nesting doll pin is going for more than $60. 
Steve Veres is an editor for TODAY.com. Follow his Sochi adventures on Twitter.