It's been 20 years since the Menendez brothers were sentenced to life in prison for the 1989 murders of their parents, but the case of the two siblings from a wealthy Beverly Hills family continues to fascinate to this day.
Erik and Lyle Menendez shot and killed parents Jose and Kitty Menendez in the family room of their mansion 27 years ago, leading to a trial that riveted the nation as it played out on Court TV.
Joe Fryer spoke with an investigator and a journalist involved in the lurid case for the final installment of this week's "TODAY Update: True Crime" series on Friday.
"This is not a simple story of a pair of greedy rich kids that killed Ozzie and Harriet on a Sunday night in Beverly Hills,'' said journalist Robert Rand, who is writing a book on the case. "These were two highly dysfunctional parents. They raised two highly dysfunctional sons. And everything ended in a terrible tragedy."
The brothers were not immediate suspects, as investigators explored whether the murders were a hit by the mob or possibly related to one of Jose's businesses. However, Les Zoeller, a retired Beverly Hills detective, sensed something was off from the initial night he was called to the scene in 1989.
"Lyle didn't seem upset to me at all,'' Zoeller told Fryer. "He was matter of fact. He wanted to get things out of the house."
RELATED: Andrea Yates still 'grieves for her children' 15 years after her shocking crime
It was seven months into the investigation before the brothers were arrested, and then another seven years of trials before they were convicted. Prosecutors argued they killed their parents to get their hands on the family fortune, while the defense alleged that it was self-defense motivated by a lifetime of abuse by their parents.
The 1993 trial that played out on national television resulted in deadlocked juries for each of the brothers. A second trial in 1995 in which no television cameras were allowed in the courtroom and the brothers' evidence of abuse was not allowed resulted in both of them getting life sentences without parole in different prisons.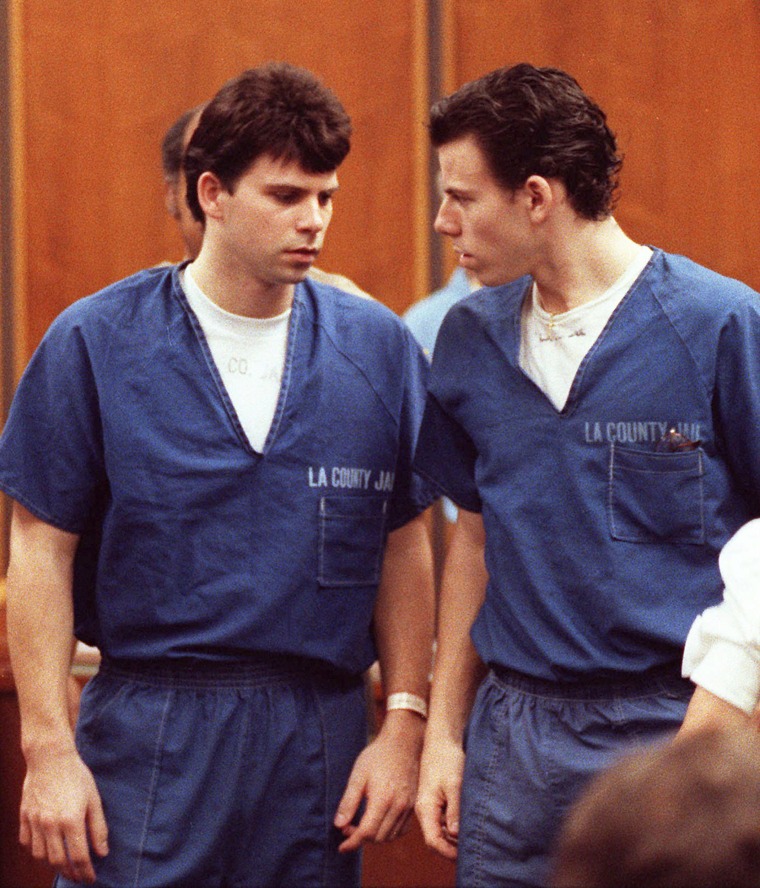 Lyle, 48, and Erik, 45, have not seen each other at all since being sentenced to prison, but still communicate regularly.
"They do write letters to each other,'' Rand said. "And actually, recently, they've been playing a chess match together that they make moves by mail."
RELATED: 'Preppy Killer' case: 30 years later, victim's mom says she doesn't want apology
Both of them have also gotten married while they have been in prison, with Lyle now on his second wife.
"Under California maritime law, you can get married over the phone, so Lyle Menendez called in from the L.A. County Jail and Judge Nancy Brown performed a wedding ceremony over a speakerphone,'' Rand said.
Neither man has children because conjugal visits are not allowed for those sentenced to life without parole by California law. Erik has been married to wife Tammi for nearly 20 years and has started a hospice program at Mule Creek State Prison.
RELATED: 'Justice has not been served,' Natalee Holloway's mother says
"He's well-liked by fellow prisoners,'' Rand said.
The family home where the murders were committed has since changed owners multiple times, but much like another famous 1990s murder trial involving O.J. Simpson, the Menendez brothers' story continues to draw attention decades later. It is scheduled to be a "Law & Order: True Crime" series on NBC expected to be released next year.
Follow TODAY.com writer Scott Stump on Twitter.