In a TODAY interview that aired Tuesday, embattled Toronto Mayor Rob Ford admitted flaws, but blasted his critics and insisted he's fit to serve the city.
"I'm embarrassed,'' Ford said. "Not just myself, my family, my friends, my supporters, the whole city. I take full responsibility for that. We've all made mistakes. I'm not perfect. Maybe you are, maybe other people are, (but) I've made mistakes. I admitted to my mistakes."
Matt Lauer asked Ford a crucial question: Are you fit to lead a major city in case of emergency? 
"I'm very fortunate it hasn't happened,'' Ford said. 
Ford has admitted to smoking crack cocaine and driving drunk in the past. The crack use, he told reporters earlier this month, was done "probably in one of my drunken stupors."  
"It's very few isolated incidents that it's happened," that he's been impaired on the job, he told Lauer. "And you're absolutely right. I'm very fortunate that that hasn't happened, but that could happen with anybody at any time. Say you had gone out drinking or you were drunk, and say something happened to your family."
Councilman Doug Ford, Rob's brother and his ardent defender, sat down for the interview as well and admitted he's worried.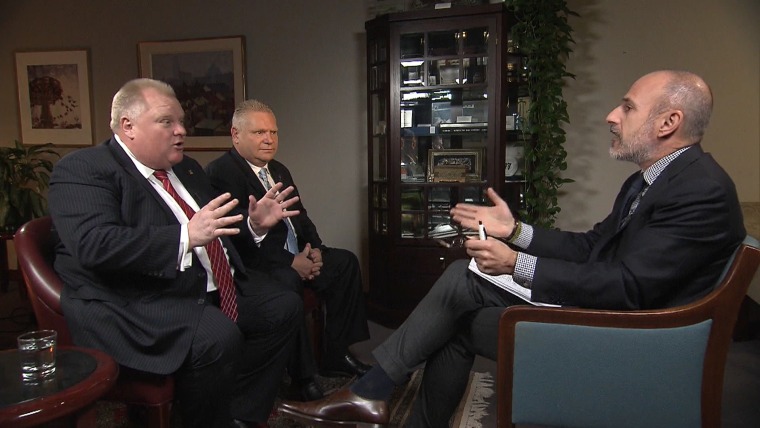 "His weight issues, when he goes on a binge, when he goes, if you want to call it binge-drinking, and I hear about it, yeah, it's concerning,'' Doug Ford said. "Do I know, on a personal side, has Rob been 100 percent honest? No, he hasn't."
But Rob Ford turned the question back on Lauer. "Say your son or daughter just got killed in a car accident and you're plastered out of your mind at three in the morning," Ford said. "Are you going to be able to handle that?" 
On Monday, the Toronto City Council stripped Ford of much of his powers in a chaotic session that included the mayor bowling over a councilwoman. 
Ford told Lauer that even stripped of his powers, he "absolutely" wants to keep his job. 
"They're not going to find another Rob Ford,'' he said. 
He and his brother appeared on a current-events show Monday called "Ford Nation," which aired in Canada, saying he'd "take a urine sample right now."  

Ford said he is not in treatment, but is working to address his weight. 

"I'm not in any drug treatment programs,'' he said. "I have a weight issue. I've been training every day. All I can say is actions speak louder than words. I invite you to come back. Give me five or six months, and if they don't see a difference, I'll eat my words."
Update: See Matt Lauer's Feb. 25 TODAY show interview with Rob Ford