/ Source: The New York Times
In retrospect, maybe the whole Peter Orszag groupie phenomenon was getting a little out of hand early last year with the (ahem) birth of Orszagasm.com, the fan blog devoted to the allegedly hunky White House Director of the Office of Management and Budget — a k a the guy who is "putting the OMG back in the OMB."
Or maybe it was last March when the White House chief of staff, Rahm Emanuel, declared to The New York Times that Mr. Orszag has "made nerdy sexy."
Or when the brainiac proved his boss correct by becoming a bona-fide babe magnet, a fixture at decorated dinners and the object of breathless fascination in Washington gossip columns ("Orszag really, really likes Diet Coke!" gushed Politico).
He became the epitome of Obama-Era Nerd Cool. The President himself joked lovingly about his favorite "propeller head" at the White House Correspondents Dinner last May. His dates were noted (The Washington Post publisher Katharine Weymouth, among others). Some West Wing wags worried that Mr. Orszag's profile might be getting a tad inflated and that he was getting a little big for his BlackBerry holsters (yes, that's plural).
Now things have become complicated for the 41-year-old Mr. Orszag — and not in the way that pension reform, sustainable growth rates and risk-based capital standards are complicated; rather, in the way that it's complicated when a divorced father of two with a very important job gets very publicly engaged to a 31-year-old financial correspondent for ABC News, Bianna Golodryga, just weeks after his ex-girlfriend gave birth to his daughter.
Got all that? Good. So did a lot of people around town: the fact that Mr. Orszag's ex — Claire Milonas, a 39-year-old venture capitalist — was pregnant with his daughter was well known among Beltway swells. "The worst-kept secret in the history of Washington," declared Mr. Orszag's brother Jon, an economic consultant in Los Angeles.
But this "worst-kept secret" gestated into "news" on Wednesday, when The New York Post blared: "White House Budget Director Ditched Pregnant Girlfriend for ABC News Gal."
Suddenly the "Orszag love-child story" became a full-term tabloid distraction in a White House otherwise preoccupied by matters like terrorist plots, health care costs and unemployment reports. Mr. Orszag alerted "the senior people in the West Wing" of the situation, said Kenneth S. Baer, spokesman for the Office of Management and Budget. As a general rule, executive branch spokesmen are not accustomed to worrying about "Inside Edition" — at least since the Clinton years.
"Trying to explain the sustainable growth rate in Medicare is challenging," Mr. Baer said. "But this is different." He just wants this story to go away — something both sides seem to agree on.
"I think the whole thing is silly," Ms. Milonas said in a brief telephone interview Friday. "I hope this whole thing blows over quickly." Ms. Milonas, a Harvard- and Yale-educated daughter of a prominent Greek businessman, added that she wishes Mr. Orszag well in his upcoming nuptials (it is unclear whether she has done this directly).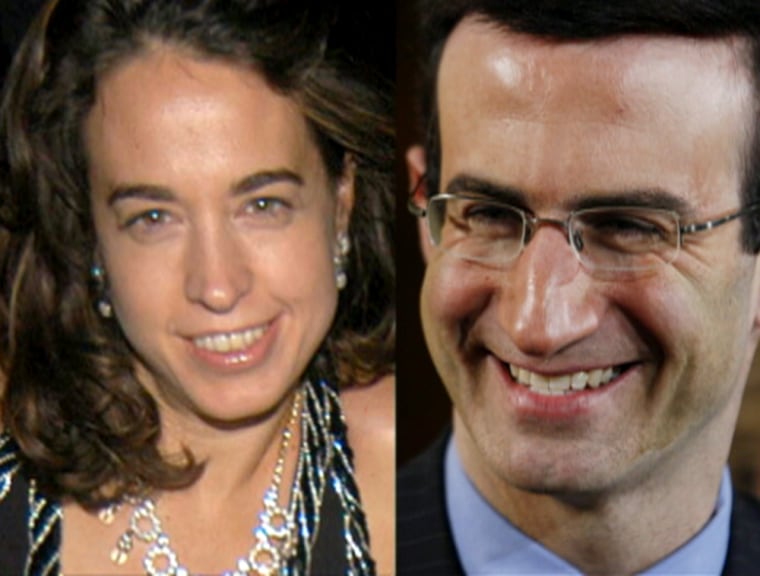 But, of course, this is not a story that will easily go away. Friday brought another wave: another New York Post story about the "lover-boy budget director." He made the cover of the tabloid Washington Examiner. The Washington Post's Reliable Source column was comparing Mr. Orszag to Tom Brady — not so much as a football player, but as simply "a player."
Big questions kept coursing through the corridors of power, particularly this one: Did the Casanova with a calculator really "ditch" his pregnant girlfriend for a younger television news babe?
Depends what your definition of "ditch" is — and, of course, whom you ask. People in Mr. Orszag's camp say he and Ms. Milonas had broken up well before he started seeing Ms. Golodryga last spring; people close to Ms. Milonas say they are not so sure of the timing (Ms. Milonas would not speak on this matter, and Mr. Orszag declined to comment altogether).
Likewise, some in the Milonas camp suggest that Mr. Orszag had promised to marry her, but then met Ms. Golodryga; the Orszag people say that Ms. Milonas wanted to get married, but Peter did not, at least to Claire.
"We were in a committed relationship until the spring of 2009," Mr. Orszag and Ms. Milonas said in a joint statement Wednesday (spurred by the Post article). "In November, Claire gave birth to a beautiful baby girl. Although we are no longer together, we are both thrilled she is happy and healthy, and we would hope that everyone would respect their privacy."
Friends of Ms. Milonas say that Mr. Orszag wasn't exactly asking for privacy in December when Ms. Golodryga was showing off her engagement rock on "Good Morning America." The two met at the White House Correspondents Dinner, the same event at which the president joked that the TLC network would be starting a new reality show called "Jon & Kate Plus Peter Orszag."
People close to Ms. Milonas say they were surprised when Mr. Orszag announced he was getting married just a few months after he met Ms. Golodryga. People in the budget director's bivouac blame Ms. Milonas's side for leaking the news to The Post, which the White House said is driven by a conservative agenda. "It's no secret what the partisan beliefs of The New York Post are," Mr. Baer said, "or what the journalistic standards of a tabloid like that are."
It is not clear what role, if any, Mr. Orszag will have in the future of his new daughter, Tatiana Zoe Milonas. He was not present for her Nov. 17 birth and has spent barely any time with her. Mr. Orszag lives in northwest Washington and shares custody of his two children from his first marriage, to Cameron Hamill. Both Ms. Milonas and Ms. Golodryga live in New York.
As with any story of this nature in Washington, the Very Serious People who traffic in it are obliged to emphasize that such silliness is beneath them. Mr. Baer said that nearly every press inquiry he has received was prefaced with the requisite faux-sheepishness.
"Everyone feels the need to say, 'I'm really sorry I have to ask you about this' and 'I'm only carrying out orders from my boss,' " Mr. Baer said. (For the record: this reporter was only acting on orders from his boss.) And, of course, the Very Serious Media are not writing the Orszag Love-Child Story, they are merely writing about the media frenzy surrounding it.
Perhaps the most fascinating aspect is not so much the timeworn themes of love, life and heartbreak. "Human relations are a mess," said Marina Ein, a crisis public relations expert in Washington whose messes have included the travails of former Congressman Gary Condit. "We're in the same situation as when Adam was trying to dodge the apple that was thrown at him."
Even so, Adam didn't have to deal with deficit forecasts, consumer price indexes or, for that matter, cable headlines like "Budget Baby Mama Drama" (thanks for that, MSNBC). And there's a natural intrigue that goes along with an unlikely celebrity who becomes an even more unlikely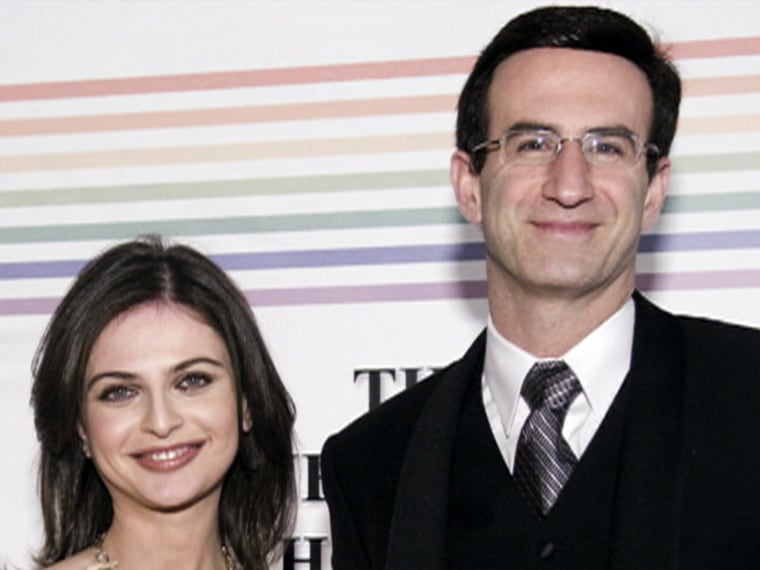 piece of tabloid fodder. "There is something that a lot of people in Washington find shocking about this story, which is why we keep talking about it," Ms. Ein said. "This is a person who seems so controlled in his professional life." Indeed, someone who carries neat to-do lists in his breast pocket and a copy on his desk of Epictetus, the Greek philosopher who preached self-discipline. "And yet he's so messy in his private life. This is an a-ha moment."
This goes to another obvious — and recurring — question: whether someone whose personal life has become so complicated is really fit to tackle one of the most demanding, important and stressful jobs in the universe. "Frankly I don't see how Orszag can balance three families and the national budget," wrote Joel Achenbach of The Washington Post.
Oh, budget, schmudget. This is about one question above all others, and that is this: Is Peter-mania dead? Is he still a celebrity nerd?
"He is, of course, still a celebrity nerd," said Ana Marie Cox, a national correspondent for Air America and unabashed Orsz-a-phile. "He is still a celebrity and he's still a nerd. What part of that isn't true?"
This story, "If Peter Orszag Is So Smart, What Will He Do Now?", originally appeared in The New York Times.