This upcoming weekend, identical twin brothers Nick and Zack Lewan are both getting married — to identical twin sisters Kassie and Krissie Bevier.
It's an incredible whirlwind of a story, one that the two sets of 24-year-old siblings recalled in a group interview Thursday on TODAY.
It all dates back four years ago when Nick and Kassie first met in psychology class at Grand Valley State University in Michigan. During a discussion about studies on twins, their professor asked if any twins were present in the class. Nick and Kassie both raised their hands.
"We thought that was cool so we started talking to one another," Kassie said on TODAY. "Things started to progress, and he got my number. We started texting."
When it came time to go on a first date, "we decided that we would drag them along," Kassie said, nodding at sister Krissie and soon-to-be brother-in-law Zack.
Krissie, however, was not exactly excited by the idea. "I didn't want to go," she admitted. But she relented, and the quartet met up at church.
"Faith is very important to us," Krissie said. "So we wanted to make sure that we were all on the same page."
Later that day, when they went to lunch, Krissie noticed she had gained an admirer.
"I realized that Zack was staring at me, and I was like, 'Oh no,'" she recalled. Krissie initially resisted a potential relationship — "I ran as fast as I could. He had to catch me." — but eventually became smitten.
"Definitely a love at first sight kind of thing," Zack added. "I was just so excited to possibly pursue Krissie. Trying to find someone that had a really good head on their shoulders, just really good values — getting to know Krissie more, that was definitely the case."
The rest, as they say, is history. As for their engagements, the group told TODAY the proposals happened together when Nick and Zack planned a trip to the Henry Ford Museum in Dearborn, Michigan.
"We had planned it to be a family outing. We took their parents and our parents," Nick said. But finding the right spot took some doing. "We walked around for two hours."
It worked out in the end. Fast forward to this very weekend, and the two couples have plans to tie the knot: Zack and Krissie will get married Friday, and Nick and Kassie the following day. A joint reception will take place later Saturday.
Neither set of siblings ever dreamed they would grow up to marry twins.
"It was always like a funny joke," Kassie said. "I had a woman from our church, she's like, 'You guys, when you guys grow up, you need to find brothers, marry them, get a duplex.' We always laughed it off. ... But now that's our reality."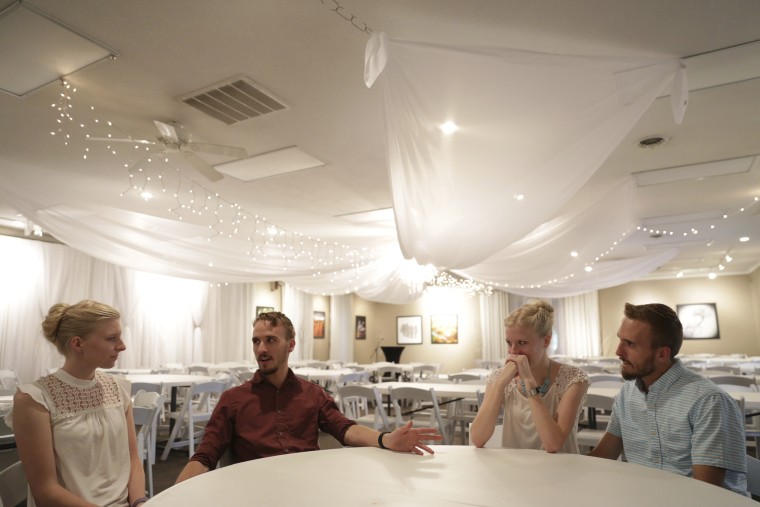 While neither set of siblings ever imagined their lives would turn out this way, each agreed there are special advantages to marrying a twin.
"It helps so much having somebody who understands the special relationship that twins have," Kassie said. "I feel that might cause issues — or there's a possibility of it causing issues — to those who don't understand. Like, if another spouse feels threatened by that. But thankfully we don't because we all understand, like, yes, I need to be with my spouse, but I also need to be with Krissie, too."