One of the surviving roommates in the house where four University of Idaho students were fatally stabbed in November said she locked herself in her room after seeing a man in a mask and black clothing walking toward her on the night of the killings, according to new court documents.
The roommate — Dylan Mortensen, who is identified in court documents as D.M. — said she opened her door when she heard someone crying, and saw a man wearing a mask that covered his nose and mouth, the court documents said.
Mortensen said the man walked past her toward a sliding glass door as she stood in a "frozen shock phase." After seeing the person, whom she did not recognize, she locked herself inside her room, she told authorities.
New details of the investigation into the Nov. 13 slayings of the four students were revealed in a probable cause affidavit prepared by police in Moscow, Idaho, that was unsealed Thursday.

Bryan Christopher Kohberger was charged with four counts of murder and one felony burglary charge in connection with the deaths of Ethan Chapin, 20, Xana Kernodle, 20, Madison Mogen, 21, and Kaylee Goncalves, 21.
The four students were found dead in their home near the University of Idaho campus with multiple stab wounds, leading to a seven-week manhunt for a suspect.
According to the affidavit, a tan leather knife sheath with "Ka-Bar" and "USMC" along with the U.S. Marine Corps insignia stamped on it was located next to Mogen's body. Investigators later were able to locate a "single source of male DNA" on the button snap of the sheath.
On Dec. 27, police recovered trash from Kohberger's parents' house in northeastern Pennsylvania, and the DNA obtained from the knife sheath showed a connection to a DNA profile obtained from the trash, the affidavit said.
Kohberger was arrested at his parents' home in Albrightsville, in the Poconos area, on Dec. 30. After being held in Pennsylvania, he waived extradition to Idaho on Jan. 3, and arrived in the state the next day.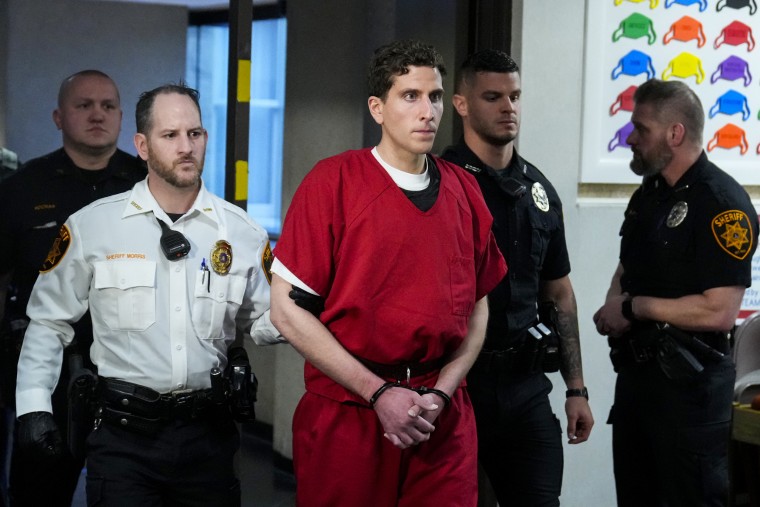 The newly released documents don't suggest a motive for the crime, though police have said the attack appeared to be "targeted."
According to the affidavit, Mortensen told investigators she first woke up around 4 a.m. on Nov. 13 when she heard what sounded like Goncalves playing with her dog.
"A short time later, D.M. said she heard who she thought was Goncalves say something to the effect of 'there's someone here,'" the affidavit said.
Mortensen said she opened her bedroom door when she heard the comment, but did not see anything. She then opened the door a second time after hearing what she thought was crying coming from Kernodle's room.
"D.M. then said she heard a male voice say something to the effect of 'It's ok, I'm going to help you,'" investigators said in the affidavit.
Around 4:17 a.m., security camera from the residence northwest of the students' home "picked up distorted audio of what sounded like voices or a whimper followed by a loud thud." A dog could also be heard barking numerous times.
Mortensen opened her door for the third time after hearing the crying, and that's when she saw the masked figure walking toward her, she told police.
She described the person as male, around 5 feet 10 inches and "not very muscular, but athletically built with bushy eyebrows."
The person walked past her toward the back sliding glass door, the affidavit said.
In an interview on TODAY Tuesday, Jason LaBar, Kohberger's public defender in Pennsylvania, said the former doctoral student in criminal justice at Washington State University believed he would be exonerated.
"He said this is not him," LaBar told TODAY, referring to Kohberger. "He believes he's going to be exonerated. That's what he believes, those were his words."
Mortensen, along with the other surviving roommate, Bethany Funke, have previously spoken out about the tragedy. The two came forward in a letter stating they are struggling to accept why the lives of "four beautiful people" were taken so brutally that was read aloud a vigil for the four victims in December.