As a new queen of the ice is crowned in Sochi, we asked NBC Sports Olympics commentator and Olympic gold medalist Tara Lipinski to look back at her big moment at the 1998 Nagano Games, in honor of Throwback Thursday.
"I was obviously beyond elated," she said, looking at a photo of herself at 15 years old reacting to winning figure skating gold. "I think I just felt a lot of relief. Because there was just so much pressure leading up to this — years of training. Then the months right before the Games were very stressful and that week in the competition I was so nervous. I don't know what I was doing. Obviously I was losing my mind screaming."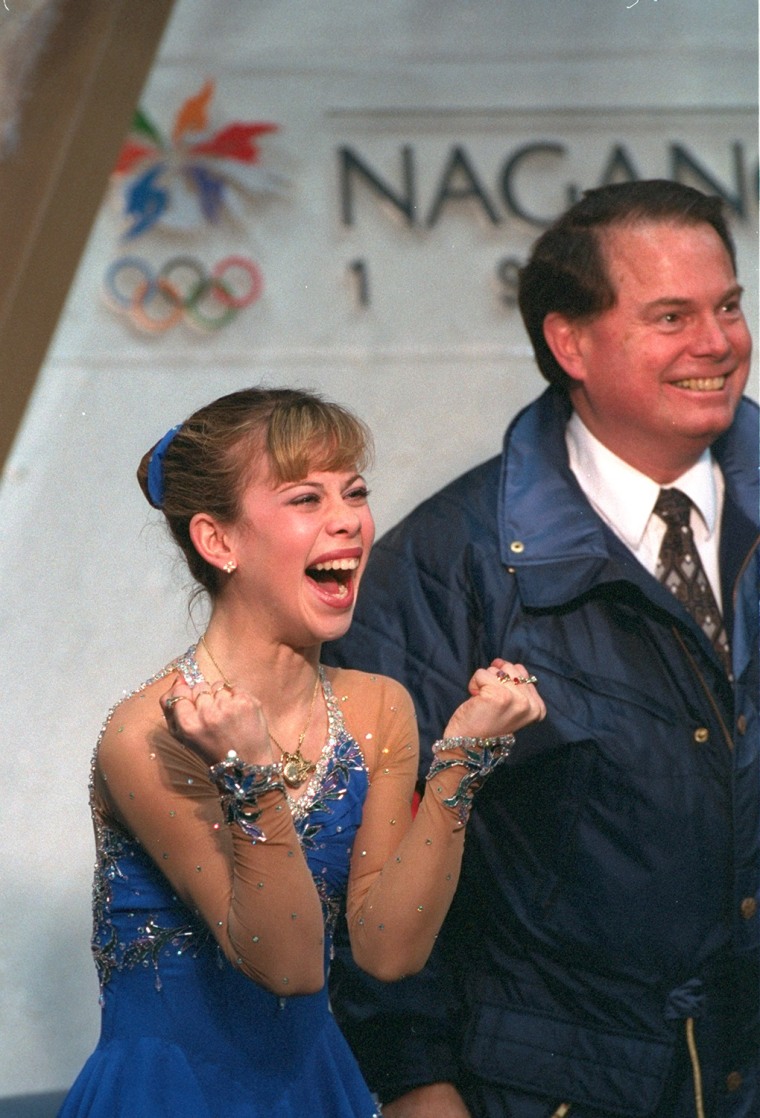 At the time, she was the youngest person to win a medal in the Winter Olympics for an individual event. Sixteen years after winning gold, Lipinski is still making waves in the figure skating world with her fresh, fun and expert commentary alongside Johnny Weir. And the two have captivated audiences who haven't stopped buzzing about the high-end—and sometimes eccentric—style they sport.
But Lipinski wasn't always such a fashionista. When asked about the thinking behind the skating outfit she wore during her win, she admitted that (gasp!) she didn't pay much attention to what she wore on the ice back then.
"I was 15! To be honest, I never really cared that much. I had a costume designer and I had my coaches and they dealt with that," she said. "I worried so much about all the on-ice stuff and I let them go with whatever outfit they thought would look good. I really liked a certain fit, and made sure that it was comfortable on the ice, that's about it."
What did Johnny Weir and Tara Lipinski pack for Sochi? 8 suitcases, 10 pounds of jewelry
Lipinski's blue skating costume, along with her gold medal, lives in the World Figure Skating Museum and Hall of Fame in Colorado Springs, Colo, but she said she has no idea what became of that famed blue scrunchie.
What she does remember is meeting hockey legend Wayne Gretzky the night she won her medal—a dream come true for a 15-year-old hockey fan.
"It was very late, and I wanted to grab some food, and Wayne Gretzky was there and celebrating. He said 'Let's all grab an ice cream,'" she recalled. "And so me and the hockey team were just chillin'. I was a kid having an ice cream with Wayne and it was just one of those moments that you can never imagine happening."
Lipinski says that these days, she strives to be the way she was at that age, driven but also honest about who she is and excited about the world around her.
"I was such a baby and it just brings back a lot of good memories; I wouldn't change it for the world," she said. "I think it makes me always remember that you should just be yourself—because I look back and even though there were a lot of people watching, I was just always honest about how I felt."
Figure skating is one of the most fun sports to watch — not only because of how technical it is, but because of the fabulous and funky fashion. Here, Olympians, fashionistas and NBC Sports Olympics correspondents Tara Lipinski and Johnny Weir share their critique of the looks during the Sochi Games.