A bus driver in Buffalo, N.Y., is being celebrated as a hero after he stopped on an overpass and coaxed a woman who appeared to be on the brink of suicide to safety.

"Knowing that I saved somebody's life, it makes me feel good, being at the right place at the right time,'' driver Darnell Barton told TODAY Thursday.
Barton, 37, was driving a bus full of McKinley High School students home on Oct. 18 when he spotted a young woman standing outside of a railing on a narrow ledge of an overpass on the Scajaquada Expressway.
"When I saw her on the other side of the guard rail, I immediately (thought)…this is something, this isn't right,'' Barton said.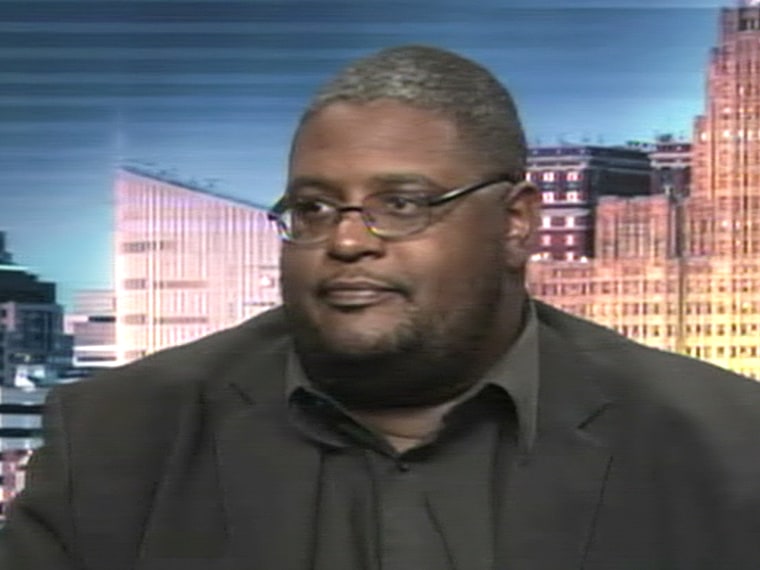 Surveillance video shows Barton stopping the bus, opening the door and calling out to the woman, who is believed to be in her 20s. The woman has her back turned to the bus and is clinging to the railing while looking over the edge of the overpass. Barton called the Niagara Frontier Transportation Authority's Metro Bus dispatcher to inform them of the situation while continuing to speak to the woman.
"Once I opened the door and made contact, and I saw her look back at me and then look back at the 198 (highway), I knew that was it,'' Barton said. "I had to step in."
Barton got off the bus, walked over to her, slipped his left arm around her body and gently coaxed her off the ledge. He then sat down on the ground next to her and put his arm around her.
"I said, 'Whatever it is, it might feel bad, it may feel bad, but jumping is not the answer,''' Barton said.
Shortly after, officials arrived on the scene. When Barton got back on the bus, his student passengers gave him a round of applause. Another bus was dispatched to take the students home while Barton gave his account of the event to police. 
Barton returned to work, completing the rest of his shift for the day.