After spending nearly 10 years in prison for second-degree murder and first-degree robbery, Ryan Ferguson is a free man.

"It's been a wild ride," Ferguson told Savannah Guthrie in his first live interview since leaving prison on TODAY Wednesday. "Seeing the light come out and the sun come up, it's pretty incredible."
Ferguson, who said Wednesday he hadn't slept since his release, told Guthrie his new life of freedom is "beyond my comprehension." 
"When I finally realized it was actually over it was incredible relief because I was afraid," he said. "I wasn't sure what going to happen next. They don't really tell you a whole lot. It was a sensation like no other, and seeing my family right there and hugging them, and knowing that we were going to go home together, it was amazing."
"It's the best feeling ever," said Ferguson's father, Bill. "We just feel like we rescued him from the pits of despair."
Ferguson was convicted in 2005 for the beating and strangling of newspaper editor Kent Heitholt on Halloween night in 2001 and sentenced to 40 years in prison. On Nov. 5, the Missouri Court of Appeals Western District vacated Ferguson's murder conviction, with Judge Cynthia Martin ruling that Ferguson did not receive a fair trial and that "his verdict is not worthy of confidence."
The appeals court ordered that Ferguson, 29, be released if prosecutors did not file notice of a retrial within 15 days. On Tuesday, prosecutors announced they will not retry Ferguson and that all charges are dropped.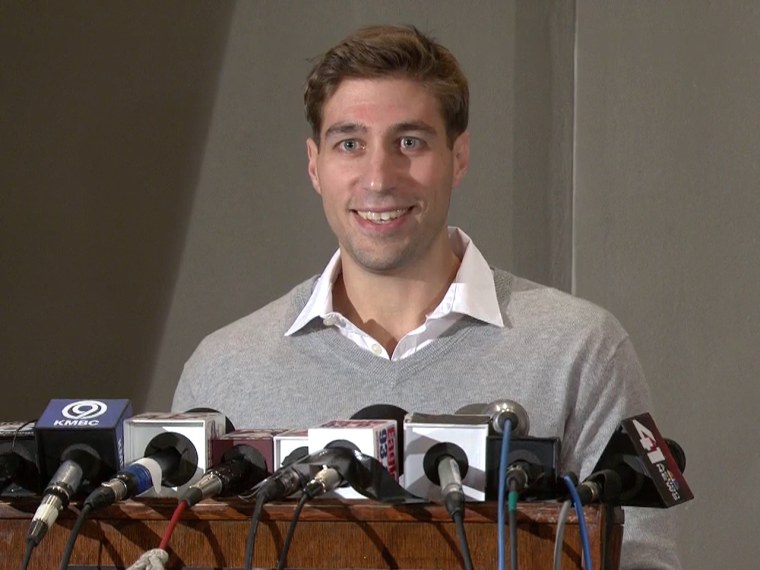 "After studying the appellate court's opinion in Ferguson v. Dormire and carefully reviewing the remaining known evidence in the case, the Attorney General's Office will not retry or pursue further action against Ryan Ferguson at this time," Missouri Attorney General Chris Koster said in a statement on Tuesday.

"It's completely over," Ferguson's attorney, Kathleen Zellner, told Guthrie on TODAY. "The evidence against him was fabricated. We've proved that, and unless they want to fabricate more evidence, this is completely over.''
Ryan Ferguson's parents 'feel vindicated' about thrown-out conviction

Ferguson, who was 17 at the time of the crime and admitted to drinking illegally at a nearby college bar on the night it occurred, was convicted on the strength of the testimony of childhood friend Charles Erickson and night custodian Jerry Trump. However, Erickson and Trump admitted in 2012 to a lower court judge that they lied on the stand during Ferguson's trial and recanted their accounts. 
"I lied and said I remembered things I didn't remember, and said he did stuff that I don't remember him doing or me doing,'' Erickson said in court last year. 
In 2005, Erickson pleaded guilty to second-degree murder and first-degree robbery and testified he had a "dream-like" memory of the crime. Trump testified that he saw Ferguson in the parking lot of the newspaper office on the night Heitholt was killed. Fingerprints and strands of hair found at the scene did not match Ferguson or Erickson's, and there was no physical evidence tying Ferguson to the crime.
Wednesday, Ferguson was feeling hopeful. 
"I've been writing a lot," he told Guthrie. "I've got a book that I've been writing for some time now. I'm just going to continue to work hard and take advantage of every opportunity that comes my way. If there's not a whole lot of opportunities, then I'm going to make a few. I got an amazing support system, an amazing family, incredible attorneys, so I'm definitely going to move forward, and I feel very, very positive about the future."
Dateline's hour-long special on Ferguson will air on Friday at 8 p.m./7 p.m. central.