The husband of the American missionary who contracted Ebola while working in west Africa has opened up about how difficult it was to helplessly watch his childhood sweetheart nearly die from the deadly disease.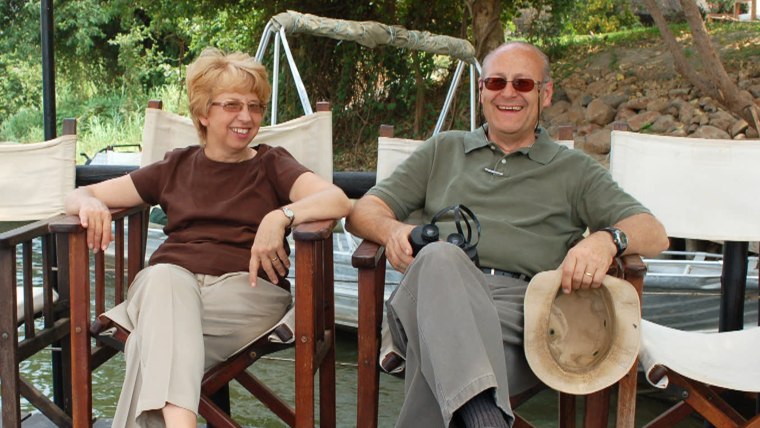 In a phone conversation from Liberia, David Writebol spoke with the president of the charity his wife worked for, SIM USA, about the struggle he and his wife, Nancy, have battled to overcome the Ebola infection.

"It's a singular experience to look upon a loved one, especially one that we've spent 40 years together — plus we were junior high sweethearts — to see her on the brink of death and knowing there was nothing I could do to prevent that," he said.
Nancy Writebol, along with fellow American Kent Brantly, were recently flown from Africa to Atlanta for treatment at Emory Hospital, where they continue to improve slowly, Ken Isaacs of the organization Samaritan's Purse told The Associated Press.
"They are not expected to have a quick recovery. I mean they're talking, like, a long time," he said. 
The World Health Organization, meanwhile, declared an international public health emergency Friday over the Ebola outbreak in western Africa that has killed almost 1,000 people.
David Writebol expressed confidence in the treatment his wife has been receiving.
"I'm happy she is in a place that enables her to receive the best care possible and that will give her every opportunity to get better, to recover," he said.

As for himself, he said he is doing as well as can be expected from Liberia and continues to rely on his faith to help him handle the ongoing ordeal.
"I'm okay," he said. "I'm in a small apartment and seem to spend a lot of time pacing around the floor, but no, in a comfortable situation, and I'm feeling just as I always have in these past weeks and days — just an overwhelming sense of peace and God's grace, when I should be totally beside myself."
The full audio of Writebol's phone call can be heard here. 
Follow TODAY.com writer Eun Kyung Kim on Google+ or on Twitter.