Big names took home most of the awards at Wednesday night's People's Choice Awards, televised live on CBS from Los Angeles. "The Hunger Games" proved itself trophy-hungry, taking home six awards. The film won for favorite movie, action movie, and movie franchise, while star Jennifer Lawrence won for favorite movie actress, face of heroism, and favorite on-screen chemistry for her relationship with Chris Hutcherson and Liam Hemsworth.
Jennifer Lawrence and her film "The Hunger Games" ate up the most awards. Jennifer Aniston and Taylor Swift also won.
"Thank you for loving movies as much as I do," Lawrence said.
Jennifer Aniston, wearing a striking short black leather dress, claimed the first award of the night, for favorite comedic actress.
"I love the people, I really do," Aniston said, accepting her trophy.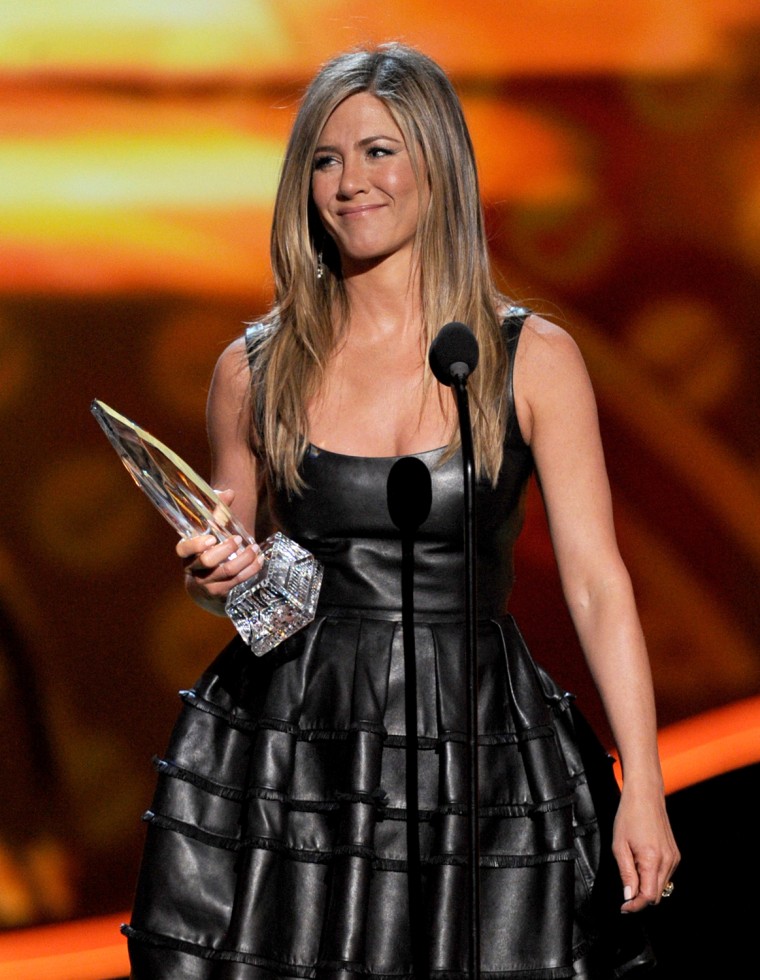 And in a move that can only take place at the varied People's Choice Awards, the show swung from a film honor to one in country music, awarding Taylor Swift the honor for best country artist.
"Thank you for caring about this album and for caring about me," said Swift, dressed in a white low-cut Ralph Lauren gown. Presenter Olivia Munn jokingly pretended to keep the trophy from her, in a reference to the infamous Kanye West interruption of Swift's award at the 2009 MTV Video Music Awards.
Host Kaley Cuoco of "The Big Bang Theory" opened the show with a montage inserting her in scenes from several recent films, including "The Hunger Games" and "Breaking Dawn Part 2," as well as stabbing a zombie for dancing to the viral hit "Gangnam Style."
Favorite science-fiction/fantasy show honors went to "Supernatural," and stars Jensen Ackles and Jared Padalecki then presented Maroon 5 with the favorite band award.
It was a good night for "Glee," with stars Lea Michele and Chris Colfer winning back-to-back awards for favorite comedic TV actress and actor. Both thanked the "Gleeks," their uber-devoted fans, with Colfer adding that "it is so flattering to be exploited in your fan fiction."
Ellen DeGeneres took home the award for favorite daytime TV host, and it certainly wasn't her first win.
"It's 2013, this is my thirteenth People's Choice Award," DeGeneres said. "It is exactly as the Mayans predicted. So far, they got one right."
Adam Sandler won for favorite comedic movie actor, and unleashed a lengthy list of his snappy answers to questions about his own personal favorites. His favorite Kardashian? Ringo. Favorite word? Elbow. Favorite way to fly? Unicorn. He then invited the entire audience to "a pizza party at Jennifer Aniston's house" before leaving the stage.
English-Irish band The Wanted won for favorite breakout artist, beating out One Direction, Gotye and Carly Rae Jepsen, among others. The band thanked Ellen DeGeneres and sang a quick bit of the 1976 Starland Vocal Band hit "Afternoon Delight" for her, all while holding their award rather suggestively.
"Hunger Games" star Jennifer Lawrence won for favorite movie actress and also was awarded the face of heroism award. 
Singer Katy Perry won the favorite pop artist award, and her fans, dubbed the Katycats, won for best fan following. She also won for favorite female artist, and won an award for her video for "Part of Me."
"I so look forward to entertaining you again, so back to the studio I go," Perry said.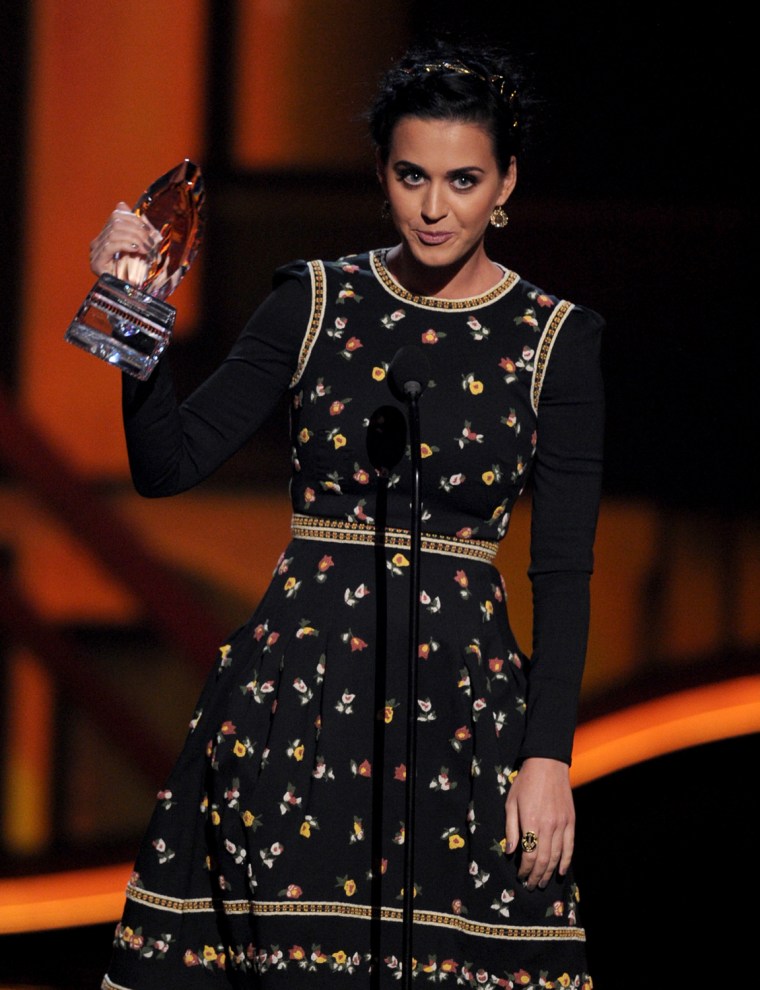 Ellen Pompeo won the favorite dramatic TV actress award, and her medical drama, "Grey's Anatomy," won for favorite network TV drama. "The fans of the show have truly touched me in ways I never thought possible," Pompeo said in her acceptance speech.
Nathan Fillion won the favorite dramatic TV actor award for "Castle," and that show won for favorite TV crime drama.
Robert Downey Jr. won for favorite movie actor, and his Iron Man role also won him honors as favorite superhero. Downey paid tribute to an 83-year-old fan, Joyce Schroeder, who passed away just days ago, saying "So Joyce, this is for you."
A new honor, the favorite humanitarian award, was given to Sandra Bullock for her work with the Warren Easton Charter High School in hurricane-stricken New Orleans. Bullock received a standing ovation from the crowd.
Emma Watson won the award for best dramatic actress in a movie.
Singer Christina Aguilera won the People's Voice award, moving directly from a live performance to accepting the honor.
Host Kaley Cuoco wrapped up the night with a big win of her own when her show, "The Big Bang Theory," claimed the award for favorite network TV comedy.
Not all of the awards were handed out in person. Additional winners included Meryl Streep as favorite movie icon, "The Perks of Being a Wallflower" for favorite dramatic movie, "Ted" for favorite comedic movie, Jimmy Fallon for favorite late-night talk-show host, and "True Blood" for favorite premium cable TV show.
Related content: